The office of the Tamil Nadu Chief Electoral Officer (CEO) has just brought in a wide range of voter centered of tech initiatives. "Voters' convenience and better election management are two important objectives [of these tech initiatives]," said Rajesh Lakhoni Chief Electoral Officer (CEO) of Election Commission Tamilnadu .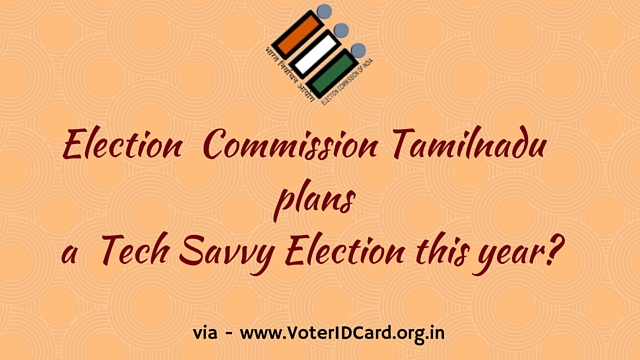 Election Commission TamilNadu – Election Plan 2016:
For Contact Details and other Useful Information on CEO TamilNadu – Click Here
Check the Mobile App for your Voter ID Card related Queries in TamilNadu – Click Here
As a part of state EC stretch, the CEO has launched a remarkable and compelling campaign on Twitter and Facebook, and various different IT initiatives. The first and most intuitive initiative is a mobile and Internet based grievance monitoring system, which is able to automatically match the grievance concerning poll code violations with a Returning officer.
Without any usual delay, the complaint registered will be sent directly to the flying squad or the Assistant Returning Officer or the respective Tahsildar , who can act on the compliant within a time frame of 24 hours.
Voters who would like to register complaints regarding any malpractices like bribes for votes, can click an image and send the complaint through a GPS-based mobile tracking app.
The Election Commission Tamilnadu has automated the method of seeking permissions for meetings, processions, vehicles for campaigning , opening of offices, and so on.
Permissions are issued online and parties don't need to produce an No Objection Certificate (NOC) . NOCs from police and Returning Officer can even be obtained online within 24 hours.
Via SMS, voters can find their registration station, get Google Maps coordinates of their polling place, book wheelchairs and register differently-abled voters.
The Election Commission will also put in place a system to identify outbreak in liquor sales before elections.
Election Commission TamilNadu – Online Facilities:

Some of the latest online initiatives put forth by the Election Commission Tamilnadu can be see under Electoral Services section in the official TN CEO website. Click here
These include:
Voter registration.
Name deletion.
Apply for Correction.
Change of Address.
Register your Mobile number.
Application Tracking.
Voter Registration:
If ever you haven't registered as a voter you can get yourself included in to the electoral roll online by filling in the FORM-6 available in Register as Voter section.
Once you jump into that section you will see a form as shown below. 
You will just have to fill in your details carefully and correctly. Only thing you need is soft copy of your passport size photo which should be uploaded while you are filling the form itself. That's it submit, get application ID and wait till it reaches you.
Name Deletion:
If you are having any objection on inclusion of your name entered in the electoral roll of you wish to delete your old entry then click on this option.
All you need to do is enter your EPIC (Electoral Photo Identity Card) Number if any and select one of the two options:
Inclusion Of New Entry
Deletion Of Existing Entry
… and proceed further.
Apply with Election Commission of TamilNadu Voter Card Correction:
If you have noticed something wrong with your entry in electoral roll just click on Apply for Correction button or just click here  this will take you to correction form which helps you in correcting your details.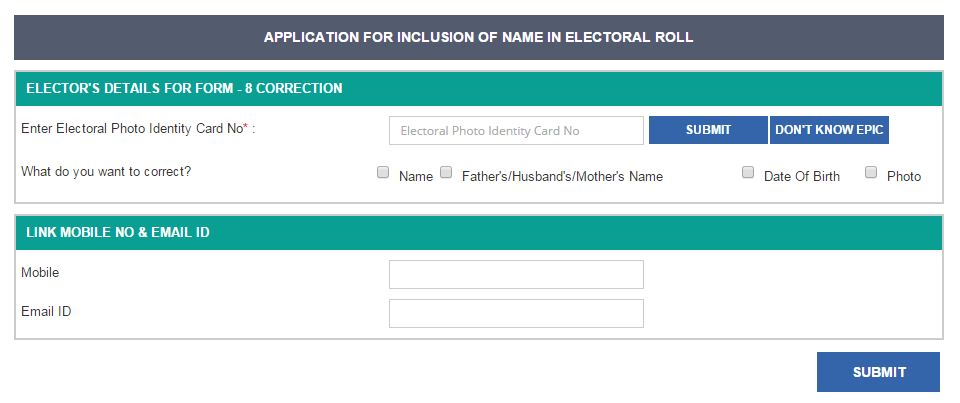 Once you click that link you will see a box asking for your EPIC number if available and you will see options of details you wish to correct just select the relevant options and fill in the correct details. The details which can be corrected are:
Name
Father's Name / Mother's Name
Date of Birth
Photo
You can also link your Email- ID and Mobile number to your Electoral entry. Just hit the submit button and you will be notified accordingly.
Apply for Address Change:
If you want to change your address of correspondence that is linked to your Electoral Photo Identity Card all you need to do is go to Apply for Address change option or click here and fill in the form designated as FORM-8A.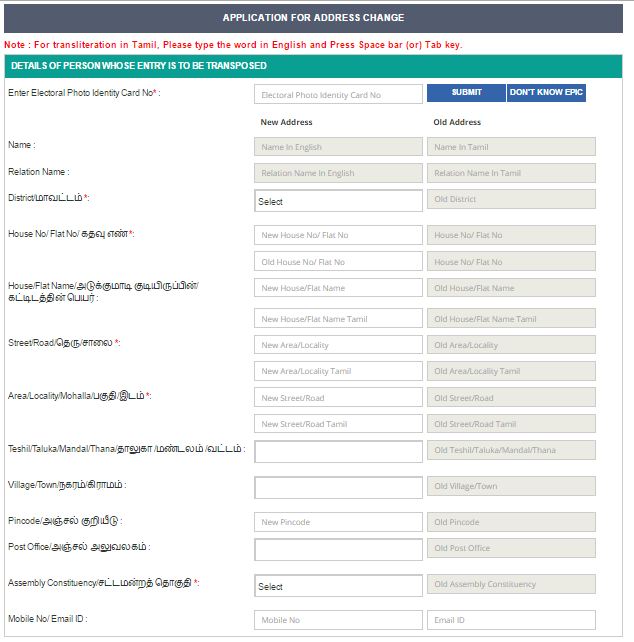 If you enter your EPIC number and click on submit your record will be fetched and the details you enter will be updated to your same old EPIC number. If you don't know your EPIC number click on Don't know EPIC to search using some of your information.
Voter ID Tamil Nadu Application Tracking:
Once you are done getting registered or applying for name deletion, applying for correction ,address change etc you will be notified with an application ID which helps you keep track on your application submitted.
Click here to check your application status online.

This tracking can also be done through a registered mobile number which is lot more easier than through an ID.
If you want to search your name in Electoral Rolls click here and choose an option either search using EPIC number or Check Electoral rolls in Tamil. 
Hope this information helps you. Keep Reading for more updates.
Thank you!! Have a nice Day!!!