"Koi Deewana Kehta Hai, Koi Paagal Samajhta Hai; Magar Dharti Ki Baicheni Ko Bas Baadal Samajhta Hai"
These are the lines that welcome you to the website of Dr. Kumar Vishwas. The site leaves no stone unturned in showcasing this new and upcoming political rookie of Indian politics in his full glory.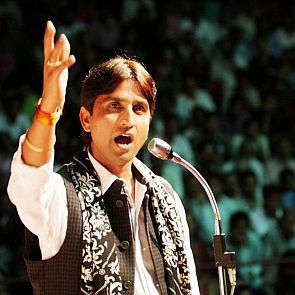 Mr. Vishwas is one of the high profile members of Aam Admi Party (AAP). Being an artist and an eloquent orator has earned him brownie points with the common man of India. So who is he? A poet? A politician or a social activist? Read on as we explore the enigma of this multi faceted politician of India
Early Life and Education
Kumar Vishwas was the youngest of the five siblings of Dr. Chandra Pal Sharma (lecturer in R.S.S. Degree College) and Smt. Rama Sharma. He was born on 10th February 1970 in Pilkhuwa in Ghaziabad district in Uttar Pradesh.
Always inclined towards creative art of poetry, he eventually pursued PG and Ph.D in Hindi literature. He has been working as a professor in Lala Lajpat Rai College, Rajasthan. He also won quite a few awards too.
The beginning of political career
Being a social activist it was only a matter of time he was influenced by the Anna Hazare movement against corruption. He played a vital part in this campaign. His acceptance of Arvind Kejriwal's ideology meant Kumar Vishwas eventually joined Aam Admi Party or AAP as it more popularly known.
Short but chequered career
The past few days has seen him take on the might of the likes of Gujarat CM Narendra Modi and Rahul Gandhi. This uncalled for action of his certainly exposes hi political inexperience.
The AAP member must also be clear with his position with regards to his political ideology. Recently doing rounds of the net is his video where he is seen praising the political rival of the party he is now supporting.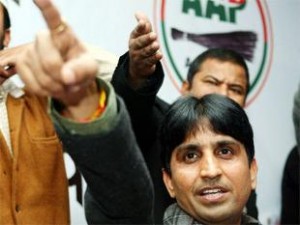 Doing a volte face he is now seen bashing the very same person he praised.  Adding more confusion are his recent antics against Rahul Gandhi in the latter's very own constituency. These only showcase him in poor light.
What next for him?
Kumar Vishwas is now one of the key figures of the party and is seen as a strategist. He should be more concern about creating goodwill his own party's domain, Delhi. He must not let the victory get into his head and lose the perspective of the goals which had promised during the Delhi General Elections 2013.
Being a performer Kumar Vishwas has the ability to charm his audience. His oratory skills are also his plus point. Being a social activist he is well versed with ground realities.
He is well capable of channelling hi energy towards accomplishing the goals he and his party has set out to achieve. It will not only benefit him and his party but also those who have trusted & voted him.
There is no doubting the ability of one of AAP's brightest minds. If appropriately handled, he could well turn out to be a multi faceted ace. The likes of which Indian politics has never seen before.