Elections are an essential part of democracy and must be held after a span of few years to elect people's representatives in the Parliament. In India, elections were earlier held without any reference to voter ID. It was only necessary to have one's name in the voters list. However, a lot of malpractices were seen. This resulted in the creation of voter card. Read on to know the subtle reasons why voter ID became an essential item for voters to vote in elections.
Checking Errors in Voting
Each constituency in India has a voter's list where the names of all voters in the constituency are registered. Based on this electoral roll, voters were allowed to cast their votes at the polling stations during the Lok Sabha, state assembly, and Panchayat elections.
Generally, Indians who attain the age of 18 and reside in India are eligible to vote, provided they also have their name listed in the voter list. But during elections, many valid voters found that someone had already cast their votes on their behalf. Some people had basically impersonated them and cast their votes. There were also errors in the electoral roll as one voter could have his or her name entered in another constituency.
To ensure that such errors were curbed in subsequent elections, Voter ID Card was developed.
Voter Card as EPIC Scheme
The Election Commission of India (ECI) was formed to organize, manage, and subsequently tackle elections in the country. The President of India appointed members in the ECI team. The Chief Election Commissioner and his two colleagues are responsible for various orders passed by ECI to ensure free-and-fair elections in the country.
In 1979, voter ID under Elector's Photo Identity Cards (EPIC) scheme was introduced by ECI for the Sikkim assembly elections. This identity card was issued by ECI after the amendment of the R. P. Act. With this EPIC scheme, voters were given an ID-card that had a photograph of the voter, name, father's name, address, and age.
Since 1993, the photo-ID card or voter ID has become mandatory for voters to vote in any election. Once you have this card you can vote and also avail many facilities and services offered to Indian citizens.
Voter ID Card Used as Identity Card
Apart from casting vote through a voter ID card, it is also essential to keep one's name in a voter's list. Often, some voters can change their place of residence. Many women in fact, change their surname and place of residence once they get married. A voter ID would help them to establish their identity and get their name enlisted in the new constituency.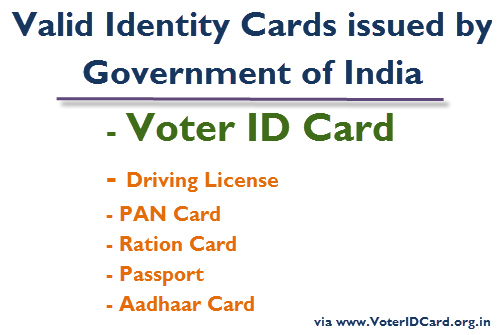 In many cases, it is used to avail a particular service. For instance, "Tatkal Seva" is a unique scheme introduced by railways to issue instance tickets for genuine travelers. Voter ID would help in sincere travelers getting the ticket instead of touts bagging the tickets themselves. Today, voter card is necessary for buying railway tickets, booking hotels or getting passport. It serves as a proof of identity, and proof of age and residence.
So, in many ways voter ID helps voters to get what is due for them easily and conveniently. They can also peacefully vote during elections. Although ECI issued election card to voters as per voters list, you can still get one if you have not yet received it or require getting it updated. You need to go online and download the necessary form and submit the same along with proof of identity and proof of residence to your nearest election registration office.
So, if you have not yet applied for your voter ID, do so right now as there are more than one reason why it is a helpful item for all Indians.