Now that the Lok Sabha elections are near, political parties are taking various promotional methods from visiting rural areas to TV ads. There is much hype this year about who would win it. We answer some of your voting doubts regarding electoral rolls and documents needed to apply for voter ID card in this article.
The names of eligible electors ordinarily residing in an assembly constituency, are enlisted in the voters list by the registering authority, these lists are called Electoral Roll of that constituency.
I have received my Voter Identity Card (EPIC).However, this card contains a mistake. How do I get it corrected?
Such mistakes are usually in respect of age, spelling of name and address etc.
(a) Please fill in Form-8 along with proof of the correct information. For example, for getting age corrected, please attach proof of age such as School Board Examination Result Certificate. For proving correct residence, please give proof of residence etc.
(b) In case the mistake has been due to an error on the part of the Election Officials then the correction will be made free of cost. In case you are responsible for the mistake in the first place such as by entering incorrect information, then you need to pay Rs.25/- in cash at your VREC for receiving the corrected Voter Identity Card (EPIC). Please remember to take the receipt for the amount paid by you.
What documents do I need to submit to show proof of age?
There are many suggested documents suggested for submission of proof of age. You can choose any one of the following:-
a) Birth certificate issued by a Municipal Authority or district office of the Registrar of Births & Deaths or Baptism certificate; or
b) Birth certificate from the school (Govt./Recognized) last attended by the applicant or any other recognized educational institution; or
c) If a person is class 10 or more pass, he should give a copy of the mark sheet of class 10 or 12, if it contains date of birth as a proof of date of birth.
d) Mark sheet of class 8 if it contains date of birth; or
e) Mark sheet of class 5 if it contains date of birth; or
f) A certificate of his age given by a sarpanch of the concerned Gram Panchayat or by a member of the concerned Municipal Corporation / Municipal Committee, the person is not educated till class 10 and both the parents are not alive.
g) Any other Government document showing age e.g. Passport.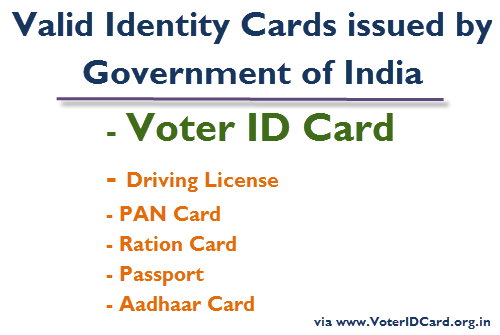 What documents do I need to submit as proof of residence?
There are many documents suggested to prove your place of residence and you can choose any one of the following:-
a) Bank / Kisan / Post Office current Pass Book, or
b) Applicant's Ration Card / Passport / Driving license / Income Tax Return filed or Assessment Order, or
c) Latest Water / Telephone / Electricity / Gas Connection Bill for that address, either in the name of the applicant or that of his / her immediate relation like parents etc. or
d) Postal department's post received / delivered in the applicant's name at the given address.
 What is the procedure for Overseas Voters?
An Indian citizen who has not acquired citizenship of any other country and has gone to some other country for employment /education business /etc can be enrolled as Overseas elector, at the place of his residence in India. He has to apply in Form 6A , supported with a copy of Passport.