Whenever the results of the elections are announced, it is often observed that the margin of votes, through which the winner wins and the other candidates lose, is very narrow. Sometimes as narrow as that of a couple of votes. In that case, for the result to be representative of the decision of majority of the citizens, it is more or less obvious that each and every vote matters.
Whereas it was observed in the recent Assembly Elections New Delhi, where some people, even with valid Voter ID Cards were not allowed to enter the polling booth to cast their votes. This scenario was as much a let down for the whole idea of elections as it was for these people who were not allowed to exercise their franchise to vote.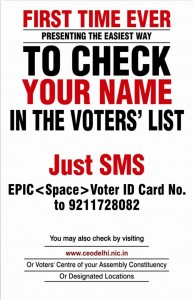 The probable and most significant reason for this seems to be the fact that the names of these people must have been deleted from the Voter List Delhi without due verification. To which the authorities have responded by saying that thorough investigation and steps would be taken to ensure that such scenario does not recur during the coming Lok Sabha Elections.
Moreover this scenario was an eye opener for everyone as it enlightens the citizens about the fact that possessing the Voter ID Card Delhi alone does not ensure a smooth entry to the polling booth.
Things to ensure other than Voter ID Card Delhi:-
You have your name in the Electoral Roll of your Constituency. Just to make sure that it has not been deleted, you may check it just before leaving home or a day in advance of the Election Day. You can easily check your Name in the Voter List and Voter ID Card Delhi details in that list by sending a simple SMS.
Your particulars on the Voter ID Card Delhi and the Voter List are free of factual errors spelling mistakes. You should also make sure that the Photograph on your EPIC is correct. If there are any discrepancies in any of these, you may take steps to rectify these errors well in advance. So that there are no hurdles for you to cast your vote in the election day.
You are at the right polling booth. The information about your polling booth could be found on your Voter Slip. This slip is also an alternative to your Voter ID Card Delhi and is very well accepted to prove your identity in front of the polling officer. Alternatively you can find your polling station in Delhi online by providing your Voter ID Card number. The following link would help you find your polling booth:- http://ceodelhi.gov.in/OnlineErms/ElectorSearch.aspx.
Nobody else has already casted a vote on your behalf. If this the case, then you have unfortunately become a target of Bogus Voting. Hence in this case you may contact the Polling Officer with immediate effect and he would look into the matter. You may still be able to cast your vote through the tender ballot paper which the polling officer would issue.
These points therefore are mandatorily required to be kept in mind along with the fact that the Voter ID Card Delhi itself is not sufficient for you to cast a vote. Hence all the citizen must take care of the above mentioned points too, so that none of us is a denied a right to vote. This is highly essential because we all know that even a single vote could make a difference.
Therefore, these are few of the things you need to keep in mind apart from your Voter ID Card Delhi. If the majority of people take these steps, it would ensure that the election results are unbiased because of the fact that most legitimate voters would then not be denied an entry to the polling booth and hence the candidate chosen must be a complete representative of the choice of majority of the citizens.