Don't we all hate it when after going through the voter ID card application process and waiting for it to arrive for days; we get a black and white poor looking card with our photograph sometimes distorted or weirdly unrecognizable by anyone else? Well this soon may change and if you are from Uttar Pradesh, you will be the first one to get it as Uttar Pradesh government is taking up a pilot project to issue colored Voter ID Card before the 2014 elections. So now it is possible for you to get colored voter ID card in Uttar Pradesh.
Proposed Initiative for Colored Voter ID Card Uttar Pradesh
This move is mainly initiated to reduce the cases of impersonation of voters during elections. It becomes difficult to identify the voters based on the current voter ID cards, mainly due to the photo quality. Addressing this issue, Mr. Umesh Sinha, Chief Electoral Officer of Uttar Pradesh said that there have been discussions regarding issuing colored EPIC to voters to aid their identification in a better manner. He further added that the new cards will also be designed such that duplication can be very difficult if not impossible. The new cards will be made of plastic material and will be multi layered. These cards will carry the ECI or Election Commission of India hologram on them, to further discourage duplication or fakes. These cards will also carry unique barcodes carrying the information of the card holder's name, age, date of birth and address.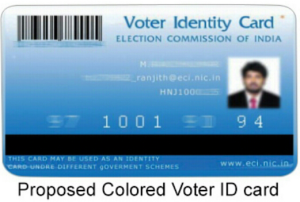 Procedure for getting colored Voter ID card in Uttar Pradesh
As of today these cards are a proposed initiative and new voters will most likely get their election cards in color in Uttar Pradesh by January 25, 2014.Voter ID card Uttar Pradesh procedure is the same as it is for applying for voter ID in rest of India which can be seen here – How to Apply for Voter ID through Voter ID Card Form . However a colored EPIC will come with a fixed fee of Rs. 30.
Having said that, Mr. Sinha, further emphasized the need to expedite the process of issuing voter ID cards in the future. He added, that soon election cards will be issued on the spot, where in an applicant can come in with a copy of his PAN card or Passport, or any 'valid ID' and can get the voter ID card issued pronto. However, he made it clear that such a process will be undertaken in phases and will start with the Tehsil level and move towards block level and district level and so on. There is a serious need to eliminate the long waiting time and in this process the Jan Suvidha Kendras will play an important role in issuing the voter ID cards 'then and there' itself.
Other Developments
Along with the colored voter ID cards, the Election Commission is also connecting the various polling booths using the GIS or the Geo-Information Systems. This will enable the voters to locate their polling booth over the internet. So far 75,000 booths are already mapped and the project will try to cover 1,30,000 polling booths before the next Lok Sabha Elections. The project also aims to add 25 lakh new voters from Uttar Pradesh who will get the colored EPIC.