Mumbai, the city of dreams and also the financial capital of India. This city is a prominent part of the state of Maharashtra and a hub of glamour and entertainment industry. Bollywood resides here and also millions of dreams along with the people who bring them along to this beautiful city. This city has tremendous importance for India and therefore, the voters of Mumbai must take their duty of voting really seriously. It is of utmost importance that a legit and highly functional government and leaders are elected to run this city of dreams, so that the interests of millions living here and the fate of the infrastructure is handled with utmost care and priority.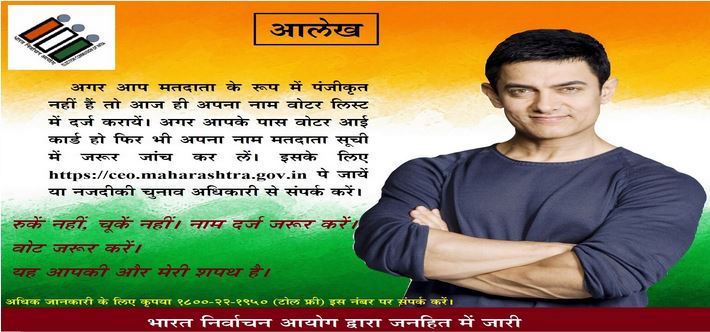 [
IMAGE SOURCE
]
In the month of October, Maharashtra would witness the start of Assembly elections 2014. Therefore, here is your chance to vote and make your opinion count. Your chance to elect a government that is honest and works towards the interests of all the residents of Mumbai. Hence, to help you ensure that you get a chance to vote without any obstacles, here is a guide about Voter ID Card Online in Mumbai. We would enlist all the steps by which you can get your name registered in voter list 2014 Mumbai and also receive your voting card by applying online on the CEO Maharashtra website.
How to Apply for Voter ID Card Online in Mumbai?
To get your voter id card in Mumbai, you can apply online for inclusion of your name into the voters' list 2014 of your constituency. The form you need to fill(available on the CEO Maharashtra website) is called the election commission of India form no. 6. Just type in 'ceo.maharashtra.gov.in' in the address bar of your internet browser and browse around the website interface. On the top of the homepage, there is an options array. The third option on this options array, reads: – 'Online Voter Registration'. Once you click this option, you would be presented with all the election commission voter forms that could be filled and submitted online. The available online forms on the CEO Maharashtra website are as follows: –
Form 6- Application for new voters in Mumbai and all the other cities of Maharashtra.
Form 6A- Application for inclusion of name for overseas or NRI voters.
Form 7- Application for the objection on any inclusion of name of the voter list.
Form 8- Application for correction of Voter list entries.
Form 8A- Application for transposition of entry into the voter list(Required if you are moving to a new address within the same constituency).

If you wish to get your name in the Voter List 2014 of Mumbai and hence receive your voter id card, just click on the Form 6 option. Then you would be taken to a page where you have to select 'Maharashtra' from a list of all the states and then provide your valid mobile number and e-mail address. Once done. click on 'proceed'. You would then immediately receive a security code on your mobile number, as a SMS message and also on the e-mail address you provided. You have to provide the same code on the same page where you are re-directed after clicking 'proceed'. Once successfully registered, you would be able to fill the online version of form no. 6. If you do not receive the verification code neither on your mobile nor on your e-mail id then, you can click on 're-send confirmation code' on the same page. Please note that you can request this re-send option as many as 5 times but not more than that.
How to fill the Online Form No. 6 for Voter ID Card Mumbai?
Once you enter the correct confirmation code, you would be taken to the online version of the form no. 6 for inclusion of name to the voter list 2014 in Mumbai. The first section you would have to fill is 'Page 1'. On this page, you have to select your state i.e Maharashtra. Then you have to select your district i.e Mumbai City-23/Mumbai Suburban-22 or any other district to which you belong.
Then select your assembly constituency. You would also have to mention the applicant's name and surname in English as well as the regional language. Once you have filled all these fields completely, just hit 'save' and you can come back later to complete your application and update it any point of time. A unique application id would also be generated, which could be used to check your application status in Mumbai in the future. If you want to complete your application, just visit the page 1 of online form 6 again and click 'continue'. You would then be taken to the remaining sections of the online form.
On the page 2 of the form, you have to upload your photograph(this would then appear on your newly issued voter id card) and mention your relation's name(husband/father). Similarly, when all the sections of this form are willed correctly with no mandatory field left, you application would be considered complete to be reviewed by the election officers. If you did not upload the verification documents, it would not lead to rejection of your application. This is because, you can present all the required proof documents to the Booth level officer when he pays a visit to your residence for verification and signatures.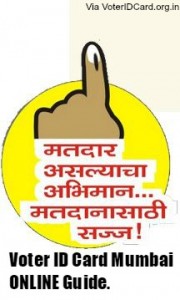 How to Check Voter ID Card Mumbai Status?
Once you have successfully filled the application form no. 6 for voter id card in Mumbai, it is important to keep yourself updated with its status. Checking the application status gives an idea about the rejection and acceptance of your submission. It also helps you know that when can you expect the BLO to visit your residence and verify your identity in order to complete your bid to become a legit voter in Mumbai and get your voter id card issued.
To check this status, you need to have your unique application id which was generated after completion of your online application form on CEO Maharashtra website. One the homepage of the same website, you would find a section called 'Citizen's Corner'. In this section, you find all the latest updates from the CEO's end. Among all these update, there would be an option to check the status of new forms(Part-wise and Name-wise). Click part-wise option and you would have to enter the following info to check the status of your form: –
District.
AC.
Part number.
Form type.
Date/period of filing the application.
Once all this information is entered, you would be able to view the status of your application form. Below are the direct links where you can check the status: –
Status of forms(Part-wise): – https://ceo.maharashtra.gov.in/Claims/ShowApplicantsForm.aspx
Voter ID Card Application status(Name-wise): – https://ceo.maharashtra.gov.in/Form6search/
Both of the above links help you check the application status for forms filled in Mumbai or any city of Maharashtra from 1st August 2014 on-wards. The combination of all the above mentioned steps for online application would surely help you realize your aspiration of becoming a voter in Mumbai and hence make your opinion count by electing the deserving and efficient government for the state of Maharashtra. This way, you complete one of the most important duties for being a citizen of India. The need and importance of voting in the Assembly elections 2014 is immense. Therefore, you must not take voter registration lightly and rather proceed towards completing all the formalities as soon as possible.