The Voter Identity Card or more commonly known as the Voter ID Card is issued by the Election Commission of India; a body which is a part of the basic structure of the constitution and responsible for the fair and just administration of elections in the country. Voter Identity Card can be issued by citizens who are 18 years of age and above. The question that always surrounds Voter Identity Card is how do you get it? How to apply for it? And what are really the uses of a Voter ID Card? This article will aim at answering all these basic questions regarding the Voter ID Card.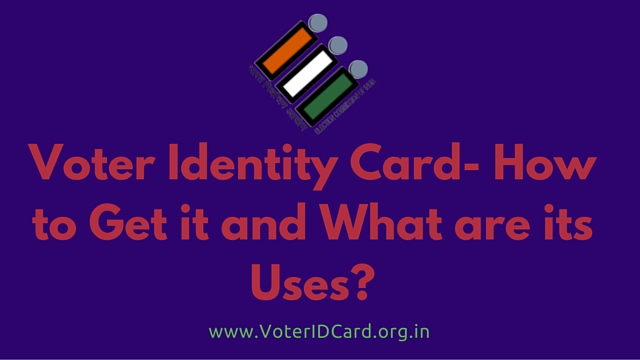 Voter Identity Card- How to Get it and What are its Uses?
The Election Commission of India has continually strived to make the process of getting a Voter Identity Card citizen-friendly so that more and more citizens can reap the benefit of the Voter Identity Card. There are two ways to get the Voter Identity Card that is either Online or offline.
Get Voter Identity Card – Online
For the application of a new Voter ID Card, every Citizen will have to fill in Form 6 online. The direct link to Form 6 is given below
To Fill Form 6 for Voter Identity Card- CLICK HERE

Below given are step-to-step guide you through the process of getting you Voter identity Card through Online application:
On the top right-hand corner of the page, you have to select a language. The default language of the page is English and Hindi
Select  your State and Parliamentary constituency
The next step is to fill in applicant's details, in this step, you have to fill in your personal details like your name, surname, date of birth, place of birth etc. To avoid errors you should use a document like your Birth Certificate to fill in this section of the form
After Personal details, you have to fill in the details of your present residence or your full address. Again, to avoid errors it is advisable to use an address proof like and Electricity bill to fill in this section
Next, you have to fill in the details of the family members who are already included in the electoral roll of the constituency, also in this part you will have to upload scanned documents like your address proof, identity proof and photograph
The last part of the application is the declaration, where you have to indicate a few important things like- for how long you have been living on your current address and supporting it with accurate date, month and year. In this part, you will also have to mention whether you have applied to be included in the electoral roll from any other constituency or not/ you are not included in any other electoral roll or you might have applied to be a part of the electoral roll.
Enter Place, Date and Submit the Form
Get Voter Identity Card – Offline
For applying for Voter Identity Card offline you will have to visit the Local ERO or the Election Registration Officer. The complete process of what you need to do and what documents you require etc are answered in detail in the link given below
To Know about the Offline Process of Getting Voter Identity Card in detail – CLICK HERE
The Uses of the Voter Identity Card
There are many uses of Voter Id Card, some of them are as follows:-
Voter ID Card serves as an identity proof of citizens for casting votes on polling days.
Voter Identity Card can be used for general identification and verification purposes
Voter ID Card serves as a general identity and address proof hence, makes many activities of our day-to-day life easier like getting a SIM Card, opening a bank account.
We hope this article was helpful! For more such informative articles on Voter ID Card and for latest Voter ID Card News, Watch this space for more!