Bihar, India's third-most populous state after Uttar Pradesh and Maharashtra occupies an important position in the early history of India. For centuries it was the principal seat of imperial powers and the main focus of Indian culture and civilization. The derivation of the name Bihar from the Sanskrit vihara (Buddhist monastery) reflects the prominence of such communities in the region in ancient times. It located in the eastern part of India. It is bounded by Nepal to the north and by the Indian states of West Bengal to the northeast and Uttar Pradesh to the west.
In November 2000 the new state ofJharkhand was created from Bihar's southern provinces and now forms the state's southern and southeastern borders. The capital of Bihar is Patna.
What is CEO Bihar?
The CEO (Chief Electoral Officer) of Bihar  is a person who works under the overall supervision and control of the Election Commission of India.
A CEO conducts a number of duties pre and post elections. It updates all the voting guidelines on its website. It maximizes the EPIC coverage, ensures that all the polling stations are equipped with ramps and notified before elections. It also makes a note of the voter's list and that proper photo identity cards are issued to the public in order to avoid any malpractices during elections.
CEO Bihar Website
The website of CEO Bihar is http://ceobihar.nic.in/
The CEO Bihar website has primarily been made to provide adequate and relevant information about the office of the Chief Electoral Officer and improve communication between the electors of Bihar and the department of elections in Bihar
The website also provides various important Forms in-order to download and obtain voter ID card, make necessary changes and cancel your name from the voters list.
It also has various sections such as to download election related data, procedure, overseas electors, Lok Sabha general election and assembly elections-2014
Along with these facilities the portal is responsible to handle all kinds of election related works like to provide the candidates list of various parties, to provide the winning and losing party result through online website in state for all areas. Portal also has a section to let you know about EVM (Electronic Voting Machine). In the election results you can get all the results for assembly wise, lok sabha wise, council wise and Rajya Sabha wise on the basis of per year.
How to Get A Voter ID Card Online in Bihar
In order to get a Voter ID Card in Bihar you need to visit its official website-http://ceobihar.nic.in
On the right hand top corner, click on the "citizen services/ online registration". It'll land you on this page- http://210.212.18.115/eciforms/
The page will be in hindi, you can fill in the necessary details such as name, mobile number, email id and register yourself with CEO Bihar.
You get a pin on your phone which you need to enter on the registration page
You can now Select form 6 and fill all the required information for new electoral registration
You have to attach a residence proof and age proof. Attach all the copies of your document in attested mode. Affix your passport size photo and submit your registration. You can also take the printout of it and submit it by offline mode.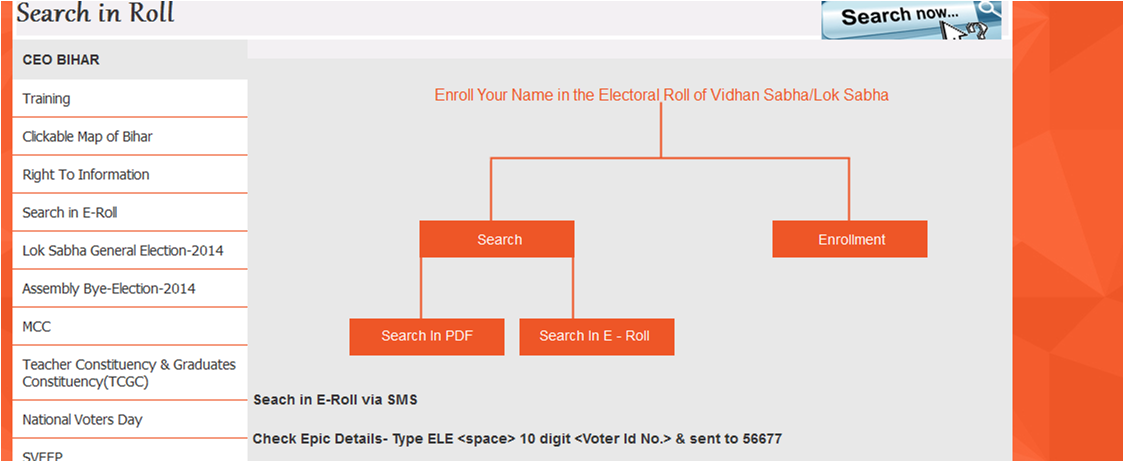 Electoral Roll Bihar
Your name is a must in the Electoral Roll of the constituency in order to allow you to vote. You can search your name in the electoral roll of Bihar by following the given steps:
1)   Search In E-Roll via SMS
To check if your name is included in the electoral list vis sms you can follow the given steps
Type ELE <space> 10 digit <Voter Id No.> & sent to 56677
2)   To Search In Pdf Format
You can visit this link in order to check the electoral roll of bihar in pdf format
click on "VIEW FINAL ROLL(MOTHER & SUPPLEMENTRY) IN PDF FORMAT PUBLICATION"
Enter your assembly segment, part number and click on 'view'.
http://ceobihar.nic.in/search_in_pdf.html
3)  To Check In E-Roll
To check your name in the voter's list bihar in E-roll visit the following link
http://ceobihar.nic.in/Search/Name_Search.html
Choose your district name, enter your details in the next page and click on 'show'
Deletion/Modification of Details in Electoral Roll
Obtain A Certified Entry Of Electoral Roll
After the publication of Rolls you can obtain a copy of the certified entry by approaching the ERO concerned. You will be required to deposit some money and thereafter the ERO will issue the required certificate.
Please note: You cannot have names at two places (Assembly Constituency or in the State) so please get your name deleted before adding it at a new address.
To Delete A Name From The Electoral Roll
In case you want to delete any name from the electoral roll you need to fill this form
People usually delete names when your name has been entered in two different electoral rolls or if somebody has expired and their name has to be removed
Modifications/ changes
In case you want to make any modifications/ changes, you may fill this form
How to get a Voter ID Card in Bihar By Overseas Voter
Although there is no provision for postal ballot yet in India, a person has to be present in India in-order to Vote on the day of Elections. An overseas elector can include his name in the Electoral Roll Of bihar in the following ways:
He can visit this page and fill in form 6A in hindi
Or he can Fill in form 6A in english here
Form 6 is for people residing in India to include their name in the Electoral Roll and Form 6A is for Overseas Voter. They have to attach their residence proof, age proof, a passport size photo and submit the form online or through somebody at the Electors office.
Bihar Voter List 2014
The number of Districts in bihar is 38, and the Loksabha seats are 40 and RajyaSabha seats are 16, the number of assembly constituency is 243. The total population of Bihar state is 103,804,637.
The people of Bihar who are 18 year on or before 1st of January 2014 are eligible to vote. If you are new voter and your name is not on the voter list, then you should enroll with your name, photo and age to add your name in the revised voter list 2014 for the LokSabha election 2014 or Chief Minister election in Bihar.
The Voter list Bihar district has been published officially online.
If you wish to check your name in the voter list of Bihar, then you must be a resident of Bihar state.
People should check their names in the voter list of Bihar state to get eligible. If the name of any person is not in the voter list, then he will not be  able to cast vote. So, you are advised to check name in the voter list 2014 before the elections.
If you want to check the voter list of Bihar then you can easily check it online from the official website of Bihar CEO.
The official website to check the Bihar voter list 2014 is ceobihar.nic.in. You can download the PDF of voter list 2014 of your area as well.
Here is also a detailed guide for you to check the status of your Voter ID Card:
https://voteridcard.org.in/2243/how-can-i-check-my-election-card-status