Voter ID Card is one of the  peculiar identity proof of an Indian citizen. Voter ID is provided to an individual to enable them to cast their valuable vote as it is an  substantial opportunity to select a person who is going to rule them. India being a democratic country, the election process happens in a representative manner and in which the representatives are elected by citizens like us. This is what we call the "Right to Vote".
Voter ID card is issued by The Election Commission of India. To get a Voter ID Card, you need to download Form 6, duly fill it and submit it to your nearest Chief Electoral Officer's office or to the Booth Level officer. You should have attained an age of 18 years in order to apply for a Voter ID Card. While submitting your Voter ID Card application, you also need to submit the required documents of proof. Once your Voter ID Card application is verified and processed, you will get your Election Card at your specified address. You can download the Voter ID Card Form 6 application from the below mentioned link:
http://eci.nic.in/eci_main/forms/FORM6.pdf
First step to get a Duplicate Voter ID Card
If you loose your Voter ID Card or if it gets destroyed due any circumstances, you need to apply for a duplicate Voter ID Card. Duplicate Voter ID Card is the replica of the original Voter ID Card. Here's what you need to do if you lose your Voter Card:
Firstly, lodge a complaint at the nearest police station about the loss of Voter ID Card, in order to avoid the misuse of the Voter Card by others.
Preserve the FIR safely, so that it can be used for further reference, if required.
Fill Form 002 for the application of  duplicate Voter ID Card, which can be downloaded from The Election Commission's official site.
Application form for duplicate Voter Id Card: FORM 002
People who a want to apply for duplicate Voter Card must download Form 002 from official website of their  state CEO's website. You will be provided a duplicate election card only if the original one has been lost or it has been severely damaged. The application form for getting a duplicate voter id card is to be submitted with a penalty of INR 25 along with all required documents of proof attached. On the Form 002, do not forget to attach a  passport size photo of yours (3.5X3.5 cm).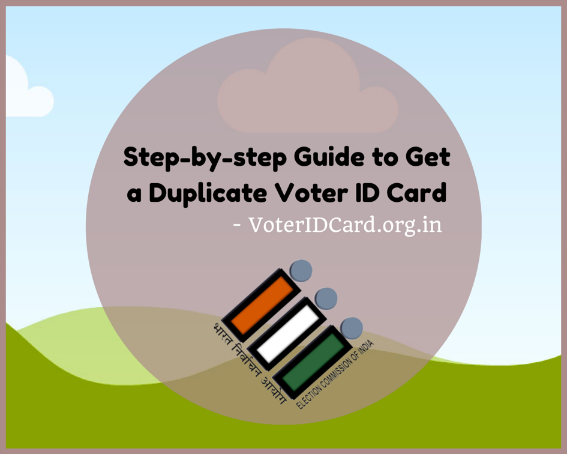 Here is a state-wise list of all Chief Electoral Officers (CEO) in India
From these websites, you can download the application forms as well submit the application for a duplicate Voter ID Card.
Detailed Information on applying for a duplicate Voter ID
Visit the respective CEO's website of your state and download the required form. Duly fill in the required details.
Attach the FIR for the lost Voter ID Card
Also attach any of your documents of proof – Aadhar card, Ration card, PAN Card, Bank passbook, Passport or a driving license.
Then attach a residence proof like current bill, gas bill or telephone bill.
Put all the documents together and submit them to any of your nearest election commission office.
That's it. You are done. Do check the status of your Voter ID Card on your state CEO's website. Here is a quick guide to do that.
Application for duplicate Voter ID Card can also be done online. It will help you save time and efforts to visit your CEO's office. The process for duplicate voter ID Card application is similar to that of the normal procedure. Firstly you have to download Form 002 from website of your state's election commission, fill accordingly and then submit all the documents and FIR through your state's election commission website itself. Do make sure that you do not submit incomplete information
Also feel free to contact the office of Chief Electoral Officer of your state if you have any queries or concerns regarding getting a duplicate Voter ID Card.
Do note that non-resident Indians (NRIs) are not eligible to apply for a duplicate election card. Refer a detailed set of articles on NRIs and Voter ID Card India over here
Feel free to mention in comments your queries about getting a duplicate Voter ID.