It will be an extremely dreadful situation for anyone if they lose their identity proof document like Voter ID Card, PAN Card, Passport, etc. If ever you lose your Voter ID Card by any means. Firstly go to your local police station and lodge an FIR for Lost Voter ID Card. If you don't have the photocopy they may or may not lodge your FIR, but generally if you have the voter id card number, then the police will file an FIR based on that number. Through this article, we would like to give you information regarding FIR lodging using samples and how to get a duplicate voter ID.

FIR for Lost Voter ID Card:
In order to file an FIR for a Lost Voter ID card, you will need a photocopy or the ID number of your card.
If you are having any copy of your Voter ID do submit it.
If you don't have the photocopy of card and number as well, then visit your state election commission's website and search for your number based on your district and constituency filter provided on the website.
---
Click here for Voter Search Online
---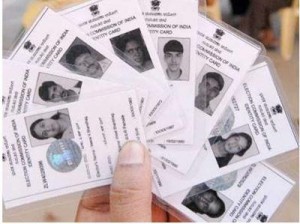 ---
Click here to find your State Election Commission's Website
---
Having said that, there is also a possibility of local political party office having a photocopy of their constituency's voters. Since you are their voter, they will be happy to provide you with a copy of your Voter ID that you can use to find the ID number to register an FIR. You can also take the help of the party workers to get more detailed information.
Now here are two sample FIR letters for your reference in case of lost Voter ID Card – These are just samples and you can change them as per your requirements.
Sample 1 : 
Sample 2:
Duplicate Voter ID for in case of Lost Voter ID Card:
After you have successfully lodged FIR at the police station, take a photocopy of it and visit your nearest election commission office of your district or city and fill the appropriate form for issuance of a duplicate voter id card.
Here's how the procedure looks like:
Take a photocopy of your lodged FIR.
You will have to fill a form for obtaining a duplicate voter ID. Click here to download the form online. 
This is how it looks like. Fill in all the details without any error and make sure all the details you enter are valid.
Now attach FIR, above form and an identity proof then submit all this at the ECI office or an ESEVA centre.  Click here for a list of supporting documents.
ECI/ ESEVA official will provide you an acknowledgment receipt with data and value for taking your voter id card photograph.
Once applied for all the verification and procedures to take place it takes longer than 2 weeks. So you can expect your duplicate Voter ID card within 2-3 weeks of successful application.
---
For more information do read  How to get a duplicate Voter ID Card?
---
Voter ID Card Status:
There are different modes through you can get the status of your voter ID card status.
Through,
This is the standard procedure of obtaining a duplicate voter id card if you have lost or misplaced it.
Hope this information helps you. For any queries please comment below.
Thank you !! Have a nice day!!!