Possession of a voter ID card is mandatory for all citizens of India to exercise their right to vote. All citizens who are above the age of 18 years are eligible to cast their vote, if they have a voter ID card. In order to get a voter ID card, one can follow simple steps to apply in the voter ID card form either online or offline. Even if there is an error in the information entered in your voter ID card, no need to panic since there are many ways in which one can get it fixed. There is a feasibility to change the address, or edit the personal details, or change the constituency etc. However, one has to fill in various forms for various purposes. Examples of such voter ID card forms are Form 6, Form- 6A,   Form- 7, Form- 8, Form- 8A etc.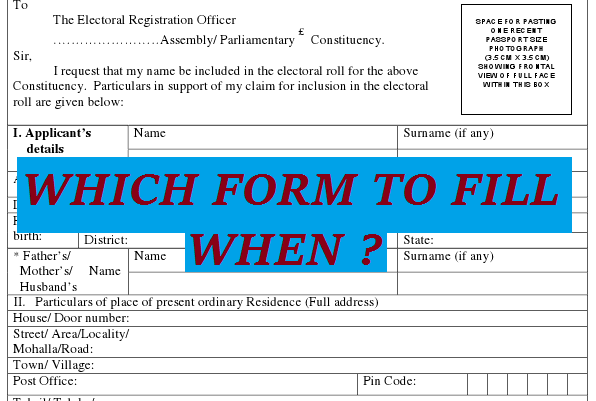 Which Voter ID Card Form to fill when? Form 6, 6a, 7, 8, 8a all explained
Form- 6: 
Form- 6 can be filled by
A person who wants to enroll his name in the electoral rolls after attaining 18 years has to fill in this Voter ID Card form -6.
A Person shifting his/her place of residence outside the Constituency in which he/she is already registered can also fill this form.
This is an Important form as it is the first step for every citizen of the country to participate in the democratic process of the country.
Click here to open form6
For detailed information on how to fill this form6, click here.
Form- 6A:
Any Indian citizen staying in a foreign country, who has not acquired citizenship of that country, can apply in the form- 6A to get registered in the constituency pertaining to the locality in which his place of residence in India is mentioned in the passport.
Click here to open form6A
Form- 7:
A citizen can fill form- 7 whose name is already in the electoral roll but he/ she wants to delete his name from that electoral roll or for objecting the inclusion of any name in the electoral roll. The candidate filling this Voter ID Card form must specify the reasons for deletion of that particular name from the electoral roll viz. Due to death, due to shifting etc.
Click here to open form 7
Form- 8:
A person whose name is included in the electoral roll but he/ she wants to make corrections to his/ her name can apply in the voter ID Card form 8. One cannot apply for correction of other person's details.
Click here to open form 8
Click here to know how to make Corrections to your Voter ID Card Online.
Form- 8A:
A person whose name is already included in the current electoral roll can file the Voter ID Card form 8A  for transposition of an entry in a different place of the same constituency.
For a comprehensive guide on how to apply transposition, click here.
Click here to open form 8A
Voter ID Card Form for other online services of ECI
There are many other voter ID card forms such as form- 17, form- 18, form- 19, form- 1, form- 2, form- 2A and form- 3. Each form is used to apply for different grievance/ modification of the electoral rolls. One can visit the Election Commission website (click here)  for applying the forms.
There used to be a time when getting a voter ID card and modification of it is a cumbersome process, but the times have changed. All online and offline applications are digitized and applicants can easily track the status of their application. The grievance mechanism has become robust in the Indian electoral system and the Election Commission needs to be lauded for the change.