The most basic question that should come to mind when talking about Election ID card …
Every five years, the Election Commission of India organizes general elections where election ID card is an important entity. There are also state assembly elections that pertain to each state, municipal corporation elections in each state and panchayat elections as well that involves elections of the "Gram Panchayats".
Each citizen who attains 18 years of age can vote in India. A voters list or electoral roll is created through careful scrutiny of the voters. Till some years, voters listed in the voter list could vote for their leaders. No other identity was required. However, need for election ID card became imminent in the following years. Let us check out why voter's ID card became compulsory in the following years.
Election ID Card – Why and How to Get it?

Many voters where in for a shock when they found that their vote was already cast by someone else who impersonated them. Even when they had the valid credentials, the state election officers were helpless. They could not stop the menace of bogus voting.
As per the amendment of the R.P. Act, the Chief Election Commissioner got rights to issue Elector's Photo Identity Cards (EPIC). Through this new ruling, the voters were given a photo-aided I-card known as the election card or voter ID card. The election card had a photograph of the individual, personal data, such as father's name, address, and date of birth.
Through the EPIC scheme, voters in Sikkim exercised their franchise. The voter card served as an ideal identity card that made each voter unique and special. Since the elections in 1979, election was conducted only through voter cards.
Applying for an Election Card
The local Chief Election Officer helps in distributing election card through the booth level officers. New voters or those who have lost their election ID must apply for the same by filling in Form 6. Today, registering online is the easiest way to apply for voter card. You can expect to get your card by a month or so.
Click Here to Apply for your Election Card in 7 minutes
Importance of Election ID Card:
Voter ID cards are now essential to cast votes. However, there are more reasons why this identity card is aptly needed in India. For instance:
It is also essential to register one's name in the electoral roll if one changes the place of residence.
Especially for a woman who gets married and moves in to her in-laws home, an election ID card saves her from waiting for long time to get her name included in the voter list in her new home. She just needs to submit a copy of her marriage certificate and show her photo-identity card to get the job done.
People with voter card can easily buy e-tickets, say tickets for railways, book hotels, or seek admission in highly secured public places. In fact, a person with election card would be treated as a ticketless passenger. Earlier, identity card was needed only for Tatkal scheme or getting tickets for AC classes.
Those planning to get a passport can use Election card to know the status of the ticket.
Voter ID is necessary to update your voter list if for instance, there is an error or the name was struck off inadvertently.
Once you have a voter's card, you become a permanent citizen of India who is capable of exercising your franchise. While there are other identity cards available in India, such as Pan Card, Adhaar Card, and so on, an election ID card serves as a photo-identity card, address proof, age proof document, among others. It also specifies date-of-birth, and gender of the individual.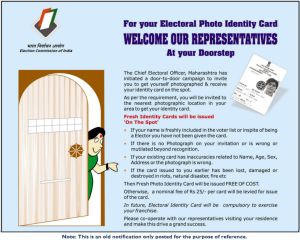 Each state has its own website that manages election process and distribution of voter's card. Google maps help to locate the right polling stations and review the application forms faster and accurately.
So, why allow a dubious person to exercise your rights. You can use your election ID card to do the same.