Chhattisgarh literally 'Thirty-Six Forts' is a state in Central India. Chhattisgarh is the 16th most-populated state of the nation. It is a source of electricity and steel for India. Chhattisgarh accounts for 15% of the total steel produced in the country. Chhattisgarh is one of the fastest-developing states in India.The state was formed on 1 November 2000 by partitioning 16 Chhattisgarhi-speaking south eastern districts of Madhya Pradesh. Raipur was made its capital city. Currently the state comprises 27 districts. Being a stronghold for the nation's Maoist or Naxalite rebel movement, elections in Chhattisgarh are of utter importance as they form the difference between peace and chaos. A Naxal or Naxalite is a member of any of the Communist guerilla groups in India, mostly associated with the Communist Party of India (Maoist). In 2006 India's intelligence agency, the Research and Analysis Wing estimated that 20,000 armed-cadre Naxalites were operating in addition to 50,000 regular cadres and their growing influence prompted Indian Prime Minister Manmohan Singh to declare them to be the most serious internal threat to India's national security. It's important that in these sensitive areas also the democracy is upheld and that no external forces can interrupt the elections. Chhattisgarh is divided into 11 constituencies. In 2014 elections, BJP won 10 whereas Congress managed to win a seat in Chhattisgarh.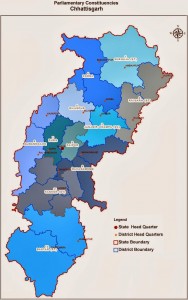 CEO Chhattisgarh – The Parent organisation is The Election Commission of India
India is a Socialist, Secular, Democratic Republic and the largest democracy in the World. The Constitution of India has vested in the Election Commission of India the superintendence, direction and control of the entire process for conduct of elections to Parliament and Legislature of every State and to the offices of President and Vice-President of India. Election Commission of India is a permanent Constitutional Body. The Election Commission was established in accordance with the Constitution on 25th January 1950. The Commission has a separate Secretariat at New Delhi, consisting of about 300 officials, in a hierarchical set up.Two or three Deputy Election Commissioners and Director Generals who are the senior most officers in the Secretariat assist the Commission. They are generally appointed from the national civil service of the country and are selected and appointed by the Commission with tenure.  The main functional divisions are Planning, Judicial, Administration, Systematic Voters' Education and Electoral Participation, SVEEP, Information Systems, Media and Secretariat Co-ordination. At the state level, the election work is supervised by a Chief Electoral Officer ( Like CEO Chhattisgarh) who is appointed by commission from amongst senior civil servants. He is a full time officer and is assisted by a supporting staff.
CEO Chhattisgarh : His roles and duties
Election Commission of India appoints a Chief Electoral Officer for each state(Representation of People's Act 1950 and 1951). The CEO(for example: CEO Chhattisgarh) oversees the elections in his state and reports only to the Election Commission of India. NO MINISTER OR BUREAUCRAT CAN QUESTION HIS AUTHORITY.That sounds pretty cool, right? The CEO Chhattisgarh supervises the procedure and machinery for election in a state. The State Election Department in every state, of which the CEO Chhattisgarh is an integral part, wishes to reach out to the people of the state to ensure better services in terms of Electoral Rolls, issuing valid Electors' Photo Identity Cards (EPIC), ensuring thorough verification, scrutinization and correction of the EPIC cards and list of electoral rolls (spelling mistakes, mistakes in D.O.B etc.), digitizing maps to indicate areas of the polling stations and their respective distances, providing sufficient men power and material resources on the day of the elections and enforcing a model code of conduct to be followed by all voters. The CEO Chhattisgarh must also look into the financial managements during an election. CEO Chhattisgarh sends army troops in certain sensitive areas to ensure that the elections are held without any external disruptions and people can vote freely without being scared of anyone.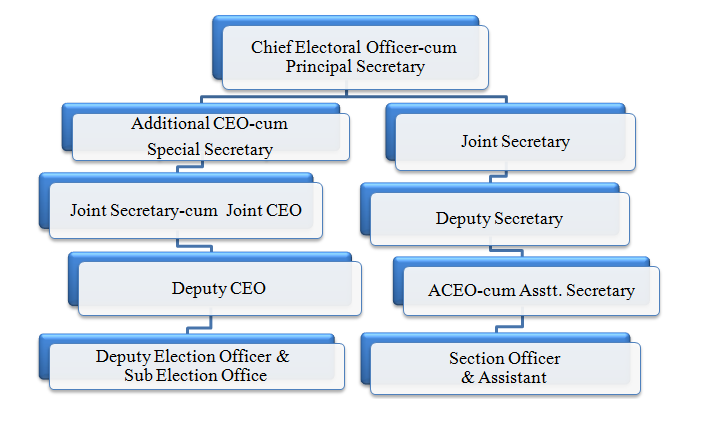 Know your CEO Chhattisgarh
Ms. Nidhi Chibber is the CEO Chhattisgarh i.e. Chief Electoral Officer of the state.She is a 1994 batch Indian Administrative Service officer of Chhattisgarh cadre. The Chief Electoral Officer can be communicated in case the duties of District Electoral Officers, Electoral Registration officers and the Booth Level officers are not carried out properly. The District Electoral Officers, Electoral Registration officers and the Booth Level officers help in the submission of forms, answering the questions of the public, fetching them the Voter ID card and every other duty pertaining to Elections. At the time of elections near  the polling area, some people start bribing you in monetary terms, liquor or fake promises so that you might vote for their party. Never get involved in such immoral activities. Moreover, there might be some thugs creating violence in the polling area to disturb the peaceful voting process. In all such cases, you should go and file a complaint with the complaint cell established by the Chief Electoral Officer or contact the Helpline and convey your grievances. If the campaign of the political parties exceeds the time, usually allotted for campaigning before elections, even in such cases you can contact your State Chief Electoral Officer and give a complaint. In the following sub-section, we would enlist all the contact details of this competent team  running the CEO Chhattisgarh office. Contact details(CEO Chhattisgarh and her team members) – Smt. Nidhi Chibber (IAS) Chief Electoral Officer (CEO Chhattisgarh) Office Address- Shastri Chowk, Old Mantralaya premises, Raipur-492001 Contact number- 0771-2236685 Email- [email protected] – Dr. K. R. R. Singh Joint Chief Electoral Officer(SVEEP) Contact number- 0771-2221985 Email- [email protected] – Smt. Jaishree jain Deputy Chief Electoral Officer Contact number- 0771-2228888 – Shri. Mohan Lal Soni Asst. Chief Electoral Officer
CEO Chhattisgarh forms for voters
Form 6 –Application for  inclusion of name in electoral roll and change of address.

Form 6A –Application for inclusion of name in electoral roll by an overseas elector.
Form 7 –Application for objection to inclusion of name in the electoral roll.
Form 8 –Application for objection to particulars entered in electoral roll.
Form 8A –Application for transposition of entry in electoral roll
Form 001 –Application for Duplicate Elector's Photo Identity Card
Form 18 Hindi –Claim for Inclusion of Name in the Electoral Roll for Graduates' Constituency.
Form 18 English –Claim for Inclusion of Name in the Electoral Roll for Graduates' Constituency.
Form 19 Hindi –Claim for Inclusion of Name in the Electoral Roll for Teachers' Constituency.
Form 19 English –Claim for Inclusion of Name in the Electoral Roll for Teachers' Constituency.
Getting a CEO Chhattisgarh Voter ID card
Voter ID card isn't a mere piece of cardboard which provides you with the power to cast a vote but also an identity proof that you are a citizen of India. It is a symbol of democracy and republicanism which we cherish in our beautiful nation. It provides you your identity, who you are, where you belong to and gives you the ability to decide the nation's future. Nowadays, it's pretty easy to register for a new voter ID card. You can do it either manually or online. Election Commission(EC) ensures that the process of making new Voter ID cards is as simple as possible to encourage more and more people to register for it. EC organizes National Voters Enrolment Drive every year so that people can register to get a new voter ID card. However, if you have missed that don't worry. There are still many ways to apply for it. You can download the Form 6 and 001 from the CEO Chhattisgarh website or you can get these forms from your nearest VREC.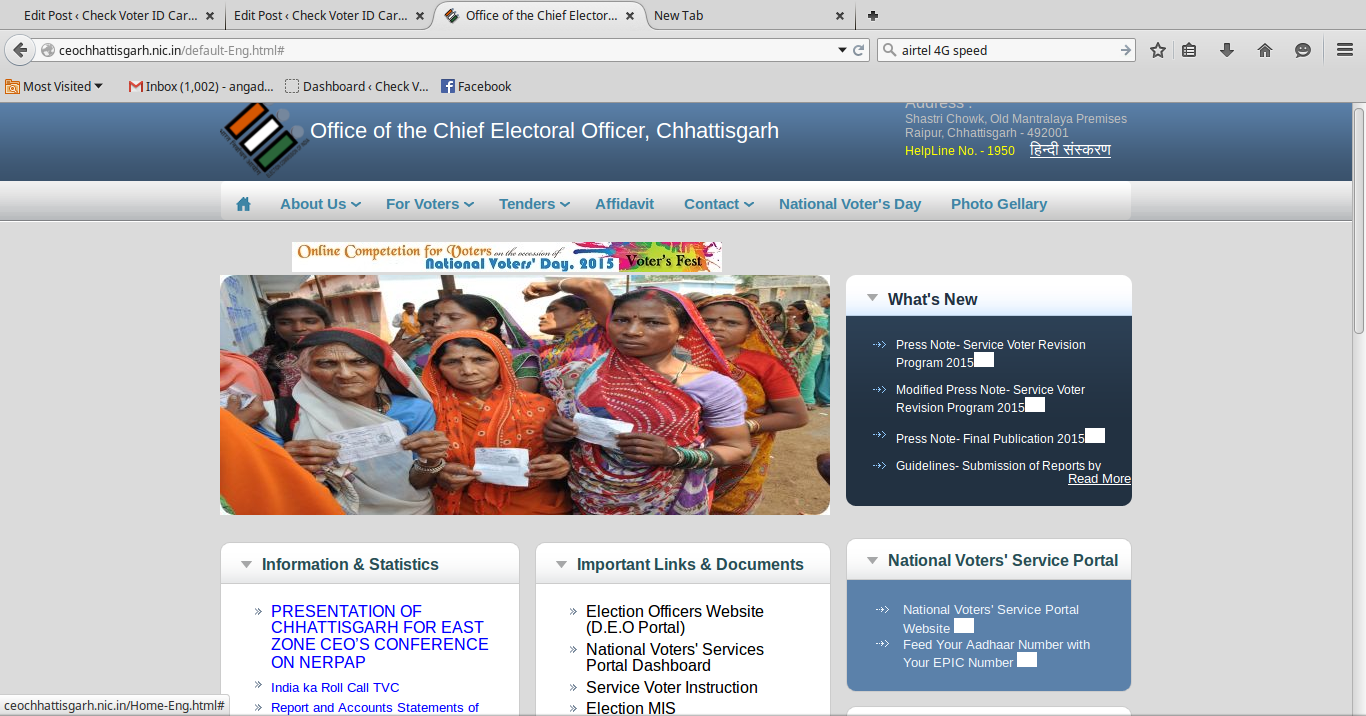 Fill up the form and attach an attested copy of an age proof (passport, pan card, driving licence or ration card) and an residence proof ( copy of electricity bill, gas bill, telephone bill and so on ).
You also need to mention the Name and Id number of a voter member of your family for reference. Do not forget to attach attested passport size recent photo and make sure you look good in that because a bad photo in the Voter Id card will haunt you for a long time.
Click here to know BLO/AERO area wise.
After completing the process of registration either online/offline an officer from the Electoral Office will come to your residence to check if all the information given by you is correct. For that you have to be physically present with required documents at the time of verification from door to door by the officer. After the verification process is complete, the officer would provide you with a particular date on which you will have to reach the given centre and collect your Electoral Card. Since it is a long term process it will take at least 2 months time for your card to be issued but you will not face any problem in collecting it.
Getting a CEO Chhattisgarh Duplicate Voter ID card
If by chance you have misplaced or lost your voter ID card don't panic you can get a duplicate one. First of all, you need to file a FIR with the local police authorities and keep the receipt safely.
Then visit the nearest VREC or CEO Chhattisgarh website and download Form No. 002. Fill in the appropriate details and attach self attested copies of ID and residence proofs along with passport size photo. Don't forget to attach the copy of FIR with your application.
Submit the above documents personally or just send them directly to ERO through Speed Post. You will be give the receipt and later you can collect your duplicate card from VREC.

Checking name in the electoral roll
It takes around 40-60 days to get our names registered in the electoral roll. Till then , there is an unexplainable jittery feeling in our stomachs that we can't shake off. We can check the electoral rolls and see if our names has been included in it by following the given simple steps: Visit the CEO Chhattisgarh website i.e www.ceochhattisgarh.nic.in/default-Eng.html and under "For Voters" option click on "SEARCH YOUR NAME IN THE ELECTORAL ROLL". Now a window opens up and you can search your name in the electoral roll through 4 given ways- 1) through city/district name 2) through name 3) through constituency 4) through EPIC number.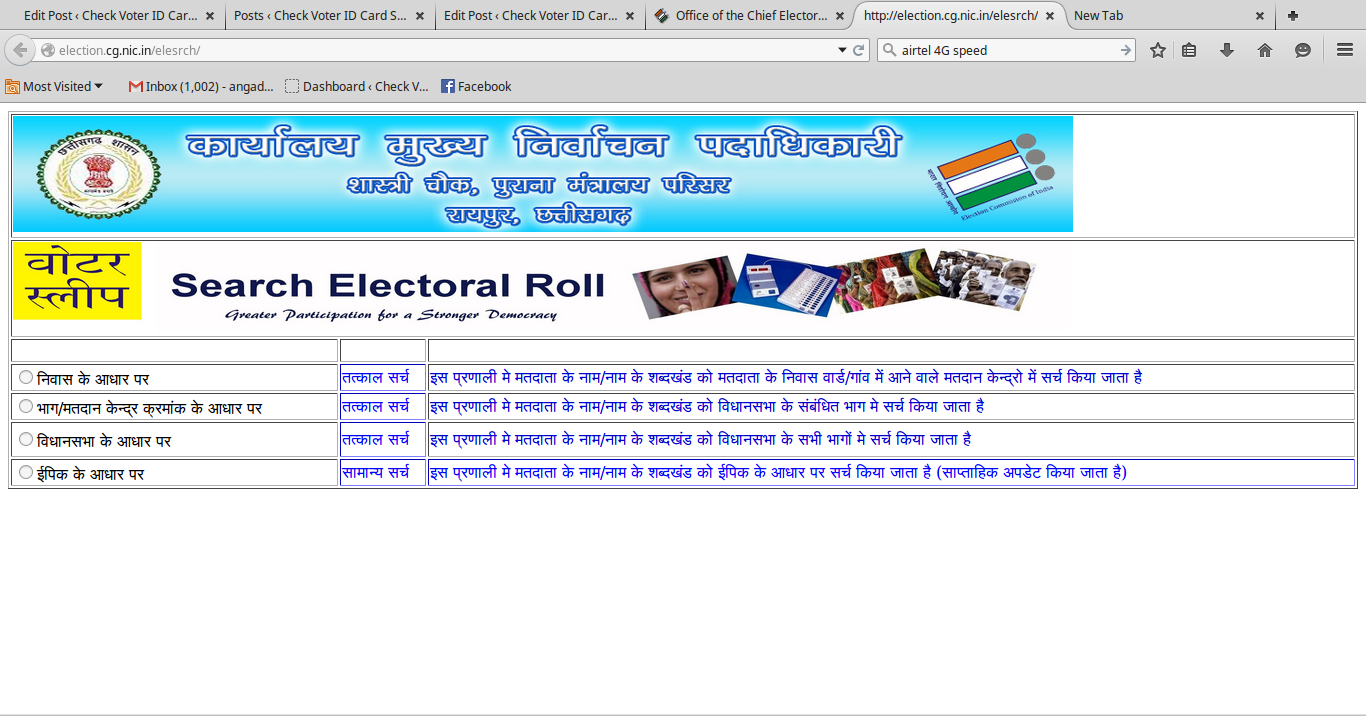 You can also directly download the complete electoral roll from "FOR VOTERS" option on the website and search the name manually or You can also visit the nearest VREC and request a copy of electoral roll and search your name in it.
CEO Chhattisgarh FAQ's
– Am I allowed to vote ? Ans. You are eligible to vote if : 1) You're a citizen of India (The NRIs who are working in foreign countries on behalf of the Indian Government can get their voter ID card as well. With Indian Government embracing the online way of applications in all fields. NRIs can now get their voter ID card without having to visit the Electoral Registration Officer(ERO) in India. They can download the Form number 6A from www.ceochhattisgarh.nic.in , fill in the appropriate details, attach attested residence and Id proofs along with passport size photo and either upload it on the above mentioned website or can send the documents directly to ERO by post. Additionally they need to attach the photocopy of their passport and all these documents should be attested by the officer of the Indian mission of the country in which the applicant is currently residing.) 2) You're 18 years or older. 3) You are an ordinary resident at your current location i.e staying at your current address for 6 months or longer. – I have shifted my residence recently. How do I ensure that I am enrolled in my new place of residence and my name is deleted from the old place? Ans. In case new residence is in the same constituency please fill form 8A otherwise form 6 and submit to ERO (SDM) or AERO (FSO) of the area of your new residence. – My old I Card is defective. I would like to have a new I Card with correct particulars. What is the procedure? Ans. You can get your I Card rectified by depositing it in the Office of the ERO concerned or at Photography centre when the work of preparation of Photo ID card begins. So if you really want Chhattisgarh to progress at the same or even at a faster pace than before and if you are eligible to vote then go press the button and decide the future of your state.