Is Chandigarh a Union territory or a capital city of Punjab and Haryana. Wait! Seriously a capital city of TWO states. Is that possible?
Too many questions in mind ? Relax, this article provides information about CEO Chandigarh (and basic information about Chandigarh by extension 😛 ).
Chandigarh also known as 'the City Beautiful' is a Union territory AND serves as a capital city for two states namely Punjab and Haryana. It is the first planned city post-Independence. The master plan of the city was prepared by Le Corbusier but most of the government buildings and housing were designed by Chandigarh Capital Project Team headed by Pierre Jeanneret, Jane Drew and Maxwell Fry. Named after the Hindu goddess Chandi, it is one of the cleanest cities in India. It is also the first smoke free city in India. As a Union Territory, it is ruled directly by the Union Government and is not a part of either state.
CEO Chandigarh takes care of the electoral processes in the city.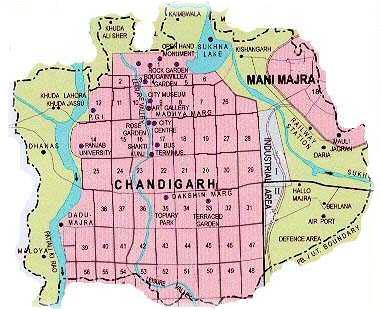 The Lok Sabha elections take place in Chandigarh once in 5 years for a single seat that covers the whole Chandigarh district. The CEO Chandigarh monitors the whole election procedure under the supervision and guidance of Election Commission of India.
In 2014, Kirron Kher of BJP defeated her nearest rival and Congress candidate Mr. Pawan Kumar Bansal by a margin of about 70,000 votes.
Election Commission of India: Parent Organization that monitors all state CEOs
Democracy means having a government that is "of the people, for the people and by the people" . Elections give the people right to choose their own leaders. Thus, there was a need of a strong federal and independent organization that monitors the process of elections throughout the country. Strong, because in a country as big as ours it's necessary to have an organization that has all powers needed to conduct elections peacefully and smoothly across the country. Federal, so that its powers and duties don't get affected by states.Being a federal organization allows it to coerce its powers freely throughout the nation. Independent, so that it cannot be influenced by any bureaucrats or any ministers of the ruling party.
Thus, the Election Commission was born whose sole purpose in a nutshell is to conduct smooth and fair elections throughout India.
With its secretariat at Delhi, it consists of roughly 300 officials. However, in a nation as big as ours, a single organization even with all those cool powers would fail. So, our policy makers came up with another genius solution. Through, the Representation of People Act of 1951, each state has its own CEO (Chief Electoral Officer) who represents his state in the election commission and it is his responsibility to conduct peaceful elections throughout his state.
CEO Chandigarh :His role and duties

Each state needs a Chief Electoral Officer so as to maintain maximum transparency in elections. The CEO Chandigarh supervises the procedure and machinery for election in a state. The State Election Department in every state, of which the CEO Chandigarh is an integral part, wishes to reach out to the people of the state to ensure better services in terms of Electoral Rolls, issuing valid Electors' Photo Identity Cards (EPIC), ensuring thorough verification, scrutinization and correction of the EPIC cards and list of electoral rolls (spelling mistakes, mistakes in D.O.B etc.), digitizing maps to indicate areas of the polling stations and their respective distances, providing sufficient men power and material resources on the day of the elections and enforcing a model code of conduct to be followed by all voters. The CEO Chandigarh must also look into the financial managements during an election. The maintenance of law and order during the polling day depends largely on the Chief Electoral Officer.
The Chief Electoral Officer also superintends District Electoral Officers. In other words, the CEO is needed in every state to create maximum awareness of the rights and duties of the voters in the respective state, by building maximum outreach capacity to the voters.
A State Election Commission like CEO Chandigarh facilitates the work subdivision of the Chief Electoral Officer to District Electoral Officers, Electoral Registration Officers, Assistant Electoral Registration Officers, Returning Officers and Assistant Returning Officers and the Presiding or Polling Officers.
At the district and constituency levels, the District Election Officers, Electoral Registration Officers and Returning Officers, who are assisted by a large number of junior functionaries, perform election work. They all perform their functions relating to elections in addition to their other responsibilities. During election time, however, they are available to the Commission, more or less, on a full time basis.
The gigantic task force for conducting a countrywide general election consists of nearly five million polling personnel and civil police forces. This huge election machinery is deemed to be on deputation to the Election Commission and is subject to its control, superintendence and discipline during the election period, extending over a period of one and half to two months.
So in short the CEO is sort of like the election supremo of the state!

CEO Chandigarh: Who is he and how to contact him
Like all states and Union territories, even Chandigarh has its own CEO. Mr. Anurag Agrawal is the current CEO Chandigarh. His contact details and office address are given below.
The Chief Electoral Officer can be communicated in case the duties of District Electoral Officers, Electoral Registration officers and the Booth Level officers are not carried out properly. The District Electoral Officers, Electoral Registration officers and the Booth Level officers help in the submission of forms, answering the questions of the public, fetching them the Voter ID card and every other duty pertaining to Elections.
At the time of elections near  the polling area, some people start bribing you in monetary terms, liquor or fake promises so that you might vote for their party. Never get involved in such immoral activities. Moreover, there might be some thugs creating violence in the polling area to disturb the peaceful voting process. In all such cases, you should go and file a complaint with the complaint cell established by the Chief Electoral Officer or contact the Helpline and convey your grievances.
If the campaign of the political parties exceeds the time, usually allotted for campaigning before elections, even in such cases you can contact your State Chief Electoral Officer and give a complaint.
Contact details(CEO Chandigarh and his team members)
Sh Anurag Agrawal
CEO Chandigarh
Office Address:Town Hall Building, Sector 17, Chandigarh
Phone:
Office: 2740008
Residence:2795998
Email: [email protected]
Sh Mohammed Shayin
Additional CEO Chandigarh & Returning Officer
Office Address:Town Hall Building, Sector 17, Chandigarh
Phone:
Office: 2700109
Residence:2784222
Email: [email protected]
Sh Tilak Raj
Joint CEO Chandigarh
Office Address:Town Hall Building, Sector 17, Chandigarh
Phone:
Office: 2700087
Residence:2795871
Email: [email protected]
Sh Devi Ditta
Naib Tehsildar (Elections)
Office Address:Town Hall Building, Sector 17, Chandigarh
Phone:
Office: 2700322
Email: [email protected]
List of all CEO Chandigarh forms
Form 4 Application For New Registration of Electors at the time of Enumeration (house to house verification) when enumerator finds the house repeatedly locked.
Form 6 Application for inclusion of name in electoral roll after draft publication of draft roll (if your name is not included in the draft role).
Form 6A Application for inclusion of name of overseas electors
Form 7 Application for objection to inclusion of name in electoral roll.
Form 8 Application for objection to particulars entered in electoral roll.
Form 8A Application for transposition of entry in electoral roll.
Form 1D/Form EPIC 001A Form for submission of photograph (optional) alongwith Form 6/8/8A
Form 13F & G Appointment of proxy by classified service voter to give vote / Revocation of appointment of proxy or Appointment of substitute proxy by classified service voter to give vote.
Form eci-epic-002 Application for issue of duplicate photo Id card
Forms for candidates
FORM 2A Nomination paper for Lok Sabha Election
FORM 2B Nomination paper for Legislative Assembly Election
FORM 26 Affidavit regarding Criminal Cases
AFFIDAVIT Affidavit regarding Assets

Getting a CEO Chandigarh Voter ID card
Nowadays, it's pretty easy to register for a new voter ID card. You can do it either manually or online. Election Commission(EC) ensures that the process of making new Voter ID cards is as simple as possible to encourage more and more people to register for it. EC organizes National Voters Enrollment Drive every year so that people can register to get a new voter ID card. However, if you have missed that don't worry. There are still
many ways to apply for it.
Visit www.ceochandigarh.nic.in and download Form No. 6 and Form No. 001 from "Forms" option. Fill up the form and attach the following items to authenticate it.
ID proof ration card, passport, bank passbook,driving license, adhaar card.
Address proof as Phone / landline / mobile bill copy, Water or electricity bill copy, Property tax payment slip, Gas payment slip
3 passport size photo(make sure you look good in them because bad pictures haunt you for a long time)
Mention the Voter Id card number of someone in the family who already has his/her name in the electoral list.
After appending records visit your closest BLO/AERO office.
Submit your application and get the slip.
You can directly also visit your nearest BLO(Booth level officer) and demand a Form 6 and Form 001. Fill up the form and attach the above mentioned documents and submit them.
See to it that all the attached documents are self attested.
Click here to know BLO/AERO area wise.
After applying for a new voter ID card, the Booth level officer (BLO) will come at your residence just to verify all the information and documents. When satisfied, he will provide you with a date when you need to visit the center and get your electoral card. In some cases, the card will automatically be sent by post.
The NRIs who are working in foreign countries on behalf of the Indian Government can get their voter ID card as well. With Indian Government embracing the online way of applications in all fields. NRIs can now get their voter ID card without having to visit the Electoral Registration Officer(ERO) in India. They can download the Form number 6A from www.ceochandigarh.nic.in , fill in the appropriate details, attach attested residence and Id proofs along with passport size photo and either upload it on the above mentioned website or can send the documents directly to ERO by post. Additionally they need to attach the photocopy of their passport and all these documents should be attested by the officer of the Indian mission of the country in which the applicant is currently residing.
Getting a duplicate CEO Chandigarh voter ID card
We people are prone to getting our things lost, damaged or stolen. However, losing Voter ID card is a big deal as it is extremely important not only in voting but it is also an important identification proof. If by chance you do misplace or damage it, don't panic. You can get a duplicate ID card. For that, first of all you need to file an FIR with the local police authorities, and keep its copy safe. Then either visit the nearest VREC or CEO Chandigarh website and download the Form 002. Fill in the appropriate details and attach self attested copies of ID and residence proofs along with the passport size photo. Don't forget to attach the copy of FIR with your application.
Send the documents directly to ERO. You will be given a receipt and later you can collect your duplicate ID card from VREC

Checking your name in the electoral list
After submitting the application you can check whether you name has been added in the electoral list or not. This can be done in two ways:
1)Visit the website www.ceochandigarh.nic.in and click on the search by name option. Enter you name and area and check if your name is there or not
2)You can download the complete electoral list by clicking on "Final Electoral List 2015" and check your name in the list manually.
CEO Chandigarh FAQ:
Q.1   I have shifted my residence recently. How do I ensure that I am enrolled in my new place of residence and my name is deleted from the old place?
Ans. In case new residence is in the same constituency please fill form 8A otherwise form 6 and submit to ERO (SDM) or AERO (FSO) of the area of your new residence.
Q.2   I have shifted my residence recently. I have Photo ID Card with the old address. Can I get new I Card for the present address?
Ans .First of all please  ensure that you have enrolled your self in the Electoral Roll of the concerned AC, where you are now residing procedure is given as in ans no.1. Subsequently, changes will be made in existing Identity Card by pasting new address on the back side of the card.
Q.3   My old I Card is defective. I would like to have a new I Card with correct particulars. What is the procedure?
Ans. You can get your I Card rectified by depositing it in the Office of the ERO concerned or at Photography center when the work of preparation of Photo ID card begins.
Q.4  Enumerator has visited my house and taken down the details. How do i ensure that my name is finally included in the electoral rolls ?
Ans.  He must have handed over you record of Enumeration, which is your acknowledgment. You can check your name in the draft roll, which will be published and available at the office of the ERO concerned to confirm that your name exists in the roll.
Q.5   Please give me details of my Polling Station and Assembly Constituency. Who do I contact to get these details?
Ans. This would be possible only when you tell your complete address at the reception/inquiry. The phone No. is 1950 or 01722700322. You can check it from the ECI or CEO office website also.
Q.6 I have lost my old I Card.How can I get a new I Card?
Ans. You can deposit a copy of FIR lodged at the Police Station. You will get a new I Card after deposit Rs. 25. The dates for issuing I Cards are published in leading Newspapers, in DC office.

SMS facility:
CEO Chandigarh has recently started a new SMS service for various purposes. Some of them are mentioned below
Know your Polling Booth Location
Send SMS 'BTH VoterCardNo' to +91 8288029899
e.g. BTH PBA3246295
Register yourself to know Election Result
Send SMS 'REG' to +91 8288029899
Know your Waiting Status at your Polling Booth (available on Polling day)
Send SMS 'QUE VoterCardNo' to +91 8288029899
e.g. QUE PBA3246295
To know all SMS features
Send SMS 'HLP' to +91 8288029899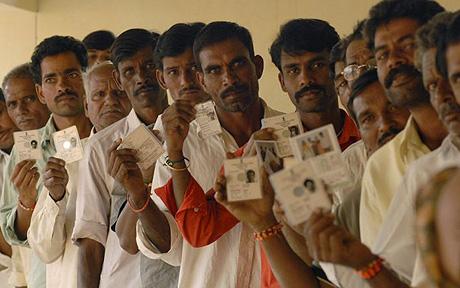 Please visit our previous articles to know more about the procedure of getting a voter Id card by clicking here.
This guide tries to answer and provide detailed information about CEO Chandigarh. However, If you have any problems or if you need to report any malpractice during elections, you can call on the CEO Chandigarh Helpline No. 1950, 0172-2700322 .
You can also upload pictures/videos/audios reporting any malpractices here.
So, the CEO Chandigarh tries as much as possible to help its citizens but the real work is yours. You guys have shown a tremendous support to your leaders in Lok Sabha Elections 2014 but remember 2018 is not far away. You can be the change you want to be so HAPPY VOTING.!!!