Delhi, the capital of India, home to 16.78 million people as per 2011 census and is also a metropolitan city. Delhi forms a bridge between two different worlds one is Old Delhi, once the Islamic capital of India and second New Delhi formed during British Raj.
Delhi is the political hub of India. Every political activity in the country traces its roots here. NCT- Delhi has 70 Assembly Constituencies and 7 Parliamentary Constituencies.
According to electoral roll, the total number of registered voter are 1,30,85,251 out which 72,60,633 are men and 58,24,618 are women voters. There are a total of 11,763 polling booths in around 2527 locations in Delhi. For 2015 Delhi Elections the voter turnout recorded was 67%.
So if you don't have a Voter ID card Delhi then it is best time to apply for it to avoid rush during thr Election period.
How to apply for Voter ID Card Delhi?
To apply for Voter ID Card Delhi, you can generally have to follow these two methods, process for whom are mentioned below:
METHOD 1: Online Application
Visit Delhi's CEO Website
On the Login Page, click on New User! Sign up! if you are registering for the first time, else skip to Step 4. 
On the New Registration Page, fill all your personal and account details that are required as shown in this image.
Now as you are done with the previous step, you would have with yourself your username and password. Enter it and login to your account.
Select Form 6 and fill in all the details required.
Upload your scanned photo and relevant documents, i.e. Address and Identification Proof and submit it.
Address Proof (any one):
Ration Card/Passport/Driving license/Income tax return filed
Bank/Kisan/Post Office Current Pass Book
Latest Telephone/Electricity/water bill in the name of the applicant or in immediate relation's name
Identification Proof (any one):
Birth Certificate
Driving License
Passport/PAN card
High school Certificate
METHOD 2: Offline Application
In case you are unfamiliar and uncomfortable with the Online Process then you can also apply offline by downloading Form 6 from the CEO Delhi Official Website. Log on to the website and click on the 'Forms' option.
Voter ID Card Status Delhi
Now as you have successfully registered yourself for your new Voter ID Card Delhi, you can wait or can check for the status of your Application. All you need is to log in to Delhi's CEO website.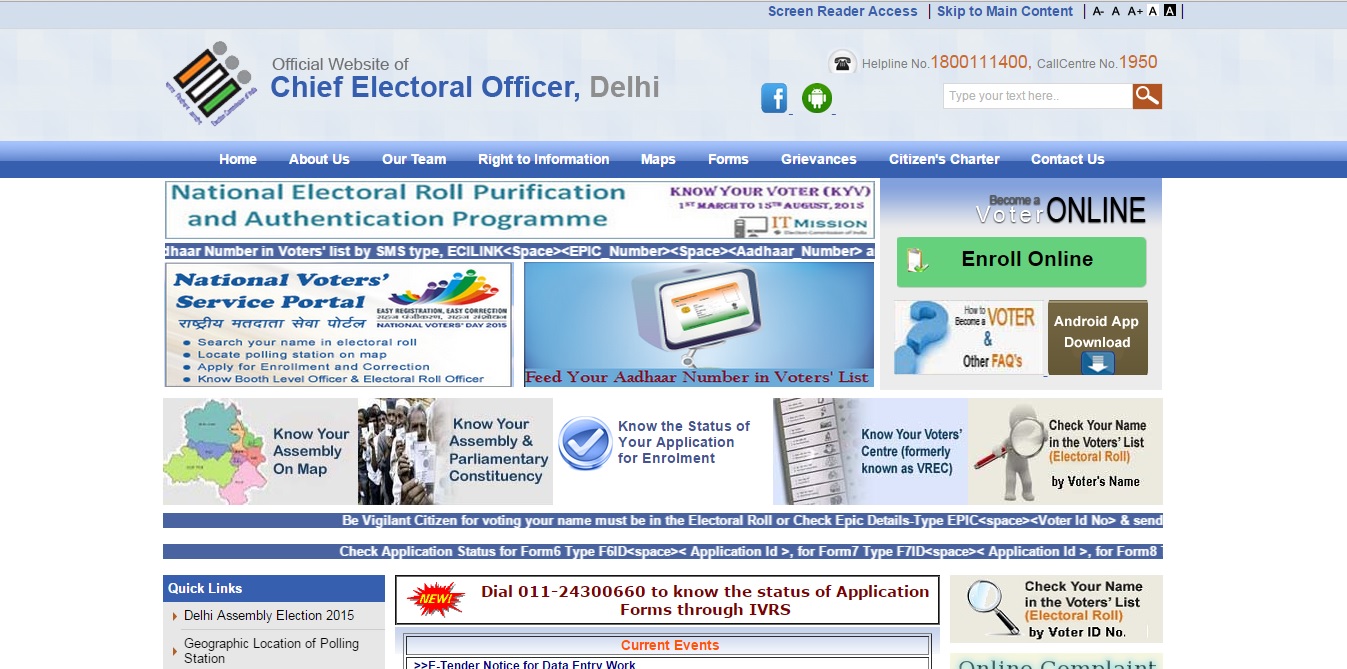 Click on Know the Status of your Application for Enrolment. You will be directed to the voters search module. Type your Application Number, fill the captcha and hit search button to know your application status.
You can also have the option to check your Application status via SMS. All you need is to type a simple message and send it to 7738299899. Example: For Form 6 type, F6ID<space><Application ID>
You can also dial 011-24300660 to know the status of Application Forms through IVRS.
Duplicate Voter ID Card Delhi
Voter ID Card is a very important document as a proof of genuineness. It is therefore necessary to keep it safe. But somehow if you have lost your Voter ID Card, you need to visit this link, download and take a printout of Form 002.
You need to fill all the details, but before submitting it to VREC office of your assembly constituency, you need to file a FIR for the loss of your Voter ID Card. Attach a copy of FIR, address and Identity Proof along with Form 2 and then Submit it.
You will receive your new Voter ID Card, once the verification process completes.
Voter ID Card Correction Delhi
Sometimes it is possible that you need to do corrections in your EPIC due to one or many reasons:
Spelling Mistakes while entering your name/address/any other particular.
Wrongly specified age or Date of Birth.
Any other wrongly entered particular.
So, you need to act quickly and make corrections in your Voter ID card, for which you need to visit the CEO Delhi website/ECI Website or simply click the following link: http://eci-citizenservices.nic.in/Default.aspx
Enter you registered Username/Mobile Number and password to login. Fill all you details in Form 8 to make corrections.
You can also do it with your hand i.e. manually. All you need is to submit Form 8. Go to CEO Delhi website, click on 'Forms' option and download Form 8. Fill the details required and also attach a proof of correct information. You should attach an address proof and an age proof along with the application form. Submit the duly filled form in VREC office of your constituency assembly. If the mistake was done by Election official, the correction will be done free of charge and if the mistake is from your end, you have to pay Rs.25/-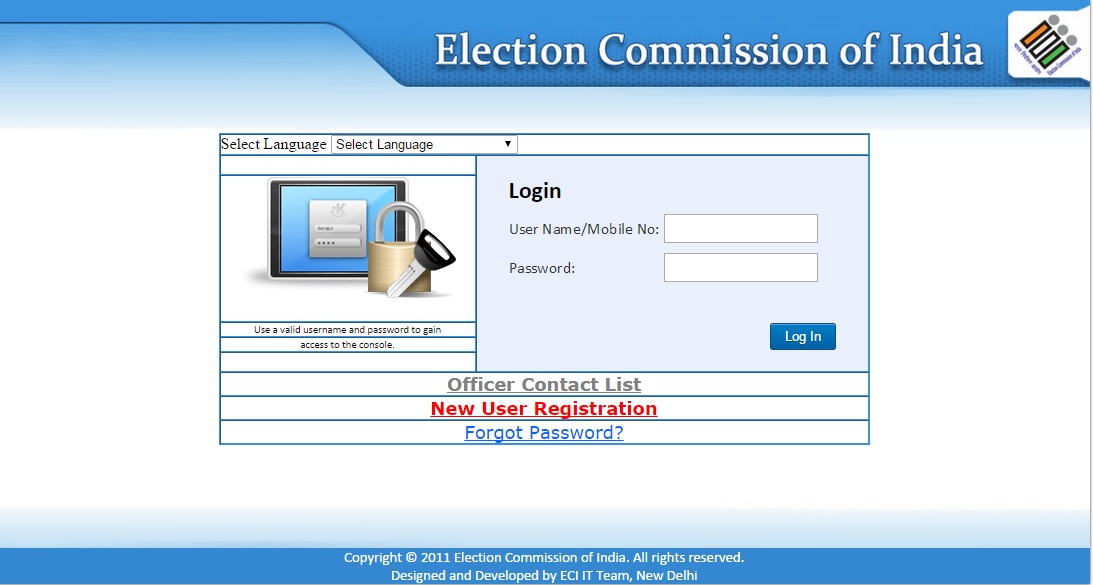 Changes in Voter ID Card Delhi
Form 8 is used to change the address, you should use this form only when you want to change errors in the electoral roll, such as typos, spelling errors in address, and similar wrong data. But, to change the Part Number (which refers to the polling booth) or for Voter ID address change entirely, you should click the link that will download form 8A. Ensure you follow all the formalities prior to the download.
When form 8A is downloaded, you should:
Fill Part I, by specifying:

Part Number and Serial Number of the voter list where you are already registered.
Electors Photo Identity Card Number (EPIC)
Relation's Name

Fill Part II, by specifying:

Address of the new place of residence

Fill Part IV, by specifying:

Part Number of the new area or polling booth where you want to exercise your franchise
You need to submit the form along with proof of address, such as a rent bill, electric bill, or telephone bill of the new place and a copy of the voter ID card.
You can either submit the credentials online by uploading a PDF file of the same or submit the hard copies to the Election Registration Officer (ERO). A Booth Level Officer (BLO) may visit your house to verify the form and ultimately, change the address and the polling booth (if necessary)
Removing Names from Electoral List Delhi
Names are generally removed from Electoral List in case of Deaths or change in constituency (in different states) by removing their name and then applying afresh in new constituency. For this you need to fill and Submit Form 7.
There are 2 ways of doing this: Online and Offline.
In Online way, all you need is to visit Delhi's CEO website. Fill form 7 and submit it. The Steps are same as you read above for Online Application of Voter ID Cad Delhi.
In Offline way all you need is to do visit this link. Download the Form 7, fill it and submit it to the ERO of your Assembly Constituency.
If you have shifted to a new constituency within the same state and want to remove your name then, you'll have to fill Form 6.
Voter Search Delhi
To Search for your or your Family's Name in your State's Electoral List, you can click on the following link: http://ceodelhi.gov.in/OnlineErms/electorsearchtest.aspx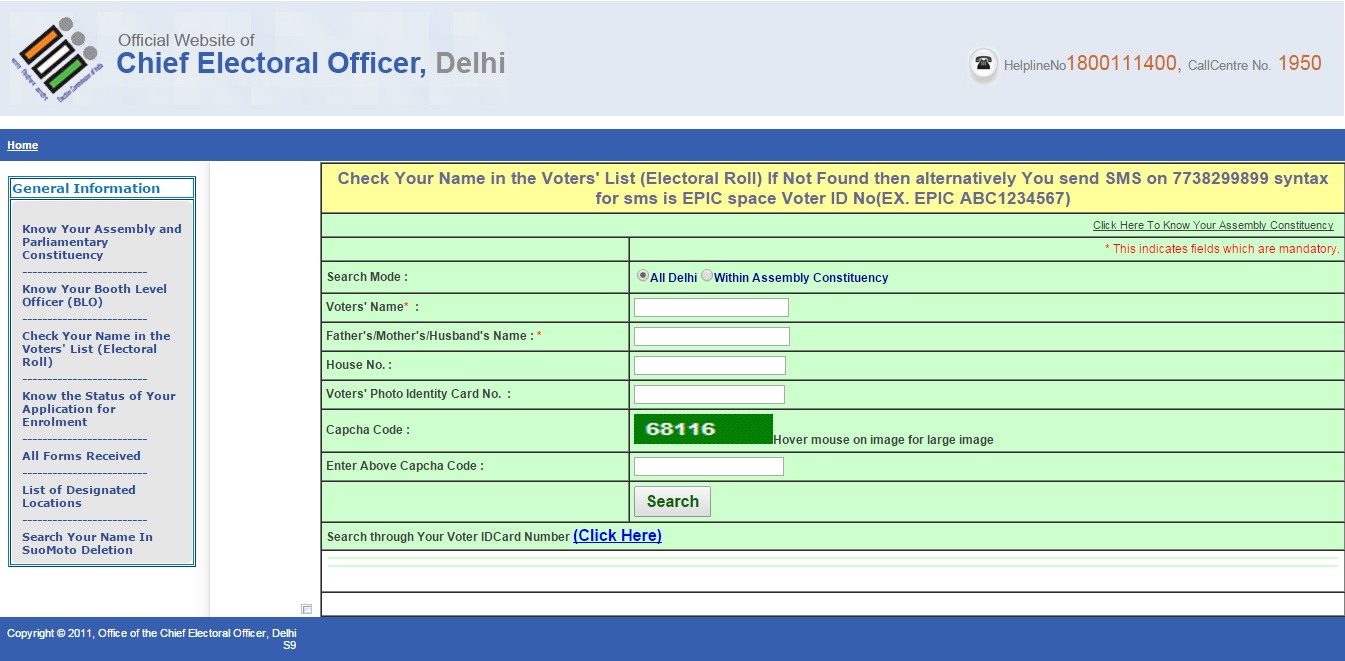 Fill in all the mandatory star marked details, enter captcha and click Search. Fill all the details in the empty boxes for fast and exact Name you are searching for.
In the bottom you can see that you have the option to search your or your Family's Name using the EPIC Number.
CEO Delhi Website
The direct link for CEO Delhi Website is given below:
http://ceodelhi.gov.in/
This is the only place from where you will get all the information regarding whatever discussed above. This website provides you all the details of past elections, your assembly and Parliamentary Constituency, linking of Aadhar-EPIC, location of Polling Stations, Application for new BLO.
You can also found Suggestion and Feedback Portal, contact information of Officials, etc.
Voter ID Card Delhi Form
The most searched or looked out forms in CEO Delhi Website are mentioned below:
FORM 6:  Inclusion of names
FORM 7: Objection on inclusion of names
FORM 8:  Correction of entries in the Electoral Rolls
FORM 8A: Change of Address or Transposition of entry in Electoral Rolls
If you are looking for some other forms that are not mentioned above, please click here and look for other different forms on CEO Delhi Website.