A By-election is also known by the name of Special Election. This Election is basically held between general elections to fill a vacant seat of a member of legislative assembly in a particular constituency as a result of his/her incompetency, unfortunate demise or made to vacate their seat due to some criminal proceeding against them. (Source: Wikipedia)
It won't be unfair to state that most of the By-elections held in India are either go unnoticed or they are ignored by the grandness of general elections. The events of by-elections from its starting to its outcome are covered and reported only by few and only a particular constituency exudes interest in the proceedings. So, here we'll try to provide you with the latest outcomes of By-Elections 2015 that was held across different places in India.
---
Want to know about Indian Elections, then click here.
---
By Election Results 2015:
This year By-Elections held in basically these 5 States: Tamil Nadu, Kerala, Tripura, Meghalaya and Karnataka.
Ruling parties have an inherent advantage in by-elections. With no possibility of bringing about a change of government, voters in geographically circumscribed constituencies have no incentive to offend those in power or to encourage those in the Opposition.
From the state of Tamil Nadu, Current Chief Minister J Jayalalithaa won the RK Nagar assembly seat. This victory as expected, was a cakewalk for her, defeating closest rival by a margin as massive as 1.5 lakh votes. Her nearest rival Mr. Mahendran of CPI manages to get only 9,669 and handed as unexpected victory margin to the AIADMK supremo. As many as 28 candidates, including Jayalalithaa, CPI candidate C Mahendran and activist K R 'Traffic' Ramaswamy are in the fray with Jayalalithaa being the main candidate. Voting for assembly by-elections for Radhakrishnan Nagar took place on Saturday. RK Nagar By Election Results 2015 has about 74.4% turnout as around 2,50,000 voters discharged their fundamental right.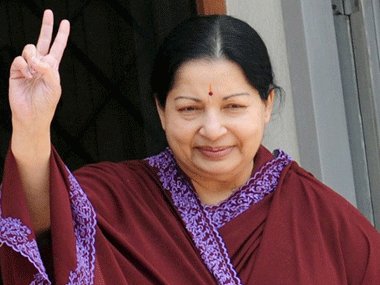 The By Election results 2015 in the state of Kerala saw Congress-led coalition government as the victors. This was considered to be an important by-election for them and it is a big positive for them which came at a time when they are tackling an array of corruption charges. The candidate from the congress was KS Sabarinathan, who won the state legislature from Aruvikkara by a margin of more than 10,000 votes. It seems like congress won this seat easily but it is not what it seem as they got 349 votes less than what they got in 2011. This year the voter turnout was increased by 7% as compared to last By-Election.

The Pratapgarh seat fell vacant due to the death of CPI(M) veteran and former minister Anil Sarkar while the by-poll was required for the Surma seat as its sitting MLA Sudhir Das died. Over 80 per cent turnout was recorded on Saturday during voting for by-election to two reserved seats in Tripura passed. Ruling CPI(M) won both the Pratapgarh (SC) and Surma (SC) assembly seats by a huge margin in Tripura where by-elections were held as the BJP made inroads into the left bastion dislodging Congress from the second position. Ramu Das, the CPI(M) candidate won the Pratapgarh constituency seat. He defeated his BJP rival, Mousami Das by a margin of 17,326 votes. Though the victory margin for Anjan Das in Surma constituency by-poll was less as he defeated his closest BJP competitor, Asish Das by a margin of 15,309 votes.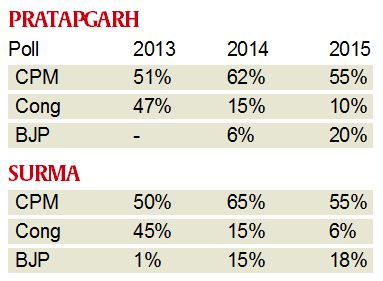 The need for the by-election in Chokpot Legislative Assembly of Meghalaya arises due to the demise of Clifford Marak, former MLA of this constituency on 28th February 2015. The ruling Congress on Tuesday won the by-election in Meghalaya's Chokpot assembly constituency, with Bluebell Sangma defeating her nearest rival Phillipole D. Marak of the National People's Party by 2,550 votes. The Chokpot by-poll, held on Saturday, recorded an 83.11 percent turnout of the 24,244 electorate.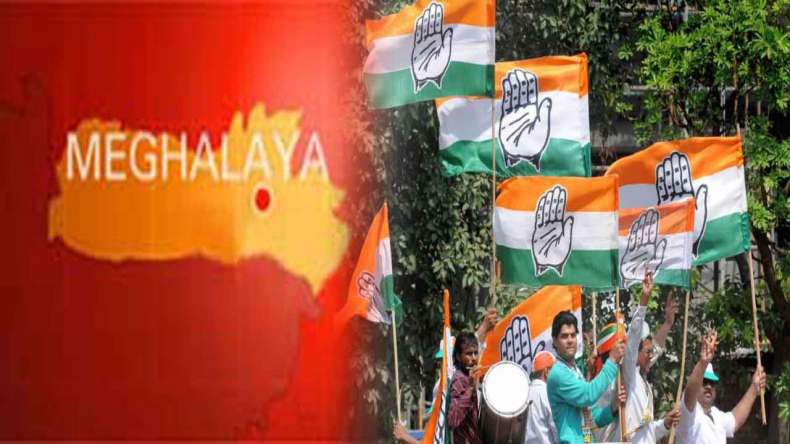 In March, the BJP's Rajesh Yadav, the legislator from here, passed away. With considerable ease, the ruling BJP has defeated the Congress in an important by-election in Madhya Pradesh at a time when the government is accused of a major corruption scam by the Opposition. The BJP's Chander Singh Sisodia defeated Congress candidate Subhash Sajotiya by nearly 14,000 votes in the by-election for the assembly seat of Garoth in the western part of the state.
We hope with very less coverage on By Election Results 2015, you are more than satisfied with this post and was able to stay updated with the current affairs of your respective states and India.