You may have imagined that, to get your name on Delhi Voter List and also to get yourself a Voter ID Card in Delhi; you need to stand in long queues, go through bureaucratic hurdles and long paperwork. However that is not true. Getting your name added in Delhi Voter List in order to vote for any elections in Delhi has become a very simple process.
Click Here to Get CEO Delhi Contact Details and Other Process Explained in Simple words.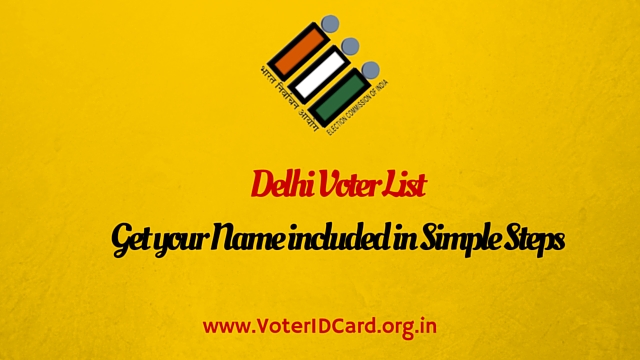 Delhi Voter List – How to Get Your Name Included:
Well, as mentioned above the process is very simple and easy. But still we are breaking the process down to help you get your name added to the Delhi Voter List even faster.
Steps to Get your Name Added to Voter List Delhi and Get Voter ID Card Form:
To get your name in the Voter List of Delhi, you need to register as a Voter. You also get a Voter ID Card along with the registration. To do this you need to fill Form 6 – Online or Offline.
Get Form 6

For online application – Click Here
To get the Offline version of Form 6 – Download from here and take a print out and fill it. The application can also be filled at the designated locations – That is the Electoral Registration Officer (ERO) and Assistant Electoral Registration Officer of the constituency.

Fill in the Details as asked. Ensure the Details and information are correct and error-free. Double check the form.
Attach the Documents

For Online Option – Upload the Recent Passport Sized photo, Scanned Proof of ID and Address and click Submit.
Attach the Proof of ID and Proof of Address alongwith the Form 6 and submit to the Local Office.

On successful submission – Online or Offline, you will get a Application Receipt. Keep it handy as it will help to check the Status of your Application.
Voter ID Verification will take place to ensure the applicant's documents match the actual physical location and the ID proof will also be verified by the concerned authorities.
On successful Verification – Your name will be added to Voter List and you will receive your Voter ID Card through post.
---
Note: Your name maybe Added to Delhi Voter List much faster, but chances are you may not receive your Voter ID Card for a much longer time. Do not worry.
As soon as you name is in the Voter List – You are eligible to vote. Carry any valid ID proof to the polling booth and you can cast your vote.
---
Delhi Voter List – Additional Form 7:
This comes into the picture when an applicant is already enrolled in the voter's list of one location (by filling out form no 6) has moved to a new location.
Since a voter cannot be registered to 2 different constituencies, it is essential to request cancellation of your name from the previous constituency. This is done by Form no – 7.
Send filled Form No.7 to your previous location ERO office by post or personally. Then you can fill Form No.6 and submit it to your current location ERO office.
Check your name in Voter List Delhi:
To check if your name is added to the Voter List Delhi or not – simply visit the CEO Delhi Official website. Click Here to access the official site.
Once there you will see a Form like this: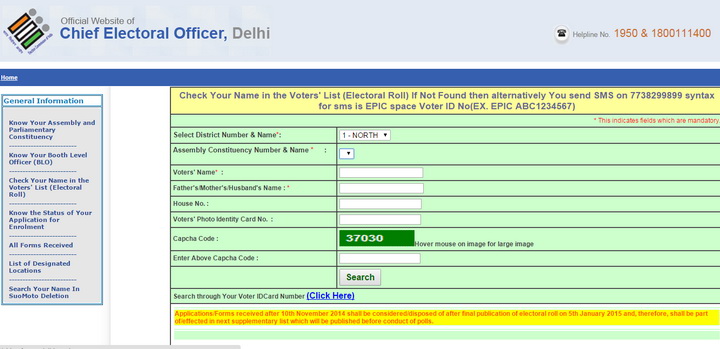 Simply enter the details and click Search. You will be able to see your name in Delhi Voter List.
Hope this article was helpful and solved your query related to Voter List Delhi and how you can get your name on the list in order to be able to vote.