As a solution for poor quality of current voter ID cards, Election Commission of India has now announced an initiative to make them out of PVC sheets. PVC is the same material from which PAN cards and driving licence are made.
The PVC voter ID cards were first used during elections in Tripura in 2013. So how better is this card from the previous ones? We find out.
Earlier voter ID cards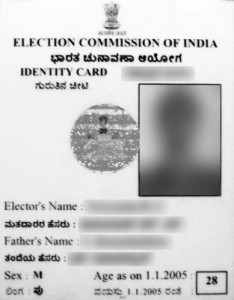 The earlier voter ID cards issues by the Indian election body were not strong enough to handle wear and tear. It was simply laminated and that's it. Due to the very fragile nature of these cards they cannot withstand the pressure when subjected to rough and tough weather conditions.
There were lots of complain too from people about the mediocre quality of the card. These cards would get crumpled very easily. Even if kept in a pocket it was not safe from meeting such a fate. These cards would easily get burnt.
Features of the new card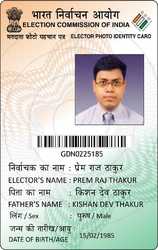 The information on the new voter ID card can only be seen in UV light. All the information of the voter will be coded using secure methods so as to minimize or eliminate forgery.
Benefits of a PVC voter ID card
Using PVC sheets to create voter cards is an excellent choice. The durability of the material is well established which could augur well for long life of the card. The logo on the card will make
PVC is more environmental friendly which means even if the voter ID card is replaced or dumped they do not damage ecology. The old cards which were made of paper and laminated had the potential to endanger ecology thanks to its material used for lamination.
Another reason why PVC is suitable for these cards is that it is a tough material which makes it break resistant when it falls accidentally or comes under a heavy object.
The new PVC voter ID cards will not easily get destroyed from fire. This is thanks to the thermal resistivity feature of the material. So in case the card accidentally falls in fire, you can be rest assured it won't get destroyed that easily.
Overall, using PVC will make the voter id cards tamper proof. It will also ensure no duplication or forgery is possible. This also means elections will no more be prone to being rigged due to fake voters.
Who gets the new card?
Those voters who have registered for electoral rolls for the first time will get the PVC voter ID card. They will get this card for free. Those who already have the old paper made laminated election card can surrender their cards and get the new cards after paying a fee of Rs.25 only.
First amongst these will be Kanpur city voters will get the newer version of voter ID cards. A huge number of new voters (approximately 1.90 lakh) have registered themselves for the card. These voters will be given the new PVC voter ID card.  In case you still do not know how to register for voter ID card then go here.
The decision to use PVC as a material for making voter cards is a very good one. It is bound to make the voters very happy.