Southern intellect is something really precious for our nation. From popular IITs and revolutionary scientists to highly reputed politicians, this region of India has always been an essential part. Therefore it is always necessary that a large number of citizens from cities like Chennai cast their vote. The reason being the fact the fact that great intellect behind the citizens' decisions would lead to the selection of an appropriate government. Not that there is lesser intellect in the other states of our nation, it is just that we are emphasizing on the contributions that were made by some great minds residing in the south. It is nevertheless even more important that votes are cast by the people of every state and region.
Today our focus is on the citizens of Chennai and how they could be registered and also on why casting the vote is of utmost priority. It is no hidden fact that getting your Voter ID Card in Chennai and enrolling your name in the Voters' List is the need of the hour. Lok Sabha Polls of 2014 are just around the corner and if you think you desire change, then your Voter ID Card very well be the very first step to the same. Revolution in today's age is all about Voting to choose a better government and leaders. So apply today if you want change, don't just sit there and crib about the system being rigid.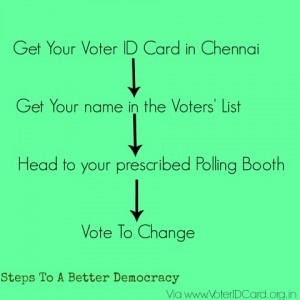 Here, we would be guiding all our valuable readers about Online Voter Registration in Chennai and some interesting components of the CEO Chennai website. So if you are planning to get yourself a Voter ID Card anytime soon then you are at the right place.
Intro of the CEO Website for Chennai, Tamil Nadu
www.ceotamilnadu.nic.in is the website that you need to check out at the very beginning if you want to be a registered voter in Tamil Nadu and cast your vote in the coming elections. On this website, you would be able to get information on how to register online for the inclusion of your name in the voters' list and hence obtain your Voter ID Card in Chennai. Not only this, there are more salient features of this website that would help you at every step of your vote casting process. These features are as following:-
Electoral Rolls available in PDF format, to help you check whether your name is already included or not.
Not comfortable with English? Don't worry, the website also has Tamil versions of the electoral rolls.
Video Clips to guide you about Electoral Rolls, Registration for Voter ID Card in Chennai and Correcting the voter details.
First Things First, How to Enroll Online?
Although there are a host of useful features on the CEO Tamil Nadu website, but still we think that the online registration tab could have been more highlighted and prominent. Since this is one of the most important features of any CEO website therefore it must be easily visible at the first sight. Alas! that is a small issue with the CEO website of Tamil Nadu, nevertheless the only link to online registration was found on a mirror website i.e www.elections.tn.gov.in

Therefore to help you save some time,  here is the direct link that would help you enroll online for your Voter ID Card Chennai:- http://www.elections.tn.gov.in/eregistration/
Through this link you could fill online versions of Voter ID Card Forms 6, 7, 8 and 8A. Voter Registration Form No. 6 is the one you need to fill in order to register yourself as a new voter.
If you wish to obtain these forms in print and then fill them by hand, you could download these forms from the following link:- http://elections.tn.gov.in/apptrack/applicationform.aspx Tamil Versions of all these could also be downloaded from the same link.
I am an Overseas Voter, Could Apply Through the Same Link?
No,  the guidelines clearly mention that in order to register online through Form 6, you have to be a regular Indian Citizen. Although the overseas voters could still get information about registering themselves by checking out the following link:- http://www.elections.tn.gov.in
Video Clippings to Guide You About your Voter ID Card Chennai.
The CEO Website provides some really informative video clippings that would guide you about every step of registration for Voter ID Card Chennai. It is also revamped and is very user friendly – have a look here.