Andhra Pradesh Elections
Lok Sabha Elections is a major milestone in the history and development of India. And the separation of Telangana has also been in news, so these two major factors play a big role in our development and electing the prime minister of this largest democratic country. In India elections are conducted in accordance with the Constitution of India. The Assembly of Andhra Pradesh creates laws regarding the conduct of local body elections while any changes by the state legislature to the conduct of state level elections need to be approved by the Parliament of India. In this article we are going to cover all aspects of Election commission of Andhra Pradesh and voting List related to Lok Sabha Elections 2014.
Ceo Andhra Voter List 2014
The Andhra Pradesh voters list includes the name of all the voters who are above 18 years of age and can vote. It is important that a voter's name features in this list or else he/she will not be allowed to vote under any circumstance. This list is prepared by electoral Registration officer of every assembly. It consists of all the people who are eligible to vote in that particular assembly or constituency. Every year this list is revised and updated to include all the first time voters. This list also shows all the updates and changes made by the already registered voters in their card. To check your name in the Andhra Pradesh's Voter list online visit here.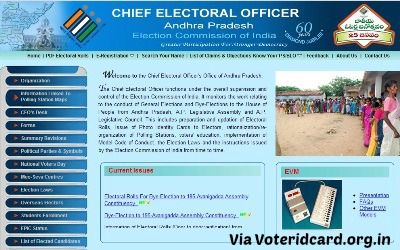 Election Commission Of Andhra Pradesh
The CEO Andhra monitors the work relating to the conduct of General Elections and Bye-Elections to the House of People from Andhra Pradesh, A.P. Legislative Assembly and A.P. Legislative Council. This includes preparation and updating the Electoral Rolls, Issue of Photo Identity Cards to Electors, rationalization/re-organization of Polling Stations, voters' education, and implementation of Model Code of Conduct, the Election Laws and the instructions issued by the Election Commission of India from time to time.
CEO  Andhra Website
The chief electoral officer of Andhra has its own website which gives details about general elections, Mee Seva centers, laws and right to information. There is a lot of information available on the website, you simply have to visit the link.
CEOAndhra.nic.in Voter ID card
Although there is a brick-n-mortar office of the CEO AP to look into issues related to Andhra Voter List and Andhra Pradesh Voter Card e-registration, the Andhra Pradesh CEO maintains a website where the voters can easily login with their dedicated username and password to apply for their new voter ID card or make changes in the voter list
CEO Andhra e registration – When you visit the AP CEO's website, you will find an e-registration link which leads the new users to login and register for a voter card. Once on the page, the new voter can register for the voter ID online by filling in Form 6 and providing some credentials to validate the information given in the form
The CEO delegates this job to the Block Level Officer, who verifies the form and the card. The voter can expect to get the voter ID card within two months.
CEO Andhra application status – The CEO will oversee work to ensure voter cards are given to the applicants after verification and the status is updated in the website.
By clicking on the 'Know your Status' you can find out if your application has been accepted and voter ID is on its way to you.
Assembly Elections For Telangana
The elections to the Lok Sabha is on its way and the region of Telangana will become a full-fledged state in June. Midst all this there is a lot of confusion about the elections in Andhra Pradesh. Here we will clear some of your confusions related to the same.
Telangana will formally become a separate state on June 2 so for the last time the Election Commission is holding the Lok Sabha polls in undivided Andhra Pradesh, which is now under President's rule.
As many as 28.1 million people are eligible to votes in 119 assembly and 17 Lok Sabha constituencies spread over 10 districts of Telangana. After the formation date, the elected legislators will be allotted to their respective states – Telangana and Andhra Pradesh.
Polling will take place in two phases, on April 30 and May 7 along with the Lok Sabha elections. It will be from 7 am to 6 pm except in 11 Maoist affected assembly constituencies where the polling will end at 4.
All the 17 Lok Sabha and 119 Assembly segments in 10 districts of Telangana, that will form the new state, will go to the polls in the first phase. Elections for 25 Lok Sabha and 175 Assembly constituencies in 13 districts of the residuary state of Andhra Pradesh will be held in the second phase.
These will be part of the elections to the 16th Lok Sabha, to be held in the longest span of polling days in Independent India, from April 7 to May 12 on nine days, to let an estimated 814 million voters to exercise their franchise. Counting for all the 543 constituencies will be held on May 16.
Ceo Andhra e registration
Registration Forms Details
There are four e-registration forms available in the website of CEO Andhra, details of those four registration forms are given below:
Form-6: New Enrollment.
Form-7: Objection to inclusion of name.
Form-8: Correction in the card.
Form-8A: Transpose your card.
Candidates who don't have a voter id card yet have to select the Form-6 for new application registration.
Select Form-7 for the any objections regarding the inclusion of name.
Select Form-8 in case if you have any corrections to be made on already issued voter ID card.
How to Register Voter ID Card On Ceoandhra.nic.in
If you are staying in Andhra Pradesh and want to apply for a voter ID card to vote at an assembly constituency in the state, you can do so through the following steps:
Access http://www.ceoandhra.nic.in website. The Home Page of the website is displayed. It asks you to register with your credentials to get your username and password.
Once done, you will get a unique username name and password.
Login with this user name and password. You will be directed to an e-registration link. Click the E-registration link. You will come across various forms.
Access the correct form as per your need. For instance:

Use Form 6 if you are a new voter without a voter ID card at all.
Use Form 8 if your name is not in the voter list of your assembly constituency or data in your voter ID card is wrong.
Use Form 8A if you have changed your address in the same assembly constituency in Andhra Pradesh.

Once done, you need to click the Submit button. A registration number would be provided to you. Don't forget to submit hard copies of your age proof and address proof to the nearest Election Registration Officer (ERO)'s office. In case, you are not a new user, Andhra Pradesh CEO's department will send across a voter ID card through post. If you are a new voter, the Booth Level Officers (BLO) will visit you to verify the credentials. Once verified, you can expect to get your voter card soon.
With all the above information we hope you've got your doubts cleared and Do Vote This Lok Sabha Elections!