West Bengal is very famous and very old State of India. This state was established after the independence of India in 1956. The Capital city of this state is Kolkata and Mamta Banerjee is the chief minister. Voter ID card plays very important role in our lives as it is our proof to be called "the citizen of India".
Lok sabha elections 2014
Lok Sabha Election is very important for the country because this will decide who will lead our country, our prime minister.  Lok Sabha Election in West Bengal will be held on 17 April, 24 April , 30 April, 7 May and 12 May. West Bengal has 42 seats for the member of parliament. And the decision for these 42 seats will be taken on 16th May when the final lok sabha results will be declared.
West Bengal Voter List 2014
Your name in the voter's list of a particular state is a must in order to allow you to vote. If your name is not included in the voter's list of your region then you cannot vote. Although you can fill the form online to include your name in the voters list and vote the next time.
Given below are the steps to check your name in the voter list 2014 of West Bengal
1. Login to the official website of west Bengal at www.ceowestbengal.nic.in
2. Then Click on the title name as " Electoral Roll (Voter List)"
3. Now choose your respective district from the list
4. Click on the Assembly Constituency name
5. Select your nearest Polling Booth
6. Now check your name present in the voter list.
The Updated voter list is available for individual people. If you cannot find your name in voter list then wait for upcoming voter list. Make sure your name is present in the voter list because if not, you will not be allowed to vote.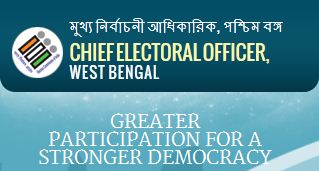 West Bengal voter ID Card
In order to get register for the Voter ID Card, the person should be at least 18 years old as prescribed by the election commission of India. In order to register for voter ID card west Bengal, visit the official website of Chief Electoral Office of West Bengal.
The link is http://www.ceowestbengal.nic.in/ .
If you are registering for the first time then you will need to fill in form 6. This form for online voter ID card West Bengal is available in English as well as Bengali language. Before you start online registration form for West Bengal voter id card, the website will ask you to enter your log-in details.
If it is your first time visit then you need to first register yourself by specifying your mobile number, email id and name. Once you register, you will get a unique log-in along with its password.
Go back to voter registration page and enter this log-in and password. Once the Form 6 is open, enter all the information asked in the form carefully. Make sure you enter all the details correctly otherwise your application will be rejected.
You also need to have two passport size photographs with you which you will need to upload while filling the form. Also you will need scanned copies of various documents like residence proof and age proof.
If you are a student not living in your home town and still want to register for voter ID card then you will have also have to fill a declaration form along with form 6.
Voter ID Card Verification
Once you have successfully submitted the online form, the Block Level Officer (or BLO) will come and verify the documents that you uploaded during voter ID card registration online.
The process is completed once the verification by BLO is finished. All you have to do now is to wait for your voter card to arrive.
Voter ID Card Application Status
After verification, you can check the status of your application on the website which will have the list of voter ID card west Bengal.
You can send an SMS to 9433633333 using your mobile phone to check the status of your application.
Voter ID Card Correction Online West Bengal
If you are already a registered voter from west Bengal who needs to update details on their voter id card then can either fill Form 8 (to correct any detail in electoral roll) or Form 8A (to transpose your entry in electoral role).
This way you can easily get voter ID card correction online West Bengal
CEO West Bengal
The Chief Electoral Officer of west Bengal functions under the guidance of Election Commission of India. He supervises the preparation, revision & maintenance of electoral rolls in the state. He also overseas conduct of elections to the House of the People and the State Legislative Assembly and facilitates elections to the Office of the President & the Vice President of India. The preparation & issue of Electoral Photo Identity Cards and building up awareness among the voters about voter id is also undertaken under his guidance.
CEO Website
The chief electoral officer West Bengal has its own website.it is:
It gives you information related to Lok sabha elections 2014, voting in west Bengal, overseas electors, political parties and all latest news related to election 2014.
News related to west Bengal elections 2014
There is good news for all the people of West Bengal that the CEO (Chief Electoral Officer) of West Bengal has recently issued and published updated new voter list on official website for all the people who registered individually. The Voter list will be shown in PDF formats for all people those who registered. People can easily check their name in voter list entering details. If candidates are not able to find their name and voter ID number in voter list then contact with CEO of West Bengal.