Less than 6 days to go for the Delhi Assembly Elections. BJP has launched an all-out attack on the Aam Aadmi Party. Congress is hardly being considered as a threat, by both of the mentioned parties. Kiran Bedi has been avoiding interviews for some time but on her behalf, a whole team of BJP Union Ministers, party workers and even PM Modi are campaigning and addressing rallies with full swing. Arvind Kejriwal is also actively campaigning along with his whole team of volunteers. Congress is also trying to regain its ground in the National Capital and rallies and road-shows by Rahul Gandhi and Sonia Gandhi are becoming more regular. So a chain of events, including allegations from one party and counter allegations from another, have become a normal day routine for the Delhi Voters.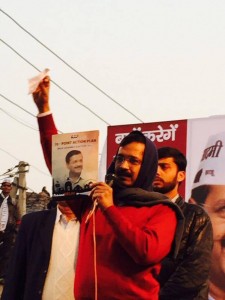 The struggle is not only for the political parties trying to woo voters. The struggle is equally there for the Election Commission of India, which needs to monitor the remarks and activities of all the campaigning parties in the Delhi Assembly Elections 2015. This is the crucial time when all the political leaders try to defame each others by the means of personal attacks, hurtful actions, etc. The duty of the Election Commission is to monitor these activities and remarks. Action is then accordingly taken corresponding to the various complaints received.
Although it is fairly normal to assume that notices are issued to all the parties regardless of their positions but still the trend shows that, most of the furor by the ECI officials is directed towards the Aam Aadmi Party and its Convenor, Arvind Kejriwal. We are not saying that AAP is being unfairly targeted, but it is just that, the news of notices issued by the Election Commission of India, rarely doesn't involve Arvind Kejriwal or his party AAP. Let us find out the reason behind which these notices are issued.
Why are Notices Being Issued to Arvind Kejriwal?
It is not that the Election Commission of India is issuing notices to Arvind Kejriwal and AAP, without any reason. There are concrete instances of Mr. Kejriwal not being sensitive towards the sentiments of other parties. Having said that, even the other political parties hardly keep the sentiments of others in mind while make such political attacks. It could be that the remarks made by Arvind Kejriwal came into the notice of ECI while others got away.
Nevertheless, not one but three notices were issued to Arvind Kejriwal and AAP by the Election Commission of India. Here are the reasons for the notices: –
One three separate occasions, Mr. Arvind Kejriwal allegedly instigated voters to accept bribes from BJP and Congress. After each instance of the remark, Election Commission of India issued a warning to the AAP convenor but he allegedly chose to ignore them. The ECI even warned Arvind Kejriwal that if these remarks were not stopped, he would have to face some serious action. Was it a case of quote-misquote? Mr. Kejriwal was seen quoting that his remarks were indeed an effort to warn those offering bribes for votes that this act is illegal and hence, he suggested people to prove that their vote was not for sale. Nevertheless, on a Democratic platform, language should be carefully chosen and the warnings of the Election Commission of India should be taken with utmost seriousness.
Another controversy involving AAP and Arvind Kejriwal is the case where Election Commission of India holds the party guilty of disrupting the Moral Code of Conduct active during the Delhi Assembly Election 2015. This is because of the objection raised by the BJP CM Candidate, Smt. Kiran Bedi. According to Smt. Bedi, AAP has been using her photographs on their campaigning posters and that too without her permission. Although it is fairly reasonable to expect parties not at least include photographs of rivals, it is not the only similar case. The BJP has itself retaliated by getting derogatory cartoons of Arvind Kejriwal, published in leading newspapers. For now, notice has only been noticed to Mr. Arvind Kejriwal until a formal complaint has been filed.
What we are witnessing in Delhi Assembly Election 2015 is extraordinary. The fight is tough and the actions, remarks, and allegations are now being exchanged with full force between AAP, BJP, and Congress. Although, what we hope is that all the parties do not forget that ultimately, it is the development and progress of Delhi which is the main cause of concern. Therefore, the important issues like electricity, water, women safety, education, etc. must not be forgotten. We shall cover the important highlights of the Manifestos introduced these three political parties in Delhi.