Delhi Assembly Elections are less than a week far. Party workers of different backgrounds are united to ensure a victory for their respective parties. Campaigning and the hustle-bustle have become a part of the daily life of the Citizens of Delhi. Party leaders are working on their own platforms, giving out remarks, making promises and finding out flaws in the rival parties. News channels are also doing their bit by highlighting the promises and remarks by all three possible CM Candidates by AAP, BJP and Congress. For BJP, Kiran Bedi has been projected as the Chief Ministerial candidate.
She is a known face amongst the citizens of Delhi and her popularity is unquestionable but still, controversies could hardly remain far away when one is in the political arena. This time around, it is the case of 2 voter id cards in the name of Kiran Bedi. Let us find out what the whole controversy is about.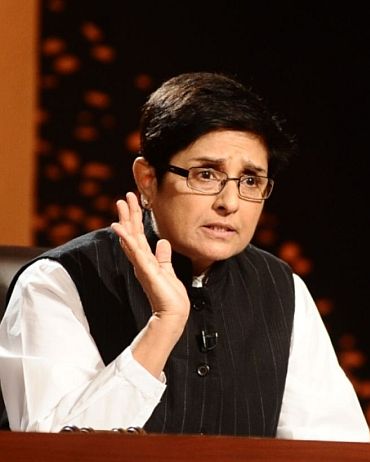 Kiran Bedi and the 2 Voter ID Cards
As we have mentioned in one of our previous articles, possession of 2 separate voter id cards, is a criminal offence. Election Commission of India has a very strict stand on multiple voter id cards. For this reason, when it was reported that Kiran Bedi(the CM candidate od BJP) has two voter id cards bearing different residence addresses, there were requests from AAP and Congress leaders to the Election Commission to immediately probe into the matter. The ECI officials did indeed act immediately and started an enquiry about the same. If found guilty of not applying for cancellation of one of the voter cards, Kiran Bedi may face some legal action by the Election Commission of India(as exclaimed by an official).
Details of the 2 Voter ID Cards
One of the voter id cards had the Uday Park address for Kiran Bedi whereas, the other voter id card, had the address of her residence in Talkatora Lane. The Uday Park voter id card is numbered: – TZD1656909. Whereas, the other card(the one with the Talkatora Lane address) is numbered: – SJE0047969.
This controversy does indeed alarm the voters of Delhi. So, any of you having 2 separate voter id cards, must immediately apply for the cancellation of one of them. You should only retain the one voter id card that has the address of your ordinary permanent residence.
Is it Kiran Bedi's Fault?
The news of Kiran Bedi possessing 2 voter id cards is very shocking, considering she is the CM candidate for BJP in the Delhi Assembly Elections 2015. Nonetheless, it could very well be the possibility that this scenario is merely a clerical error by the electoral registration authority officials. Therefore, we should not straight away jump to a conclusion and judge Kiran Bedi. For the best we know, she might not even be responsible for it. The only way of knowing this is by following the updates by the Election Commission of India. Let us find out whether, Kiran Bedi has been held responsible or it is indeed the result of a clerical human error that she was issued two separate voter id cards in Delhi. Let us find out what the ECI has to say.
Election Commission of India's Opinion
If news reports are to be believed, the Election Commission of India has given a clean chit to Kiran Bedi, on the issue of possessing two Voter ID Cards from two different localities. According to the ECI officials, Mrs. Bedi had already applied for the transfer of her registration but due to some clerical error, the two voter id cards had been issued. So it seems, Kiran Bedi comes out innocent as far as these two voter id cards are concerned.
Nevertheless, we hope that the voters of Delhi understand that possession of two voter id cards is totally wrong. Not only is it wrong from the legal point of view but it is also ethically wrong. Each citizen should, therefore, ensure that he/she has only one voter id card bearing legitimate permanent residence address. Otherwise, if you too have received another voter card due to a similar clerical error(in the Kiran Bedi's case), make sure that you report it to the concerned BLO or Election Officer and apply for the cancellation of the voter id card which has been mistakenly issued.