A lot of people these days shift out of their homes due to job prospects or otherwise. This often leads to problems with regards to the various documents and legal formalities required for getting a new gas connection, opening bank accounts, etc. as it all needs fresh paper work for Address proof etc. One such document that needs to be changed is the Address in your Voter ID card. For changing your address on voter ID card MP, if you have shifted without your family there are two procedures that we may look in this post.
If you have shifted to a new location without your family, but within the same constituency then you can update your address in your voter ID card MP by following this procedure here https://voteridcard.org.in/166/change-election-card-address-same-constituency. This procedure is same for updating your changed address in Madhya Pradesh as well as rest of India.
How to Change Address on Voter ID Card Madhya Pradesh(MP)?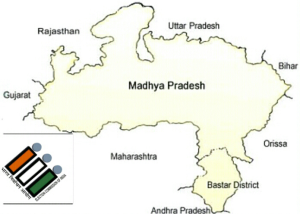 The other procedure is when you have shifted to a new location without your family outside your current constituency then you need to follow the procedure mentioned below. Please Note that contrary to popular belief this procedure is not done through Form 7 instead it is done through Form 6.
You need to find out your current constituency. You can do so by visiting the ECI website of your state. If you not know the state ECI website you can get it here at http://eci.nic.in/eci_main1/Links.aspx and select your current state and then once in the state ECI website you check your Assembly constituency or Parliamentary Constituency from there.
Apply for Fresh Voter ID Card MP
You will have to apply as a new voter in that constituency. You will need to be a resident in this new constituency and address for a period of at least 6 months. Thereafter, you can apply for a updating your address linked to your voter ID card by visiting your local ERO or by downloading it online from State CEO website. A detailed procedure can be found here https://voteridcard.org.in/51/apply-for-voter-card. However, in both cases you should remember to fill up the part IV of the form. This is where you need to mention your previous assembly constituency in which you were a registered voter. This is required for the Election Commission to delete your name from that constituency and process the new application for updating your voter ID card MP or any other city where you belong.
If any other member of your family is already a registered voter in the new constituency you are applying in, then their details too need to be provided in the Part III of Form 6.
Submit the form after carefully filling all the required fields along with the required address and ID proof. Take the receipt for the application. Once the submission is made, a BLO or Booth Level Officer will verify your application and if all is found correct as per their satisfaction, your name will appear in the next revised voter list of your new place of residence.
Remember, you need not change the voter ID card. Once issued your Voter ID card or election card is valid forever. It is only an ID proof for your identification purpose at the time when you cast your vote. However the details linked to your election card need to be updated and hence the above mentioned procedure should be followed for Madhya Pradesh or any part of India if there is change in your address.