According to the Indian Constitution, you are a minor till you become 18. Once you're 18, you become a major and with that age comes certain powers and yes responsibilities too. Like? The RIGHT TO VOTE! In any democracy that's the highest power that any citizen can get once they attain majority. No one can take that away from you. Be it Lok Sabha elections, State Assembly elections, Municipal elections or Panchayat elections you need your Voter Registration card to exercise this right of yours.
What is a Voter Registration card?
Voter Registration card or Elector's Photo Registration card (EPIC) is given to all eligible voters of the country by the Election Commission of India after they have applied for one. Getting one doesn't mean that they can vote. Their name has to be included Electoral Roll or the Voter's list. Initially their name being present in the voter's list was enough but now they need a Voter Registration card for identification at the polling station.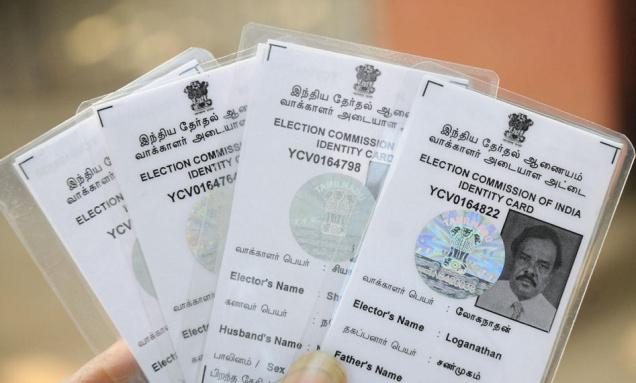 Why was there a need for Voter Card Registration?
Suppose you're going to vote today. It's a long queue. Almost half the day has past. Your turn finally comes. The Electoral List holder asks your name. You say it out loud and to your surprise they tell you that you have already voted!
And so, in August 1993, the Election Commission of India ordered the making of Elector's Photo Registration card EPIC for all eligible voters. This not only would prevent such frauds but would also give the GoI or the ECI an accurate no of voters.

Why you should have a Voter Registration card?
If you don't have a Voter Registration card yet or if you've lost it, here are a few you reasons as to why you should get a new/duplicate one:
To vote for the candidate/party that you find suitable.
It serves as a valid (Photo) Identity card.
It can be used as an address proof.
It can be used as an age proof.
In India after marriage the bride moves to the groom's place and may also have changed her name. And so, there will definitely be a change in her address or name or both. For these changes to reflect in the Electoral roll she would have to wait for a long time unless she already has a voter Registration card. The documents required include her Marriage certificate and a valid photo identification.
The Central Board of Direct Taxes (CBDT) has recently issued a notification making the Elector's Photo Identity Card (EPIC) and Aadhaar card, valid proofs of "date of birth" for obtaining PAN card. Till now EPIC and Aadhar were recognised only as identity and address proofs when applying for a Permanent Account Number (PAN) card. But now, all you need is a Voter Registration card as it can cover every document needed for applying for a PAN card.
Renewing your driver's license.
How to do Voter Card Registration?
To get your Voter Registration card now, all you have to do is click here and follow these easy steps given there!
If you have lost your Registration card and didn't know how important that was but, now you know its value you should head towards the nearest police station and file an FIR. After that, take a copy of that FIR and submit it with the ERO and fill up FORM 002 along with the asked documents and a Penalty fees of Rupees 25.