With the exact dates are yet to come, Bihar Assembly Election are all but set to make a mark in this much awaited Election after General Indian Election 2014. Already declare to be the Mother of all Elections by Chief Election Commissioner of India, this election is indeed the one of the biggest election of all time in India.
Bihar Assembly Election 2015 –  Flashback 2010 – 2014:
In 2010 Assembly Election, National Democratic Alliance won the election with whooping 206 seats defeating their major rival Lalu Prasad Yadav's led RJD. Nitish Kumar's Janata Dal (United) got 115 seats while BJP got 91 seats in that election. Ever since, the political scenario has changed completely in Bihar which includes changes in the personal relations of different leaders and alliances of different political parties.
Please Visit Official Bihar CEO Website to know more about the statistics of Bihar Assembly Elections 2010.
Just before the 2014 general elections, there was a difference that rose between Nitish Kumar and Narendra Modi. Following the declaration of Narendra Modi as Prime Minister Candidate, Nitish ended a 17-year-old political alliance (NDA) which the BJP stated the reason as the divergence of opinion on basic issues.
Following the popularity of Narendra Modi, the outcome of General Election for BJP was unexpectedly amazing. The poor show for JD (U) led Nitish Kumar to resign from his CM post and appointed his close friend Jitan Ram Manjhi. Manjhi was loyal to Nitish at that time, but has now turned to be his biggest rival. His short tenure as Chief Minister of Bihar was no less than a roller-coaster ride. From once a disciple-mentor to biggest foes, the personal relations of both have turned upside down.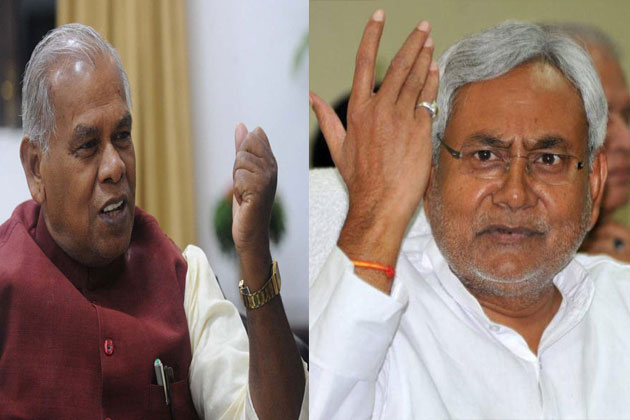 Manjhi who once described Nitish as "Chanakya" of politics, said in Feb 2015, "I have spent 34 year in politics and worked on different posts as minister and legislator…he (Nitish) committed a great mistake in assuming that I'll act like his puppet".
---
Also Read: Who will have an edge in this Bihar Assembly Elections?
---
Bihar Assembly Election 2015: Foes turned Friends, forming alliance:
Now with Manjhi out from Nitish camp and Pappu Yadav out from Lalu's, it seems that these leaders don't have much option but to patch up to defeat the Modi led BJP. It all started in December 2014 last year, when a rare sight is seen as arch rivals- Nitish Kumar and Lalu Prasad shared dais and find a sudden friend in a distress situation.
This foes turned friends against their biggest rival led to the formation of a new alliance "Janata Parivar" which is being led by the Samajwadi Party head Mulayam Singh Yadav. This alliance includes Nitish Kumar led Janata Dal United (JDU), Lalu Prasad led Rashtriya Janata Dal (RJD), Samajwadi Party (SP), Janata Dai (Secular) (JDS) and Indian National Lok Dal (INLD). Decimation of these regional parties by the BJP in their respective states, after the Lok Sabha elections 2014 results, led them merge together and fight against them.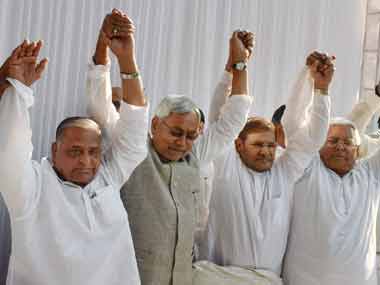 Congress has its own plan to strengthen their presence and command in Bihar once again. It has announced its support to the grand alliance of JD(U) and RJD. This new pact between JD(U) and Congress is something that has never seen before in history of Bihar politics.
Differences despite Alliance:
Lalu's probable desire for big chair is not seems to have diminished yet. These twobig players Lalu and Nitish trying to outplay each other with both do not want to concede even an inch. For sometime Lalu and Nitish have not met each other with Sharad Yadav is the only go-between. Lalu does not want to project Nitish as the alliance's chief ministerial face and give an equal number of seats to his party, and the JD(U) is not ready to scale down its demands. With all these desires and differences it is finally declared by Mulayam Singh Yadav that the Chief Ministerial candidate will be Nitish Kumar. Following this declaration, Lalu Prasad commented that he is ready to consume even a poison to defeat BJP.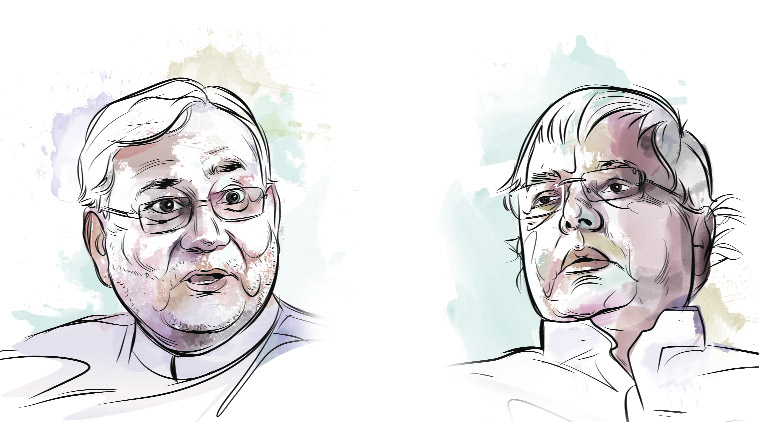 It is thus concluded that the once foes are now turned friends for this Bihar Assembly Elections with their grand JD(U)-RJD alliance. What is the significance and what major damage this alliance can do will be proved only after Bihar assembly elections 2015 results.