The Election Commission on March 4th 2016 announced the schedule for Tamil Nadu Elections as well as in 3 other States and 1 Union Territory which includes Election in Assam, West Bengal, Kerala & Puducherry. The Tamil Nadu Elections for 234 constituencies of Legislative Assembly will be held on May 16.
Click Here for CEO Tamil Nadu – Complete Information and Helpdesk
Tamil Nadu Elections – Important Dates and Quick Facts:

The tenure of fourteenth Assembly of Tamil Nadu ends in May 22, 2016. According to the data in Electoral Roll, there are 5.79 Crore voters and 65,616 polling stations in Tamil Nadu. Currently J. Jayalalitha is the CM of Tamil Nadu with AIADMK being the party in power.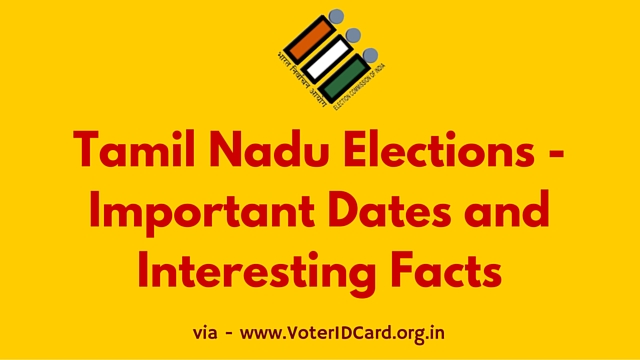 Important Dates:
| | |
| --- | --- |
| Date of Issue of Gazette Notification | Apr-22, 2016 |
| Last Date for Nominations | Apr-29, 2016 |
| Date for Scrutiny of Nominations | Apr-30, 2016 |
| Last Date for Withdrawal of candidatures | May-02, 2016 |
| Date of Poll | May-16, 2016 |
| Counting | May-19, 2016 |
The state of Tamil Nadu has 234 legislative assembly constituencies. The Chief Minister of the state is elected by legislators of the political party or majority party in a coalition government , and serves a five-year term with a provision of re-election. As per our constitution, the Governor is the head of state, but his or her role is largely ceremonial.
Members of Parliament (MPs) are elected in Lok Sabha Elections and the Members of Legislative Assembly (MLAs) are selected through Assembly Elections. 
For the Entire list of Upcoming Assembly Elections of 2016 – Click Here
Election Commission conducts Voting system and voters of age 18 and above have the eligibility to vote.
Also, Tamil Nadu State Election Commission gets power to conduct elections to select members of Municipalities, Corporation and other local bodies occurring once in 5 years.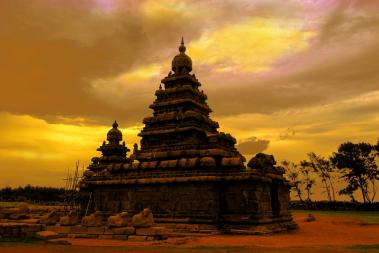 Major Recognized Tamil Nadu Political Parties:
Dravida Munnetra Kazhagam (Dravidian Progress Federation, DMK)
Desiya Murpokku Dravida Kazhagam (National Progressive Dravidian Federation, DMDK)
All India Anna Dravida Munnetra Kazhagam( All India Anna Dravidian Progress Federation, AIADMK)
Other Local State Parties:
Dravida Kazhagam (DK)
Viduthalai Chiruthaigal Katchi
Puthiya Tamilagam
Manithaneya Makkal Katchi
Pattali Makkal Katchi (PMK)
The main national parties in the state are:
Bharatiya Janata party (BJP)
Communist Party of India (CPI)
Communist Party of India (Marxist) (CPI(M))
Indian National congress (INC)
About Tamil Nadu Assembly Elections:
In August 1968, the state of Madras was renamed Tamil Nadu and the strength of its Legislative Assembly became 234.
Quick facts for Tamil Nadu Elections
| | |
| --- | --- |
| Parliamentary Constituencies | 39 |
| Assembly Constituencies | 234 |
| Ruling Party | AIADMK |
| Opposition Party | Dravida Munnetra Kazhagam (DMK) |
| Chief Minister | Jayaram Jayalalitha |
| Governor | Konijeti Rosaiah (Additional Charge of Karnataka |
| Chief Electoral Officer | Rajesh Lakhoni, I.A.S. |
| CEO Address | Tamil Nadu Secretariat, St. George Fort, Chennai- 600009 |
In the early years of independence The Indian National Congress (INC) was the prominent party & one of the earliest regional party in the state was  Justice Party headed by Periyar E V Ramasamy.
Dravida Munnetra Kazhagam (DMK), founded in 1949 by former Justice Party member- C N Annadurai came to power for the first time in 1967.
The AIADMK, which became another major political party in the state was founded in 1972 by Dr M G Ramachandran.
MGR left the DMK to form The All India Anna Dravida Munnetra Kazhagam (AIDMK) which in 1977 formed the first state government.
Dr M G Ramachandran remained in power as the CM till in 1987 for ten years before his death. M Karunanidhi later came to power in 1989 who headed DMK.
After decades of duels between the DMK and the AIADMK, Tamil Nadu faces the possibility of a five-cornered contest in this year's Assembly Elections.
Currently J. Jayalalitha of the AIADMK is the Chief Minister. M Karunanidhi (DMK) has been the Chief Minister of the state five times. The parties come into power alternately.
The various parties in the fray include AIADMK+, DMK+, DMDK, People's Welfare Front and PMK.
Smaller players are also gearing up for the post-Karunanidhi, post-Jayalalithaa period in which they believe the political space is bound to open up.
Tamil Nadu Assembly Elections – What Do the Opinion Polls Say?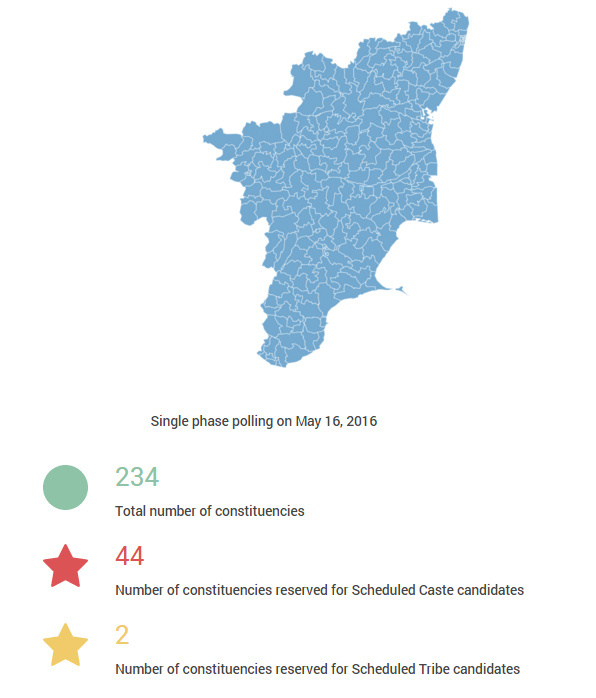 If we look back in the history, the assembly elections will be a course of battle between two rivals, AIADMK and DMK. Other smaller parties like DMDK and PMK are also in the race and trying to stabilize their position in order to gain a majority mark. It is this two or three per cent of votes that will be key to the final outcome of the 2016 assembly elections as much seems to depend on the undecided voter this time.
The AIADMK has still got a slight edge over the DMK with BJP emerging as a strong third contender. Though in November and December 2015 when the heavy rains and floods exposed its government's inefficiency but the repute remains unaffected. And the opposition DMK, which was busy resolving conflict within its own party, could hardly benefit from this situation.
Also read: Who can possibly win the upcoming Tamil Nadu Assembly Elections 2016 – Click Here
Tamil Nadu Elections – Various Constituencies:
Some of the state assembly constituencies are:
Nagercoil
Aravakurichi
Anna Nagar
Athoor
Ambattur
Kurinjipadi
Maduravoyal
Thiruvarur
Bhuvanagiri
Nagapattinam
Sankari
Thanjavur
Veerapandi,
Mannargudi
Villivakkam
Singanallur
Jolarpet
Papanasam
Edappadi
Tiruchengodu
Kovilpatti
Cumbum
Kanniyakumari
Villupuram
Manachanallur
Hosur
Madurai Central
Palani
Melur
Poompuhar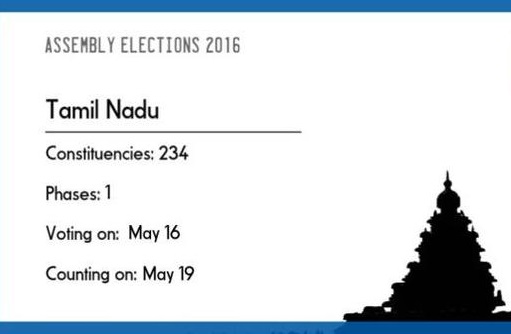 Facilities for Voters:
In a bid to encourage more voters to exercise their franchise, the Election Commission has taken several measures.
For the first time, EVMs will feature a symbol for NOTA. The symbol was created in association with the National Institute of Design, Ahmedabad.
The photographs of candidates will be printed along with their names and election symbol in the EVMs.
The Commission will distribute voter slips bearing the photo of the elector with the details, including that of polling booth, his/her serial number in the electoral roll.
Every polling station will be equipped with basic minimum facilities such as drinking water, toilets, shed and ramp.
Model polling stations will be set up in select constituencies.
Separate polling booths for women will be set-up, wherever possible.
Differently-abled votes will be given priority in exercising their franchise.
Auxiliary polling stations will be set up inside Blind Schools and leprosy sanatorium.
Voter Verifiable Paper Audit Trail (VVPAT) will be used in select constituencies.
All critical events will be video-graphed.
We hope that we have covered as much of the information on Tamil Nadu Elections as possible. You can ask any query in the comments section below and stay connected for more updates.