Electoral Photo ID Card (EPIC) is issued by the Election Commission of India. It serves as photo ID during elections, as well as wherever required, otherwise. You can apply for Voter ID Online, check its status online, and can do Voter ID Name Correction and more Online if entered wrong information or errors in spellings and so on during the procedure of enrolment. If you are searching for Voter ID Name Correction after marriage then you are in the right place. This process o name correction after marriage is a very common issue and the article below gives you the easiest method of doing it.
To know how to apply for Voter ID Card online, click here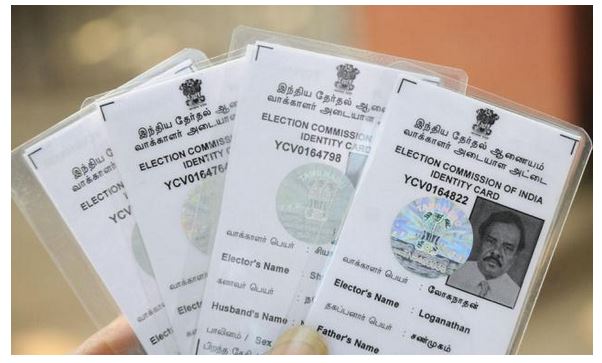 How to Perform Voter ID Name Correction after Marriage:
There are various reasons for any Voter ID Card holder to go for the name change on their EPIC – Marriage is one of those reasons.
It is very important to update your credentials in all the government related documents in order not to get stuck in any future verification related problems.
If your name or surname is changed after marriage it is very much important to update your name in all your documents.
Whichever case you may be, you will compulsorily need to fill in the Voter ID Corrections form i.e, Form 8.
One can obtain such form at any of the enrolment centres and fill it manually.
Or that form can be downloaded from your state election website for free. You can click here to open online Form 8 directly from our portal .
Before you fill in the Form keep these in mind:
Only the candidates who are in voter's list are eligible to apply through Form 8.
Online Correction can be done only on specific days.
You can submit only one application through  this form.
How to Fill in Form 8 for Voter ID Name Correction Online:
As a matter of first importance, ensure you have all the below-mentioned documents handy with you.

Name & Date of birth certificate
Address Proof
Photo ID Card
Voter ID Card by ECI (if already issued)

Similarly, you will need to have scanned copies of the last three documents mentioned above which are to be uploaded during Online Correction in Voter ID Card.
In Part 1 Enter details regarding your State & Assembly/ Parliamentary Constituency that you reside in or belong to.
Enter in you Full Name( in this case name that you obtained after marriage) , then full name along with surname will be displayed in your regional language.
Then punch in the part and the serial number of your entry in the electoral list or voter's list.
Type in your exact age or you can directly give your date of birth. Enter Father's/ Mother's /Husband's followed by the surname and mention the relationship with the name you mentioned.
In Part 2 of the form, you will have to fill your current address along with the Pincode of the address you mention.
In Part 3 of Form 8, you have to fill in details of the previously issued Voter ID card such as Voter ID number,  state/ parliamentary constituency that is issued in.
After Part 3 you have to upload scanned copies of all the required documents like your recent Photograph, Photo ID card proof and Address Proof.
In Part 4 you have to select the fields which you are willing to correct you can change one or more details as per your wish. In this case, select "My Name" .
  At the end enter the date , place and it is optional to enter the mobile number and email address and are recommended for easier processing.
Once submitted you will have to wait for about 60-90 days for the process to get to an end.
And once the Voter ID Name Correction is done the corrected details can only be seen when the next voter's list is published.
How to Change your Name in EPIC after Marriage – Offline:
While the process remains the same as described above for the online part, you will have to fill the form physically and submit it along with the required documents to the nearest ERO.
You can download and print the Form 8 from here.
How to check Voter ID Card Status:
Voter ID Card Status can be checked by the following ways
Through SMS. 
Through State wise Election Commission's website
Through the NVSP Portal 
Through a Helpline Number
Through SMS :
This is the most user-friendly method to know Voter ID Card Status. All that needed is to just send an SMS to a number and you will get the status through SMS.
Step-1 : Simply type  EPIC <space> Your Voter ID Application Number
Step-2 : Send it to the number 9211728082
Through State wise Election Commission's website :
Each State has its own Election Commission and its own Website to provide better services ease. To go to the link for State election Commission's websites, Click here.
Through the NVSP Portal: 
Click here to go to NVSP Portal 
Click on the link and enter your reference ID to track the status.
Through a Helpline Number:
You can also know the Voter ID Card Status by directly inquiring with the customer care of their respective State Election Commission, and check for the Voter ID Status.
After opening the State Election Commission's website hit on Contact us and scroll down for toll-free numbers. Call those numbers and you may be asked to provide the application number or tracking ID.
This way you can correct your name in Voter ID Card after marriage, do follow above steps and get the correction done easily.
Thank You!!