The winds of change are certainly blowing through the corridors of Indian politics. Gone are the days when haggardly walking (and talking) old politicians ruled the roost for many years (even decades in some cases). With leaders like Raj Thackeray, Varun Gandhi, Rahul Gandhi and Milind Deora, the country is poised to have. The need for youth leadership is being felt like never before. But how good do they compare with our current leaders? We find out.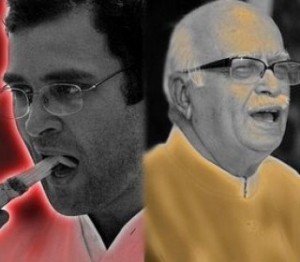 Why we need young leaders?
Unlike the older politicians, the young leaders are more tuned into the reality of issues facing common man. They do not hesitate to speak what is on their minds. Leaders like Raj Thackeray, Rahul Gandhi are not afraid to call a spade a spade.
These and other like-wise leaders are not willing to turn a blind eye to things happening around them. In addition to it, they are also tech savvy that endears them to the youth of India.
Compare to this, our aged politicians take ages before deciding to take action. In addition to that, they are woefully out of sync with the reality. They do not make an effort to take an initiative to change things.
Energetic but inexperienced vs older and wiser.
One factor that works in the favor of the older politicians is their experience. These politicians have dealt with all kinds of situations and have come out wiser plus more experienced.
Also, their ability to keep a cool head while dealing with serious national and international, issues related to India cannot be underestimated. Situations like Kargil, Pokhran would not been easy to deal with without the experience and maturity of the experienced and older politicians.
This is where the youth leadership can come up short. Although they have this burning fire within their belly to be the change they lack the wisdom and experience of politics.
New and fresh perspective vs the old one.
The youth leadership has the will to create the change they want rather than wait for it to happen. A recent example is the victory of India's latest political party, AAP. The party with its agenda of running a clean and efficient government certainly found favor among the common man.
The old leaders are stuck in their past and like living in its glory. They are too stubborn to change for their own good. This attitude has played a major role in holding back the progress of the nation.
Trust factor.
People of India want leaders who they can trust. Over the years, Indians have been subjected to shallow promises by these old politicians. They have more or less failed to keep their words. This is what the older generation of politicians has failed to do time and again.
Now compare this to the young leaders like Arvind Kejriwal, president of AAP, and one can clearly see why he is now the apple of the eyes of the nation. Other young politicians like Omar Abdullah, Narendra Modi have adapted to the changes and delivered their promises. This earned them a lot of public trust & admiration.
The way ahead for India and Indians.
Indian politics need leaders who can combine the guile of a seasoned politician with the zest of youth. So the best way to achieve this is by creating a balance of young and old politicians as our administrators. Both can learn a lot from each other and can co-exist peacefully too.
Delivering a verdict in favor of either of the brigade would be unfair to the other. This is one battle that doesn't appear to have one clear winner.