Today, the net has helped in completing many tasks which would have been impossible a few years back. For instance, voters in India can now apply for their voter cards online or find out if their names have been enlisted in the voter list by just accessing the net.
In fact, a voter can register for a change in voter card or update errors in the election ID card by just logging in to the Election Commission of India website. In short, the net has become a powerful tool in conducting various electoral processes.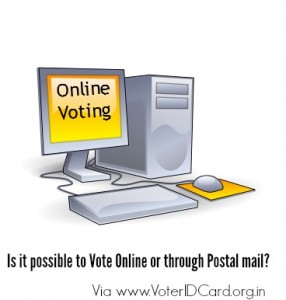 However, can a voter vote online or submit his voting slip by post? In some occasions it is possible to send the vote by post. The postal voting option is possible in Indian consulates overseas where hundreds of Indians work. Nevertheless, how much is it possible for an ordinary voter to go for Internet voting or cast votes through postal voting option is still being reviewed.
Why Voters Opt for Internet Voting
Consider a situation where you are working away from your home town. You must have registered your voter ID at your home constituency. However, you may have just moved out to work. There are others who are away from home to study. So, voting this election in 2014 will mean that they have to visit their home town.
It may not be possible for all such voters to visit their home town to vote. How about allowing Internet voting where voters can simply log in to a site, provide their voter ID card number and other credentials as required, and cast their vote?
Use of Internet Voting System
Using the net to vote for elections is not a new concept. It was started way back in Municipal Corporation elections in April 2011 when the State Election Commission of Gujarat implemented Internet voting.
A dedicated Internet voting system was built by a well known software firm, Tata Consultancy Services. Although it worked successfully, it is not all that easy to implement Internet voting for the General Elections.
Internet Voting Pros and Cons
Many people wonder whether Internet voting system has saved time and resources in the election process or has it accrued more problems. Experts say that Internet voting is inevitable as practically everything now can be done through the net. Some positive reasons for net voting are:
It allows people not residing in their home constituency to exercise their franchise
It correctly deciphers the vote. If the software does not have a bug, it seamlessly works without any human error
It does not accrue additional cost of setting up a polling booth, engaging polling officers, etc
It saves resources, such as use of paper, ink, etc
It quickly and efficiently does its job. Rigging or malpractices are less
However, the debate is still going on where experts are assessing Internet voting pros and cons. There are some disadvantages as well to pursue Internet voting. For instance:
It is not easy to create intricate, error-proof software tool for electoral voting
It is difficult to implement the voting utility for the entire electorate for General Elections
The voting tool should be encrypted from hackers
…And, creating sophisticated Internet voting system can be expensive and drain out the funds allotted for elections. As many people may not access online voting system, they may require visiting the polling booths as well. The ECI will need to invest in polling agents and usual voting procedure also where voters need to visit the polling stations to vote.
The use of electronic voting machines has been successful now – however, there were issues when rigging was done. So, online voting system must be thoroughly encrypted so that no malpractices are allowed.
Use of Postal Votes
Although some people can post their votes to your home constituency, it is not practically feasible for all. The cost of transporting the postal votes to the respective constituency is very costly. The ECI does not plan to spend too much funds unnecessarily.
So, Internet voting may not be possible this elections. However, it is not just a dream. Voters are also been assisted by Booth Level Officers (BLO) to vote this elections even if they are not residing currently in their home constituency.