Facebook, world's biggest social networking site, has introduced a new feature for Indians called Register to Vote. This is an initiative taken by it in collaboration with Times of India to encourage those, young and old, who haven't registered for voting.
What Exactly Is Register To Vote?
This is an initiative by Facebook to attract Indian voters. India is second most populated country in the world. In fact it is estimated that within next few years it will have world's largest population.
But the sad part is most of the citizens do not vote thanks to either lack of interest or laziness. Thus a valuable constitutional right is wasted. In order to get these very same people to come out and exercise their right to vote, social networking site Facebook has taken an initiative to encourage the young Indian voters.
Why Facebook?
Being world's biggest social networking site, Facebook is where most people love to be. A major factor is the influence that friends and family have on a person. The site wants to explore and utilize this factor in helping people persuade others in their circle to register and vote. The site has tried to make it as enjoyable as possible by letting the user share various aspects related to their journey to register to vote.
Ankhi Das, the public policy director at Facebook India says, "The launch of Register to Vote feature for Indian users will lead to will create increased awareness of the voter registration process and influence a higher percentage of people to register to vote,".
Another reason is the huge youth population of India. There are approximately 17 million first time voters that are in the age group of 18-19 years. A major portion of this population is on Facebook which gives it a unique position and advantage among all the social media platforms in India.
How To Register To Vote And Add It On Facebook?
The social site directly provides a link to election commission of India's site to which will help you register yourself for voting by filling up Form 6. There are vairous sites which will help you with the process of how to register for voter id card. Once you have registered you can then share or add anecdotes related with your registering process like photos, place where you have registered and other information.
Below are the steps you can share your registration story using the "Register To Vote" feature.
Step 1
On your homepage you will four options; Status, Photos, Place and Life Event. Click on "Life Event" option.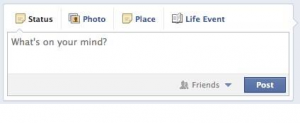 Step 2
You will see various options to choose. Click on the "Travel & Experience" option. After you click on it you will see more options within it. Now click on "Registered to Vote".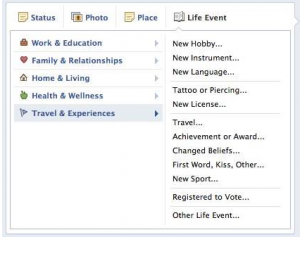 Step 3
You can then enter the place where you registered along with the day and the date on which you registered. You can also upload a photo if you feel like sharing one.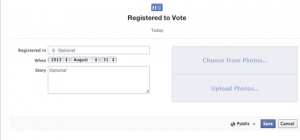 Enter the details and save it. That is all you got to do. In case you need more info or have questions about voter registration, you can visit the official website of election commission of India. The rise of social media platforms and its effect on Indian general elections 2014 is becoming very clear. It has added a new dimension to how elections are being contested.
Have you used this feature on Facebook? If yes, then we would love to hear your experience.