The application process for a new Voter ID Card Online Delhi and all the other states has been made very easy by the constant research and efforts of the Election Commission of India and the people at CEO Offices in different states. At the click of a button, people are now able to register themselves as voters and hence lead their nation to betterment by the means of their priceless votes. Even voter id card correction online has become easier than before.
Therefore during the elections, for a deserving representative to be chosen, it is mandatory that each and every adult citizen casts his/her vote. In this case even if a single voter is denied an entry to the polling booth to make his opinion count, the democracy faces a let down. To elect a government that is for the people and of the people, it is necessary that all the voters are allowed to cast their votes.
---
Click Here to Know the Fastest way to apply and check status for Voter Card Delhi
---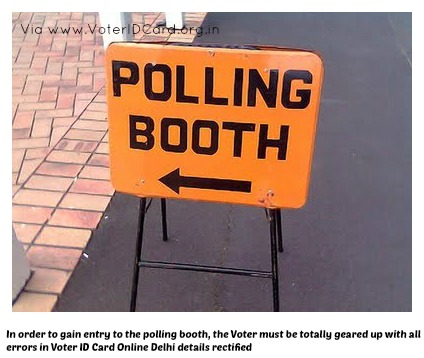 How make Voter ID Card Online Delhi Corrections for errors in my Voter ID Card Delhi Details?
Understandably so, you must therefore take immediate steps to correct any error in the particulars entered in your Voter ID Card in Delhi. To rectify these mistakes online, you could visit the CEO Delhi website/ECI Website or simply click the following link:- http://eci-citizenservices.nic.in/frmmobileverification.aspx?type=FORM8
Through this link you would be directed to the online version of the Voter ID Card Online Form No. 8, this form is an application for the rectification of errors of details entered in your EPIC. These errors could be:-
Spelling Mistakes while entering your name/address/any other particular.
Wrongly specified age or Date of Birth.
Any other wrongly entered particular.
To access this online form through the ECI Website, you first need to provide your Mobile No. and E-Mail Address. Then a verification would be sent to the provided number. As soon as you enter this code on the verification page, you would be directed to the online Voter ID Card Form 8 for Delhi and all the other states based on the selection you make.
I Don't Want to Fill the Voter ID Card Online Delhi Form, From Where Should I get the Hard-Copy of the Form?
If you are not willing to fill the Voter ID Card Online Delhi Form then you could visit the following link extracted from CEO Website of Delhi and download the printable version of Voter ID Card Application Form 8 for rectification of errors:- http://www.ceodelhi.gov.in/WriteReadData/userfiles/file/Forms/FORM8.pdf
You could print this form, fill it using a pen and then submit it at the ERO Office in person.
Upon completion of the application for rectification or correction of Voter ID Card details online in Delhi, you would have to wait for some time until your application is assessed and corrections are made. Until then you could keep yourself updated by constantly checking your Application Status on the following link:-  http://ceodelhi.gov.in/OnlineErms/CheckApplicationStatus.aspx
How could the Voters Ensure a Smooth Entry to the Polling Booth?
From the voters' end, there are a few things that they need to keep in mind to ensure that they are not denied their right to vote:-
Make sure you are heading to the correct polling booth. Each voter's polling booth is predetermined and mentioned on his Voter Slip. Therefore the voter would not be allowed an entry to the polling booth other than the one that is mentioned on his voters' slip. If you do not have your voter slip but are in possession of your Voter ID Card Online Delhi, you can check your elector details by sending <Your EPIC Number> to 9211728082. This way you would receive the information about your polling booth and also the details entered into the Electoral Roll of your Constituency.
Make sure that you check your name in the Voter's List of your Constituency before heading out to vote. Having your name in the voters' list is a necessary condition for you to exercise your franchise to vote. You can check your name in Voters' List for your Voter ID Card Online Delhi by visiting the following the link:- http://ceodelhi.gov.in/OnlineErms/ElectorSearchtest.aspx Alternatively, you could send 'EPIC'<Space>'Voter ID Card Number' to 9211728082
The Voter should make sure that while applying for his/her Voter ID Card Online Delhi or any other state, all his details are correctly entered and there are no spelling mistakes made while entering them. This point is important to keep in mind because of the fact that any such errors would pose a problem in front of the polling officer when he tries to verify the voter's identity and let him cast his vote. Since we already know how important it is for a democracy that all its subjects cast their votes, it is evident that such an obstacle in the election process is undesirable.
How Does the ECI Ensures the Entry of Only Legit Voters?
To make sure that no legitimate voter is denied his/her right to vote the Polling officers are instructed to thoroughly check the identities of the voters before letting them enter the polling booth. For that reason the voters have to produce their Voter ID Card or any other prescribed identity document that would take the polling officer into the confidence that the voter is the same person who has his name registered in the corresponding electoral roll. This is the way in which the Election Commission of India makes sure that the election results are least distorted. This also keeps a check on the cases of Bogus Voting.