The great Rabindra Nath Tagore wrote a song, the wordings of this iconic Bangla song were; "Jodi Tor Dak Shune Keu Na Ase Tobe Ekla Cholo Re." The translation being:- 'If no one responds to your call, just walk alone.' Showering patriotism, this song must have had enormous influence on the citizens under crisis and sorrow. The sorrow that came from oppression by the Colonial Rule. Written in 1905, being almost 110 years, one might question the relevance of this song in today's age.
What is our take? Well, we think that things may have changed a lot since 1905 but this song has not lost its relevance at all. For sure, there is no more colonial rule in our nation but one could not say the same for oppression. Oppression is the only thing that has remained since the turn of the previous century. Whereas, oppressors have changed for sure. Now the oppression is led by bureaucrats and the corrupt politicians and not by the colonists.
Amidst this tension one might question that what is that the common man has in hands to tackle this oppression in the modern age of today. We say that there is still one thing we have now but was missing a century ago. The thing we are talking about is our very own right to vote. We now have the power to tackle oppression and for this resistance we need no weapons at all. Our power lies in the fact that the constitution clearly mentions the fundamental right to vote for every citizen who is 18 years of age. Hence, even today, 'Ekla Chalo Re' is relevant.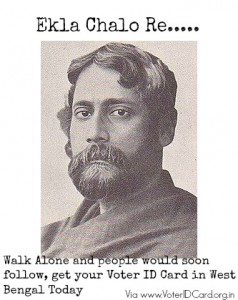 If no one responds your call to fight against the rigid system, you must go on your own to cast your vote. Not only in West Bengal but in all the states of our Nation, the citizens must take inspiration from this song. Your friend is not interested in casting his vote and getting his Voter ID Card? Don't bother, just be on your own and head to vote. If you do that, people would look up to you and many may follow you as well.
In this way, a revolution would follow. A non-violent revolution, where each vote cast would make a difference and help our nation transit away from the present oppression of the poor and middle class to a socialist and an equality oriented nation.
Inspired Much? Get Your Voter ID Card West Bengal 
Any considerate and empathetic citizen in West Bengal or any other state of India is bound to be intimidated by the things that are said in the preceding paragraphs. Therefore if you are the one who is ready to walk alone and set an example for others, so that they too follow you to a better nation. A nation where bureaucracy is controlled and equality is maximized. The road to this desired society passes through the polling booth. Your Vote is a means of revolution, hence your Voter ID Card is your power.
How to get my Power, My Voter ID Card in West Bengal?
Go to your nearest ERO Office and obtain a Voter ID Card Registration Form 6. This form is required to be filled by new Voters in order to include their name in the electoral roll. Also one could visit the CEO Website of West Bengal in order to download the Voter ID Card Form 001 which is require for the preparation of Photo Electoral Roll and Voter ID Card in West Bengal. Also, Voter ID Card Form 001 is filled in order to request the issuance of a fresh Electors' Photo Identity Card. Here is the link:- http://www.ceowestbengal.nic.in/WriteReadData/UploadedFile/CEOWB_635059545830592849_Form-001.pdf
To register online through the CEO West Bengal Website, one could visit the following link for Online Voter ID Card Registration and select the desired form, for eg. Select Form 6 for inclusion of name into the voters' list:- http://www.ceowestbengal.nic.in/how_to_register_2014.htm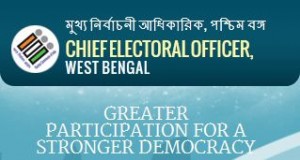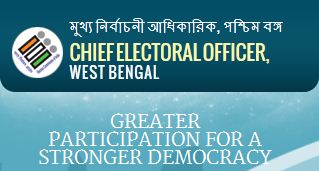 You can also visit the Election Commission of India website viz. www.eci.nic.in to enroll as a Voter in West Bengal and get your Voter ID Card there.
How do I Check my Name in the Electoral Roll for my Voter ID Card West Bengal?
Having your name in the electoral roll is mandatory. Without the inclusion of your name in the roll, your Voter ID Card would not be sufficient for you to be granted an entry into the polling station. Therefore you must check that your name is there and that there is no errors in your particulars. The CEO Website of West Bengal provides an option for online search of your name in the voters' list. Here is the link:- http://ceowestbengal.nic.in/onlinesearch/
What is the Summary Revision of Electoral Rolls?
Before the elections, the ECI and CEO Offices want to make sure that the Voters' Lists are kept totally updated, with exclusion of those who have shifted away from a constituency along with the inclusion of the newly shifted voters. People are free to participate in this drive by making objections and claims initiated by filling the Voter ID Card Form 7. For Lok Sabha Elections 2014, the CEO West Bengal provides a provision to check the list of claims and objects made during the summary revision, here is the list:- http://www.ceowestbengal.nic.in/CategoryContent.aspx?Id=29
On redirected page of the above link, you have to firstly select the desired district whose list of claims and objections you wish to access.
How to View my Elector Details?
In order to make sure that there are no errors in your particulars for Voter ID Card West Bengal you should cross check your elector details. Also these details are essential for Voting and future reference. These details include:-
Number and Name of Assembly Constituency
Part Number
Details of the Polling Booth
In order to obtain these details you just have to SMS <Your Voter ID Card number> to 94336 33333. Alternatively, you can send WB<Space>EC<Space>'Voter ID Card Number' to 51969.