Pune is one of the most happening cities in Maharashtra. A hub for educational institutions, this city is indeed a modern example of changing times in India. From top class eateries to high level colleges, Pune is growing at a sky-rocketing pace. What is then the duty of the people living in Pune? Their duty is to cast their vote in the coming assembly elections and elect a government that is capable of good and honest administration in the state. Pune has a large chunk of young citizens and as we all know the possibilities of a young mind. Therefore we dedicate this article to help the youth voters or citizens of Pune with some quick help on voter id card registration.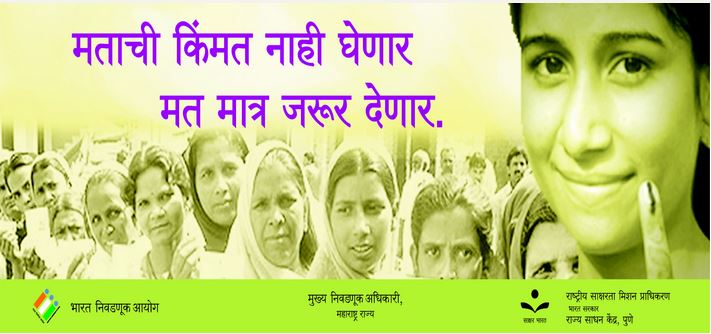 6 Simple Steps to Become a Voter in Pune, Maharashtra
Thanks to the internet, almost everything in our world has become fast track. Hence, how could voter id card registration stay behind? Yes, you can now become a voter in Pune, Maharashtra at a click of a button. All you need to do is, follow the following simple steps.
STEP 1
Visit ceo.maharahstra.g0v.in which is the official website for the state of Maharashtra. On this website you can not only apply for a new voter id card in Pune but also perform tasks like: –
Check name in the voter list 2014 of Pune or any other city of Maharashtra.
Gather information about your designated BLO, ERO etc.
Locate your polling booth.
Apply for corrections to your voter id card details.
Apply for transposition of your entry to the voter list.
Apply for objection to an entry to voters' list.
And what not..
STEP 2
On the homepage of this CEO website, you would see a task bar that has an option that reads 'Online Voter Registration'. Just click this option. You would then see a host of online forms which are available to be filled online on the website. These forms are: –
Form 6
Form 6A
Form 7
Form 8
Form 8A
You have to click on the first option i.e Form 6. This form is especially for the citizens who wish to get their names in the voter list of their respective constituencies in Maharashtra. Form 6A is just like the form no. 6 but for the NRI voters. Form No. 7 on the other hand is an application for objection to any entry into the voters list. You can fill it to remove the name of  a deceased parent or any other family member. You can raise an objection to any entry to the voter list provided you have a valid reason and proof to validate the objection.
Form no. 8 is for voters who want to correct their details entered in the voter list 2014 Pune. A misspelled name, wrongly mentioned address, age or any other field that requires correction could be corrected by filling this form online. Form No. 8A is required to be filled for the transposition of your entry into the voter list within the same constituency. If you instead want to change your address to a different assembly constituency then you have to re-fill the form no. 6 only.
Having proper knowledge of all these election commission of India forms is essential if you wish to become a successful voter in Pune or any other city of Maharashtra and cast your vote in the coming assembly elections.
STEP 3
After clicking form no. 6, you would be taken to the election commission of India website's registration page. Here you have to select Maharashtra as your state and enter your valid mobile number and e-mail id. After entering these 3 fields, you can click 'proceed'. Then you would receive a verification code on your mobile number as well as on your e-mail id. Just enter this verification code in the section which appears after clicking proceed. You would then be taken to the form no. 6 online. You would also receive your username and password. You can use these to login on the election commission website and complete your application in multiple attempts.
STEP 4
Fill in all the parts of the online form and upload your passport size photograph. This photograph must be clear enough since this would appear on your voter id card Pune.
STEP 5[Not Mandatory]
Upload the documents required to prove your age, date of birth and residence address. Even if you are unable to scan and upload these, you can present these to the BLO who visits your place for verification of your identity after the application has been successfully completed.
STEP 6
After all the fields and parts of the online form no. 6 have been filled, you can click 'submit'. Now you would be given a unique application id. You must note down his id for future reference.
List of Documents to be Attached With Form No. 6 for Pune Voter Registration
No matter whether you fill form no. 6 online or offline to become a voter in Pune, Maharashtra, this list of documents is required in both the cases: –
Age Proof Documents– Birth Certificate issued by the civic authority of Pune.
Date of Birth Proof– Class 10th or equivalent mark sheet issued by recognized board of education.
Residence Proof– Bank Statement or Kisan passbook or ration card along with one more address proof like driving licence/letter sent by a govt. organization with the applicant as the recipient.
How to Check Voter ID Card Application Status in Pune?
It is very important to keep yourself updated with the voter id card application status in Pune, once you have filled your application form completely. To check this status online, you again have to visit ceo.maharashtra.gov,in On the homepage, you would be able to see a section called 'citizens' corner'. In this section you would be able to find 2 links, namely: –
Status of new forms: – Part-wise search
Status of new forms: – Name-wise search
You can click any of these links to check the status of your form application to become a voter in Pune. You would need to provide information like :-
Name-wise search
District
Assembly
First Name
Middle Name
Last Name
Part-wise search
District
AC
Part
Form type
Date of filling
After entering the above information, you would be able to view the stage at which your application for inclusion of name to Pune voter list has reached. It would also help you stay informed in case your application is rejected for any reason. This would help you act swiftly and re-apply as soon as possible and that too without the mistakes being repeated.