Maharashtra is a state in western India.It has over 110 million inhabitants and its capital, Mumbai, has a population of approximately 18 million. Mumbai is also the financial capital of the nation and the headquarters of all major banks, financial institutions and insurance companies in the country. Maharashtra's business opportunities along with its potential to offer a higher standard of living attract migrants from all over India. That reminds me, I plan to settle in Mumbai when I grow up… well, a little more I mean!
Maharashtra is bordered by the Arabian Sea to the west and the Indian states of Karnataka, Telangana, Goa, Gujarat, Chhattisgarh, Madhya Pradesh and the Union territory of Dadra and Nagar Haveli. India's film industry of Bollywood and Marathi films and television industry are also located in this state. People often see Aishwarya Rai at vegetable markets haggling over the prices of potatoes (Ok, now that was a bit too much :P).
---
Useful Links for CEO Maharshtra:
Become a Voter in Maharashtra in 6 simple steps
How to vote without Voter ID in Maharashtra?
---
Maharashtra is one of the wealthiest and the most developed states in India, contributing 25% of the country's industrial output and 23.2% of its GDP (2010–11). A perfect blend of tradition and modernity, Maharashtra has been a significant contributor to the country's overall growth.
The state sends 48 members to the Lok Sabha and 19 members to the Rajya Sabha. Elections in a state that big cannot be monitored by a generic parent organization i.e The Election Commission of India. It needs a specific special organization for the same. That's when, CEO Maharashtra comes into existence.
CEO Maharashtra Useful Details and Information – Click on the Options Below:
CEO Maharashtra Contact Details
CEO Maharashtra Application Forms
Voter ID Card Maharashtra Application
Get Duplicate Voter ID Card In Maharashtra
Voter ID Status Check for CEO Maharashtra
FAQs and Additional Information on CEO Maharashtra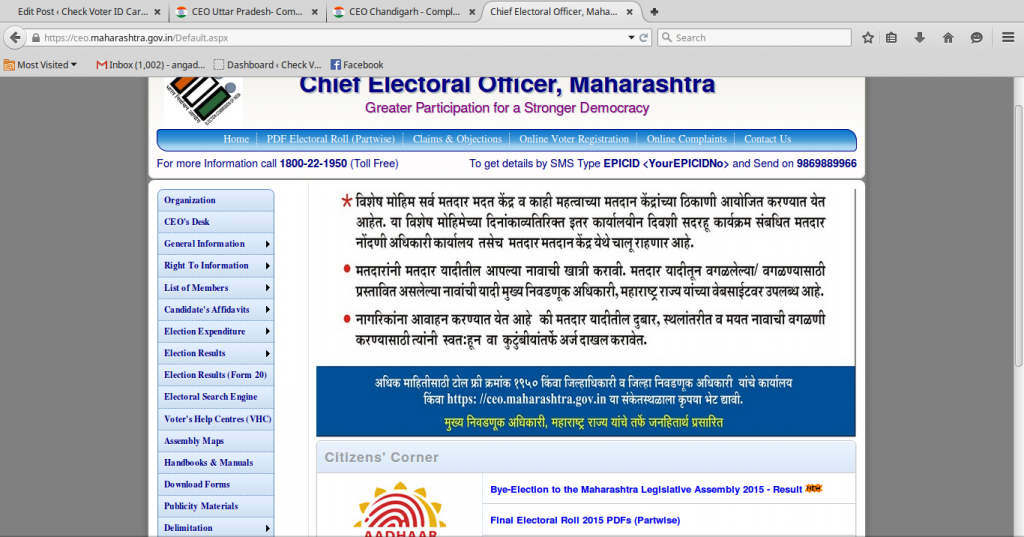 CEO Maharashtra: Under the Election Commission of India
Now before we discuss about CEO Maharashtra and his roles and duties, we should discuss about the Election Commission of India, the parent organization that oversees the work of CEO Maharashtra. The Election Commission is one of the only independent organizations in India not under the influence of the government. It was done to ensure that the ruling party can in no way  affect its working and it can work smoothly without any external interruptions. It's a federal organization and its power and duties don't get affected by states.
With its separate secretariat at New Delhi, it consists of roughly 300 officials. However, in a country as big as ours, a single organization even with all these cool powers would fail. Here, our policy makers introduced the concept of "division of labour"  . Now, through the Representation of People Act of 1951, each state has its own CEO (Chief Electoral Officer) who represents his state in the election commission and it is his responsibility to conduct peaceful elections throughout his state.
Fun fact:
Country's 5 biggest and 5 smallest constituencies according to area:
Biggest constituencies:
Barmer (Rajasthan) : 71601.24 sq-km
Ladakh (J&K) : 173266.37 sq-km
Arunachal (East) (AP): 39749.64 sq-km
Kuchh (Gujarat) : 41644.55 sq-km
Arunachal(West) AP: 40572.29 sq-km
Smallest constituencies:
Mumbai South: 13.73 sq-km
Mumbai South-central: 18.31 sq-km
Delhi sadar: 28.09 sq-km
Chandni chowk (Delhi): 10.59 sq-km
Kolkata north west 13.23 sq-km

CEO Maharashtra : Roles and Duties
The Chief Electoral Officer functions under the superintendence, direction & control of the Election Commission of India as delineated in the Representation of the People Acts, 1950  & 1951. He  supervises the preparation, revision & maintenance of electoral rolls in the state . He also overseas conduct of elections to the House of the People and the State Legislative Assembly  and facilitates elections to the Office of the President & the Vice President of India as per the provisions of the relevant Acts.The preparation & issue of Electoral Photo Identity Cards,  building up awareness amongst the voters to ensure Greater Participation for a Stronger Democracy and implementation of all the provisions of electoral laws are undertaken by the administrative machinery under him.
Each state needs a Chief Electoral Officer so as to maintain maximum transparency in elections. The CEO Maharashtra supervises the procedure and machinery for election in a state. The State Election Department in every state, of which the CEO Maharashtra is an integral part, wishes to reach out to the people of the state to ensure better services in terms of Electoral Rolls, issuing valid Electors' Photo Identity Cards (EPIC), ensuring thorough verification, scrutinization and correction of the EPIC cards and list of electoral rolls (spelling mistakes, mistakes in D.O.B etc.), digitizing maps to indicate areas of the polling stations and their respective distances, providing sufficient men power and material resources on the day of the elections and enforcing a model code of conduct to be followed by all voters. The CEO Maharashtra must also look into the financial managements during an election. The maintenance of law and order during the polling day depends largely on the Chief Electoral Officer.
In short, CEO Maharashtra is like the election supremo of the state. Anything related to elections in Maharashtra, he's your man.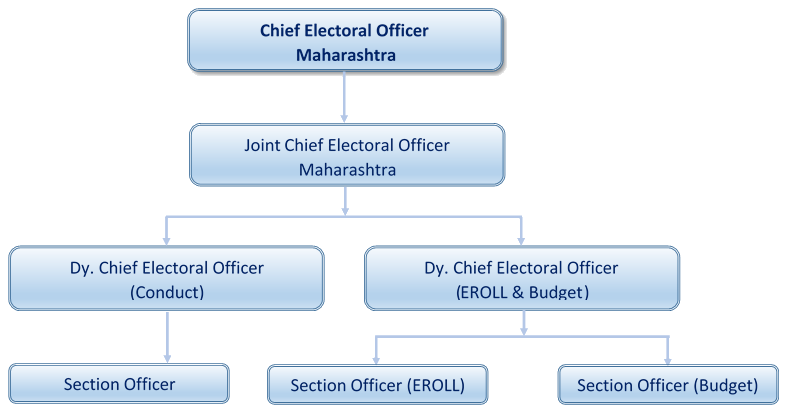 CEO Maharashtra: Who he is and how to contact him?
The Chief Electoral Officer of Maharashtra is Shri Nitin Ramchandra Gadre
Nitin Ramchandra Gadre was born in Maharashtra on the 18th of July 1965. He joined the civil services of India as an IAS officer in 1989 from Maharashtra.
He has degrees in B E and M.Tech in Power Electronics and Production Control Instrumentation respectively. His first assignment as an IAS officer was that of Land Revenue management and District Administration as a Junior Additional Collector between the years 1990 and 1995.
Shri Nitin Ramchandra Gadre is also the Director of VAMNICOM an educational institute which is located at the University of Pune.
Office Address of Chief Electoral Officer (CEO) Maharashtra
Shri Nitin Ramchandra Gadre
Address: Room No. 624 6th Floor Mantralaya Mumbai 400032
Phone: 22025059
Mobile No.: 9850406113
Fax: 22835698
Website: ceo.maharashtra.gov.in
CEO Maharashtra forms for voters
Application for inclusion of name in electoral roll — "FORM 6"

Application for inclusion of name in electoral roll by an overseas elector —"FORM 6A"
Application for objecting inclusion or seeking deletion of name in electoral roll — "FORM 7"
Application for correction to particulars entered in electoral roll —"FORM 8"
Application for transposition of entry in electoral roll — "FORM 8A"
Claim for inclusion of name in the electoral roll for a Graduates' constituency — "FORM 18 English"
Claim for inclusion of name in the electoral roll for a Teachers' constituency —"FORM 19 English"
Applying for a new CEO Maharashtra Voter ID card
The EIC (Election Commission of India) team provides the facility under which people after online registration would get their Voter IDs at their doorstep. For further help people can always contact the Official online help portal. For the online registration, one needs to log on to www.ceomaharashtra.nic.in.
Apart from being provided with the Voter ID card one would also be provided with the election-related information such as the candidate list of contesting parties, winning and losing party etc. For that one needs to know the exact process of online registration on the Official site which is given hereunder.
ONLINE METHOD
Online registration for a new Voter ID card requires safe and fast internet connection. For that, visit www.ceomaharashtra.nic.in and under "online voter registration" option ,select the appropriate form (Form 6 and 001)and fill in all the details and upload the form along with a passport photo and soft copies of the ID proof (passport, pan card, driving licence or ration card) and address proof (copy of electricity bill, gas bill, telephone bill etc.) . Do keep in mind to attach a good passport size photo because a bad picture haunts you for a long time.You also need to mention the Name and Id number of a voter member of your family for reference.
You can directly also visit your nearest BLO(Booth level officer) and demand a Form 6 and Form 001. Fill up the form and attach the above mentioned documents and submit them.
See to it that all the attached documents are self attested.
After applying for a new voter ID card, the Booth level officer (BLO) will come at your residence just to verify all the information and documents. When satisfied, he will provide you with a date when you need to visit the center and get your electoral card. In some cases, the card will automatically be sent by post.
The NRIs who are working in foreign countries on behalf of the Indian Government can get their voter ID card as well. With Indian Government embracing the online way of applications in all fields. NRIs can now get their voter ID card without having to visit the Electoral Registration Officer(ERO) in India. They can download the Form number 6A from www.ceochandigarh.nic.in , fill in the appropriate details, attach attested residence and Id proofs along with passport size photo and either upload it on the above mentioned website or can send the documents directly to ERO by post. Additionally they need to attach the photocopy of their passport and all these documents should be attested by the officer of the Indian mission of the country in which the applicant is currently residing.
Getting a duplicate CEO Maharashtra Voter ID card
We Indians are prone to getting our things lost(that reminds me where have I kept my keys now 😛 ). However, Voter ID card is too important to be misplaced. It not only allows us to vote in elections but also acts as an important identification proof. If by chance you have misplaced or lost your voter ID card don't panic you can get a duplicate one. First of all, you need to file a FIR with the local police authorities and keep the receipt safely.
Then visit the nearest VREC or CEO Uttar Pradesh website and download Form No. 002. Fill in the appropriate details and attach self attested copies of ID and residence proofs along with passport size photo. Don't forget to attach the copy of FIR with your application.
Submit the above documents personally or just send them directly to ERO through Speed Post. You will be give the receipt and later you can collect your duplicate card from VREC.

Checking Voter ID card status and finding name in the electoral roll
It takes about 40 days to get a new Voter Id card and getting our names included in the electoral roll.Till then, we get an unexplainable feeling that we just can't shake off. It's the excitement that keeps us restless for days. Now you can keep a track of your application form and check whether your name has been included in the electoral roll or not through a click of a mouse.
Just visit the official CEO Maharashtra website and click on "NEW FORM STATUS". Inside fill all the information like District name, Assembly name and full name and then click on "SEARCH". It will help you track your form.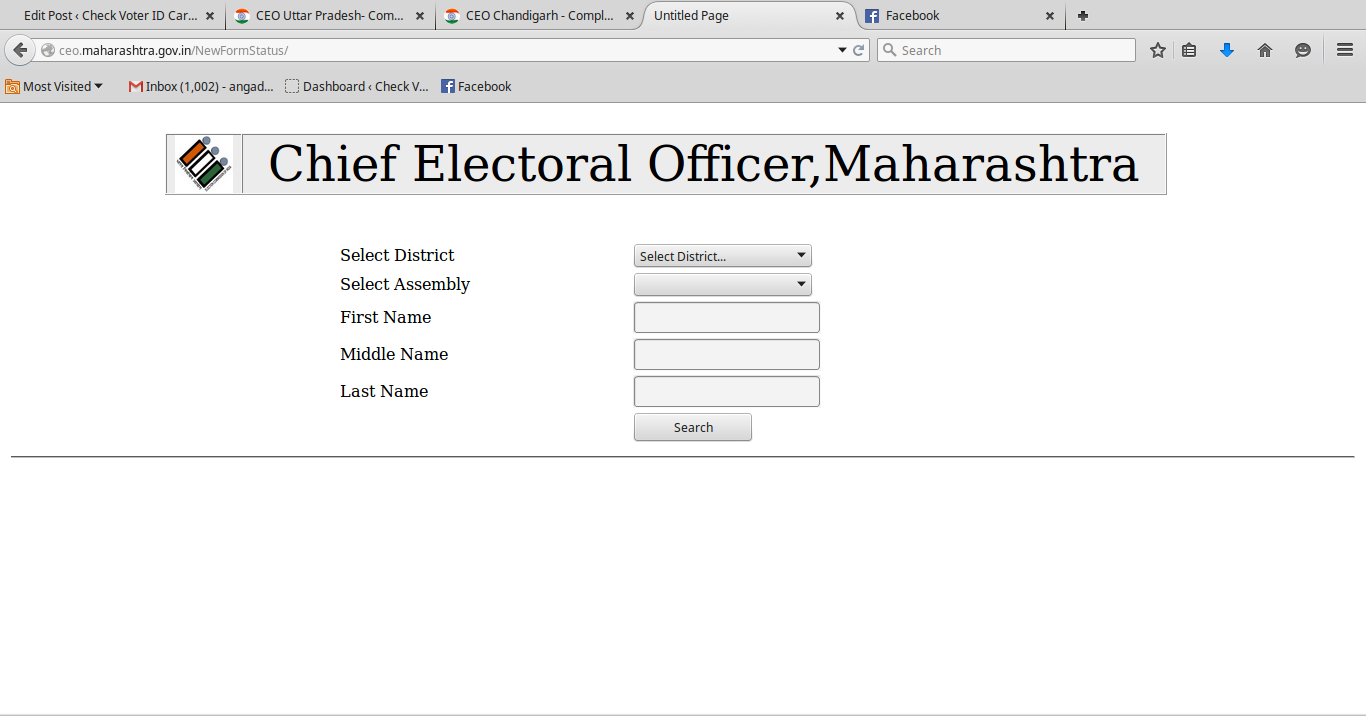 To check your name in the electoral roll visit the same website and click on "SEARCH YOUR NAME IN FINAL ELECTORAL LIST 2015" and you can search the electoral roll either name wise or ID card wise. You can also access the full electoral roll from the website or by visiting the nearest VREC.
CEO Maharashtra FAQs:
Do I have to pay for a voter ID card ?
–No, if you're getting a voter ID card for the first time.
If I shift my address, do I need to get a new voter ID card ?
–No, a Voter ID card once issued is valid forever. It remains valid even if you have changed your address.
How do I get to correct the details on my voter ID  card ?
–You should apply for rectifications of these errors through Form 004. You will have to submit this at the office of your Electoral Registration Officer(ERO) when the process of Voter ID card preparation is going on.
Who is an overseas (NRI) elector? Can an NRI settled in foreign land become an elector of electoral roll in India?
–An overseas elector is a person who is a citizen of India and who has not acquired citizenship of any other country and is otherwise eligible to be registered as a voter and who is absenting from his place of ordinary residence in India owing to his employment, education or otherwise is eligible to be registered as a voter in the constituency in which his place of residence in India as mentioned in his passport is located. According to the provisions of Section 20A of the Representation of People Act, 1950, an NRI settled in foreign land can become an elector in electoral roll in India.

 Contact Information:
This guide tries to answer all the questions related to CEO Maharashtra. However, you can report your grievances online on the CEO Maharashtra website under the online complaints section. It directs you to the website of the ECI (Election Commission of India)  and lets you report the problem directly.
You can also try their toll free helpline number 1800-22-1950.
CEO Maharashtra with his motto 'GREATER PARTICIPATION FOR A STRONGER DEMOCRACY' does everything in his power to ensure smooth elections in the state. Now, it's your turn to step up and do your bit.
Go out and vote !
HAPPY VOTING.