Some call him AK67 while others think of him as the muffler man. Some call him the man with a magical broom while others think of him as the Aam Aadmi. The names may be many but he is none other than Mr Arvind Kejriwal
Arvind Kejriwal or popularly known as the muffler man these days has been nothing less than a Genie that came out of Anna Hazarae's lamp during the India against corruption movement. By his simple living and high thinking, he has been able to sweep out the dust that was accumulated in the Delhi assembly very conveniently. The Delhi Election Results 2015 surely indicate that this leader is here to stay.
His ideology might be a matter of worry for the other political parties but for the Aam Aadmi of Delhi he is the 'Maseeha' A saviour; who came to save the 'dill walloon ki delli' from all the matters and issues of worry.
Swach bharat Abhiyan might have been started by Mr Narinder Modi, he might have been able to urge all the celebs from the Btown to pick up the big sized broom but here in Delhi elections the quality and not the size of the broom mattered. Arvind's broom might have been smaller than the 'Swach bharat broom' but his immense dedication and hard work forced the people of Delhi to select him to make Delhi 'Swach'.
According to the Delhi Election results 2015, AAP has beaten BJP by 67-3 and Congress by 67-0. This is something which has forced the people all over India to believe that there is still hope; big parties like BJP and Congress are not undefeatable.
Looking back on the journey of the Muffler man, few incidents that had made him popular in 2013 assembly elections need a special mention because, because of them he would not have been where he is today
Emergence of AAP Before Delhi Election Results 2015
The white cap which has been a trademark for the AAP members and the supports has not only acted as an innovative tool in campaigning for them but has also helped AAP in connecting with the people of Delhi as it read 'Mein hoon Aam Aadmi'
The birth of AAP has been quite interesting it started when the India against corruption movement which was led by Anna Hazarae as the Jan Lokpal bill was not passed as per their demands there was a split within the team Anna while Anna believed in not politicising it Kejriwal felt that there was no other option and thus came into existence the Aam Aadmi Party. They might have gained much more limelight after the Delhi Election Results 2015, but, even before that, there have been plenty of instances of AAP being in news.
While they were feeling "deceived" by the administration when it dismissed their draft of the Jan Lokpal, the Congress and pioneers of other political gatherings tested them to join legislative issues, win elections and come to Parliament on the off chance that they needed to "battle the framework from inside" and find debasement.
Arvind Kejriwal chose to take a dive into governmental issues and shaped the Aam Aadmi Party on November 26 2012, after a formal part of Team Anna.
Numerous snickered at this move and rejected Kejriwal as a political greenhorn, yet he and his gathering began survey arrangement route ahead in April.
The result was shocking.
Only one year into legislative issues, Kejriwal made three-time Delhi CM Sheila Dikshit fail hard amid the 2013 elections. The Aam Aadmi Party stowed 28 seats in the 70-part assembly and the gathering boss cleared Sheila Dikshit out from office as well as her voting constituency.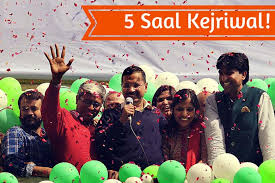 Winning by a massive margin of 25,864 votes, Arvind Kejriwal became the 7th chief minister of Delhi from December 28, 2013, to February 14, 2014.
However, his short stretch was defaced by a few contentions. He at last quit office following 49 days as CM,over the row of Jan Lokpal Bill
His part hit a low when only four of its 400-odd applicants won in the Lok Sabha elections.
In spite of the shocking defeat, fought hard in Delhi and emphasized that he would not confer the same mix-ups again in the event that he got an alternate possibility. Depending on his against defilement plan, he likewise put accentuation on furnishing Delhiites with the same 'Bijli, Pani' (power and water).
Furthermore, it paid off. The AAP won a noteworthy command on Tuesday, when Delhi Election Results 2015 were announced. The party stormed back into power by winning 67 of the 70 seats in Delhi. Leaving only 3 seats for BJP and none for the veteran party, Congress.
49 Days Kejriwal(After Delhi Election Results 2013)
49 days of Arvind Kejriwal's Govt demonstrated to the populace of Delhi that their requests were not unachievable. He did numerous changes inside the state in those 49 days and demonstrated it to the rest of the parties that they had squandered a great deal time and vitality in simply executing the changes on paper and doing nothing essentially. His work bought around a disgrace for the rest of the parties.
AAP Government implemented the "Vishakha Guidelines" within 49 days of coming to power, the first political party to do so.
AAP's minister for Women's Welfare, Rakhi Birla, conducted surprise late night time checks by visiting Bus stands, Auto stands, Police stations. This made the law enforcement team stay alert and on their toes.
AAP Government kept its promise of making 20k liters/month free within 48 hours of taking over for consumers with meters. This created big incentive for people to adopt meters to get benefit of the scheme. The subsidy was balanced by reduction in corruption in DJB.
The Delhi Jal Board (DJB) was re-structured and strict action taken against the corrupt officers based on sting operation by HT. The message was well received that the government will not accept corruption and efficiency and productivity unimproved.
DJB officials seized 22 bore wells in south Delhi breaking the water mafia that had taken over. This brought major relief to people.
AAP Govt decided to review the "non-functional water-harvesting systems in schools to raise ground water level.
AAP govt bought about many other reforms which helped them gain the trust of the people of Delhi.
After 49 days, Kejriwal resigned as a chief minister following the failure of the introduction of Delhi's Jan Lokpal Bill in the assembly on 14 February 2014. President's rule was then imposed and the assembly was kept in suspended animation.
Kejriwal resignation raised many questions on his stability as a CM. But majority of the people still thought of him a hero: first of this kind who left the power of being a CM for the people.
The AAP Wave Before Delhi Election Results 2015
After AAP came into power, people of Delhi had huge expectations from them. What had made AAP so popular that it had been able to uproot the age old politicians of Delhi remains a million dollar question within the heart of every Indian.
AAP had actually been able to connect with the local people of Delhi. It had worked on the grass root level with the people: involving them in every decision they take had made people realise their importance in the democracy. What they preached was what they practised. Their leaders were common people like all of us and hailing from middle class backgrounds who had pledges to clean Indian with their broom. Their political background was absolutely clean and people wanted to give them a chance because they were sick of the same conventional type of politicians.
AAP's way of campaigning was absolutely new: connecting with the people of Delhi through technology had actually made AAP gain what they had.
Arvind Kejriwal had turned out to be the People's CM. He was there FOR the people BY the people and OF the people. People could see themselves in him. He fought for the people of Delhi like a local delhiheight would do: worth mentioning is the night he spent on the streets for the people of Delhi.
Delhi Voters' Opinion About Delhi Election Results 2015
On the streets of Delhi auto rickshaw driver Pawan Biswas said he'd voted for the BJP, but was happy the AAP had won.
Pawan Biswas did not vote for the AAP, but was happy that the Delhi Assembly Elections Results 2015 were in favour of the Aam Aadmi Party.
"I voted for the BJP because I thought that Delhi's infrastructure wouldn't improve without the central government's support. But I'm happy my vote did not lead to a BJP win. The Aam Aadmi Party's win is a victory for the common man like me. I can barely express my happiness,"
"Over the next five years, Mr Kejriwal should serve the people of Delhi, make the city corruption-free and bring down inflation."
Dolly, who works as a sweeper with the capital's municipal corporation, said the AAP's win in the Delhi Election results 2015 was a victory for people like her who "use the broom" – the AAP election symbol is a broom which the party says it will use to sweep away corruption in the city.
Dolly: The AAP's win is a victory for people like me who 'carry the broom'
"I feel elated that the AAP has swept a majority of the seats in Delhi. I am sure that they are going to work for our issues like electricity, water and shelter," she said.
"They have made promises and we are sure they are going to deliver. We were looking for a change – some party other than the BJP and the Congress. Now we have one."
Doctor Anoop Dewan, who had travelled more than 19km (12 miles) to the AAP office in central Delhi to take part in the celebrations, said the results "are beyond expectations".
"This will ensure a complete ban on corruption in the city. But we need to be cautious on how the new government runs Delhi," he added.
Delhi government employee Jeevan Singh said the election result was "a big setback for PM Modi and the BJP but isn't that what democracy is all about"?
Yashika Sharma hopes Mr Kejriwal will make Delhi safer for women
Yashika Sharma, a 19-year-old university student, said she had "high hopes" of Mr Kejriwal.
"I hope he delivers on his promise of making Delhi safer for women. I expect more CCTVs in the city, women-only buses, more toilets for women – as well as better policing," she said.
"Also, getting a seat [place] in schools and colleges is a nightmare these days. There are few colleges and a lot more students. College admissions will hopefully become easier now as Mr Kejriwal has promised more colleges. I have irrevocable faith in his vision."
Jai Mishra, 21, said he was happy that AAP had won because it was a "youth-centric party".
"The party has a lot of energy, and most of its candidates are well-educated. The AAP's win has given us hope that things will change for the better now.
"This city needs a clean, honest government."
World Media's Opinion About Delhi Assembly Elections 2015
He campaigned like a local leader, handpicked his own chief ministerial candidate for Delhi and made it a personal referendum on his leadership. Yet Prime Minister Narendra Modi could not halt the Aam Aadmi Party juggernaut in the Assembly polls and in the process, lost his first election since his winning streak began with the Gujarat Assembly polls in 2002. The Delhi Election Results 2015 were predicted to be in favour of AAP, by almost all the opinion polls in India. The exit polls also showed that the ball was in Arvind Kejriwal's court. However, no one imagined that AAP's victory would be so grand and extravagant.
That was how most foreign news organisations chose to report AAP chief Arvind Kejriwal's landslide win in the national capital on Tuesday. Sample a few stories:
CNN.com
India's Modi gets first political bloody nose in Delhi
In the past few weeks the word "chemistry" has been much in vogue in India's capital. The branch of science is often invoked to describe Prime Minister Narendra Modi's easy, visible bonding with a wide spectrum of Indians: from the poorest to the CEOs of the country's biggest companies.
This week New Delhi will be talking about a very different scientific discipline: physics. After all, what goes up must come down.
Since winning a broad mandate in national elections last May, and then repeating the feat in state elections across the country, India's ruling Bharatiya Janata Party (BJP) has suffered a rude shock in Delhi's state elections. Results are still trickling in — the BJP is projected to win less than 5% of the seats on offer — but Modi has already conceded defeat.
The Guardian
Anti-corruption party sweeps Delhi elections in blow for Narendra Modi
India's political elite was left reeling on Tuesday after a radical anti-corruption, anti-establishment party led by a self-confessed anarchist swept to power in the capital of the world's biggest democracy.
With final results declared, the Aam Aadmi (Common Man) party had won 67 out of 70 seats in the state assembly of Delhi, the sprawling Indian metropolis of around 20 million people.
The result is the first major setback for the Bharatiya Janata party, led by Narendra Modi, since its own landslide victory in national elections in 2014.
The Washington Post
Modi and his Indian ruling party face a setback after New Delhi elections
In a stunning defeat for India's Prime Minister Narendra Modi's backers, the upstart anti-corruption Common Man Party swept to power in a landslide victory Tuesday in the citywide elections in New Delhi.
The contest was widely viewed as a measure of Modi's political clout here.
Supporters of the Common Man Party, wearing their trademark white caps, danced to loud music and waved party flags in celebration at the party's office in the heart of the capital. When party founder Arvind Kejriwal stepped out, they showered him with marigold and rose petals.
The New York Times
India's Governing Party Heads for Crushing Defeat in Delhi Elections
Less than a year after Narendra Modi won a historic victory to become India's new prime minister, a smaller political earthquake struck the capital on Tuesday, as partial results indicated that Mr. Modi's governing party had been crushed in local elections by a young political organization led by an anti-corruption campaigner.
With early returns suggesting that the Aam Aadmi Party, or Common Man Party, would win as many as 67 of the 70 seats in the Delhi Assembly, Mr. Modi called the party's leader, Arvind Kejriwal, on Tuesday morning to congratulate him.
BBC.com
Delhi election: Arvind Kejriwal win 'a victory for common man
Anti-corruption leader Arvind Kejriwal's landslide win in the Delhi state elections is the talk of the Indian capital.
Thousands of supporters of his Aam Aadmi (Common Man) Party (AAP) have been celebrating outside the party office, distributing sweets, singing, dancing and setting off firecrackers.
Many Indians have taken to social media sites like Twitter to discuss the spectacular win and hashtags #AAPSweep, #DelhiDecides and #KiskiDilli (Whose Delhi) are among the top 10 trends in India.
AlJazeera.com
Anti-corruption party wins Delhi poll in landslide
India Prime Minister Narendra Modi has conceded defeat in Delhi state elections after vote counting showed anti-corruption campaigner Arvind Kejriwal's party heading for a landslide victory.
According to initial results, released on Tuesday morning, the opposition Aam Aadmi Party (AAP), led by former chief minister Kejriwal, was further ahead than straw polls earlier in the week had predicted, and leading in 62 seats out of 70.
Next Stop for Arvind Kejriwal and his Party AAP
Arvind Kejriwal-driven Aam Aadmi Party has got the greater part in Delhi assembly elections with 67 assembly seats in its record. BJP and the Congress have been totally decimated in Delhi this time. BJP got confined to single digit at 3, while the Congress neglected to open its record.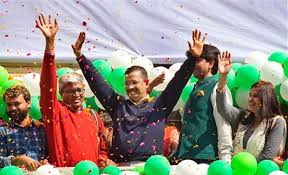 Presently an insignificant custom has left to be satisfied before Arvind Kejriwal turns into the following CM of Delhi. Be it AAP or BJP or the Congress, amid their decision-fighting, everybody has made enormous guarantees for the Delhiites. With Kejriwal's AAP having full greater part this time in the assembly, they would be having a greater obligation on their shoulders to bear on and the Delhi Election Results 2015 make it evident.
I think the most essential test is to give great administration. Executing whatever they can do inside the framework of the Delhi Government. Furthermore they need to guarantee that shared polarization does not go wild. Thirdly they need to keep a relationship of correspondence and adaptability with the Central Government. I think these are the three totally discriminating assignments, they need to merge it.
AAP is also aware of the fact that if political parties are failing to fulfil their electoral promises, then public is neither forgetting it nor forgiving them.
Deepak Bajpai, an AAP leader says, "We had given an election plan. And the expectations that the people of Delhi have, we have to live up to that level of expectations."
BJP, while congratulating Arvind Kejriwal, is also asking him to fulfil all the promises he has made to the people in Delhi.
Sudhanshu Mittal, a BJP leader says, "Now they have raised expectations. They have made promises. And now they will be held accountable to the promises they have made. And it's their duty to deliver those promises, some of which are snotty promises. Lets see how they will do it. Because people will certainly hold them accountable to the promises they have made now."
Non-BJP and non-Congress parties were also in the favour of AAP's victory in Delhi. Mamata Banerjee's TMC had even given an open support to Kejriwal. Non-BJP and non-Congress parties also advise Kejriwal and his party to now start working towards the welfare of the public.
Nilotpal Basu, a CPM leader says, "Delhi people have given a huge mandate to AAP and we expect that they will now have full freedom to implement policies in the favour of common man, which they have promised in the elections. But, there will be challenges, there will be constraints. But, today is too early to go into the integrity of all that."
In this way, AAP lause to AAP for their avalanche win in Delhi. May they take off new statures and take Delhi where it should be and become a world class city.