Bihar is India's 13th largest state in terms of Area and 3rd largest in terms of population. As per 2011 census, Bihar is home to 103,804,637 people. (Source: Wikipedia). Bihar was known for its centre of power, learning and culture in Ancient India.
Patna is the capital of Bihar lies at the bank on River Ganga. Earlier it is known by the name of Patliputra which is also the birth place of The Mauryan Emperor, Ashoka. Bihar is also the place where Gautam Buddha achieve Enlightenment.
Bihar has 243 Assembly Constituencies and 40 Parliamentary Constituencies. According to electoral roll, the total number of registered voter as of May 2015 are 6.57 crore of which 3.51 crore voters are men and 3.06 crore voters are women. There are a total of 62779 polling booths in Bihar spreading across 38 districts. For 2010 Bihar Assembly Elections the voter turnout recorded was mere 52%.
As we all know, that Bihar Assembly Elections is around the corner which is scheduled in October 2015. You can read this article to know which party holds the edge in this upcoming election, so you can vote responsibly and to right party. So if you don't have a Voter ID card Bihar then you still have got 2 months to apply for it and get your card in hand before Election.
How to apply for Voter ID Card Bihar?
To apply for Voter ID Card Bihar, you can generally have 2 options, i.e. Online and Offline. Here are the step by step process mentioned below for Online Method:
METHOD 1: Online Application                       
Visit Bihar's CEO Website
On the Home Page, click on Citizen Services/Online Registration. 
If you are registering for the first time to add your name, click on Form 6. 
After clicking on form 6, you are required to select one of the 3 available options to search for your constituency.
Now type your Name, Email-id and Mobile Phone number and click Register.
You will shortly receive a Verification Code on your given mobile number. 
Login using your Mobile Number and Code.
Fill all your personal and residential details, upload your recent passport sized photograph and click on Submit.
After submission you will get an acknowledgement number and a link of PDF which consists a written acknowledgement letter and your filled FORM 6.
You are supposed to download and take a print-out of that form, sign it and then scan it.
Now upload your signed scanned form and all other supporting documents, fill the declaration and click on Submit.
Address Proof (any one):
Ration Card/Passport/Driving license/Income tax return filed
Bank/Kisan/Post Office Current Pass Book
Latest Telephone/Electricity/water bill in the name of the applicant or in immediate relation's name
Identification Proof (any one):
Birth Certificate
Driving License
Passport/PAN card
High school Certificate
METHOD 2 – Offline Application
In case you are unfamiliar and uncomfortable with the Online Process then you can also apply offline by downloading Form 6 from the CEO Bihar Official Website. Log on to the website and click on the 'Forms' option located in the bottom left side of the screen. Fill the form properly and submit it at your nearest Booth Level Officers (BLO's) along with all relevant documents.

Voter ID Card Status Bihar
If you are done with the above process then let me be the first to congratulate you. You are now just one step away before you get your voter id card in your hand which is Officer Level Verification. In the meanwhile, you can also wait or can check for the status of your Application. For this all you need is to log in to Bihar's CEO website and click on "Search in E-Roll".
You have to click on Enrollment. Type your Application Number and submit it to know your application status or you can do it by providing your name, district, Assembly constituency, Part Number and submit it.
Duplicate Voter ID Card Bihar
Voter ID Card is a very important document that must be with you to let you vote and to prove your genuineness. So, it is necessary to keep it safe and secure. But in case you lost your Voter ID Card, you need to visit your BLO and ask for Form 002 as you will not fount this form on Bihar CEO Website's Forms section. You can find out your BLO here. (You might have to install a Plugin that will be displayed on the Site)
You need to fill all the details. But before submitting it, you need to file a FIR for the loss of your Voter ID Card. You will receive a copy of FIR. Take a photocopy and attach it along with address proof, Identity Proof and Form 2 and then submit it.
BLO will come to your place for verification and once satisfied with the verification, you will get your new Voter ID Card.
Voter ID Card Correction Bihar
Time comes when you need to make corrections to your EPIC due to one or many reasons:
Spelling Mistakes while entering your name/address/any other particular.
Wrongly specified age or Date of Birth.
Any other wrongly entered particular.
So, you need to act quickly and make corrections in your Voter ID card, for which you need to visit the CEO Bihar Website and. Click on Citizen Services/ Online Registration and then click on form 8. After that you are redirected to a page where you are requested to search your name in E-Roll. Click on submit once you find your name and repeat all the process that you had followed while applying for new Voter ID card Bihar.
You can also do it with your hand i.e. manually. All you need is Form 8. Go to CEO Bihar website, click on 'Forms' option and download Form 8. Fill all the required details correctly. Attach a photocopy of document as a proof of your address and an age proof along with the application form. Submit the duly filled form to your nearest BLO. If the mistake found was done by the officials themselves, then the correction will be done cost free but if the mistake found was done from your side, then you will get your corrected Voter ID Card Bihar after paying some amount of money.
Changes in Voter ID Card Bihar
Form 8 is used to modify your address. You can only use this form if you want to makes change to the errors in the electoral roll, such as any mistyping's', spelling errors in address, or any kind of wrong details. But, to change the Part Number (which refers to the polling booth) or for Voter ID address change entirely, you should fill Form 8A. Ensure you follow all the formalities prior to the download.
You can made changes either through Online or Offline. In Online method you have to repeat all the process which you had already done for new Voter ID Registration, except here you have to click and fill all the information for Form 8A after selecting and submitting your name that is present in E-Roll.
You can also do it in Offline way, by downloading Form 8A from CEO Bihar Website and submitting it to nearest Electoral Office of your constituency manually.
When form 8A is downloaded, you should:
Fill Part I, by specifying:

Part Number and Serial Number of the voter list where you are already registered.
Electors Photo Identity Card Number (EPIC)
Relation's Name

Fill Part II, by specifying:

Address of the new place of residence

Fill Part IV, by specifying:

Part Number of the new area or polling booth where you want to exercise your franchise
Now as you are done, just submit your form along with proof of address, which can be any of these: rent bill, electricity bill, or telephone bill of your new address and a copy of the voter ID card. A Booth Level Officer (BLO) will visit your house to verify the form and, modify your address and the polling booth (if necessary) after satisfying with all the details.
Removing Names from Electoral List Bihar
Names are generally removed from Electoral List in case of Deaths or change in constituency (in different states) by removing their name and then applying afresh in new constituency. All you need is to carefully fill and submit FORM 7.
You can do it through Online and Offline way.
Again in Online way, all you need is to visit Bihar's CEO website. Click on Citizen Services/ Online Registration and then click on form 7. You will redirected to search for your name first in E-Roll. Fill all the details and click show. Once you find the Name click on confirm and proceed further. Fill all the information that is asked for and submit.
In Offline way all you need is to do click this link. Download Form 7, fill it properly & carefully and submit it in hand to your nearest BLO.
In case you have moved to a new constituency in the same state and want to remove your name then, you have to fill and submit Form 6.
Voter Search Bihar
To Search for your or your Family's Name in your State's Electoral List, all you need is to visit CEO Bihar Website and click on "Bihar Electoral Search" or, you can visit here directly by following this link below:
http://210.212.18.115/ElectorSearchNew/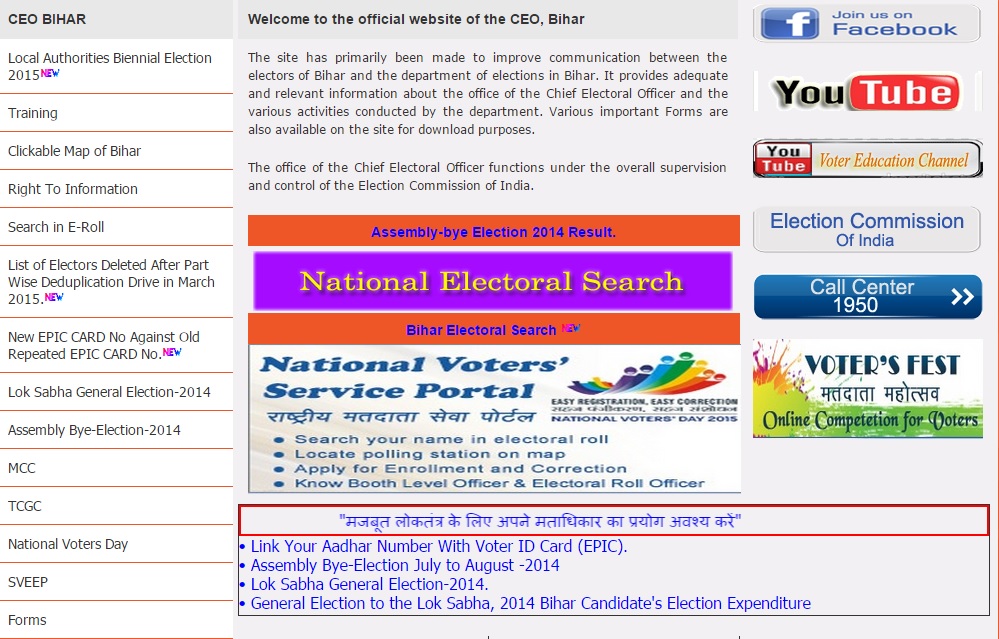 You have the option to search the name either by name or by providing Voter Id number. Provide all the details that is asked for in the screen, type the captcha and click show.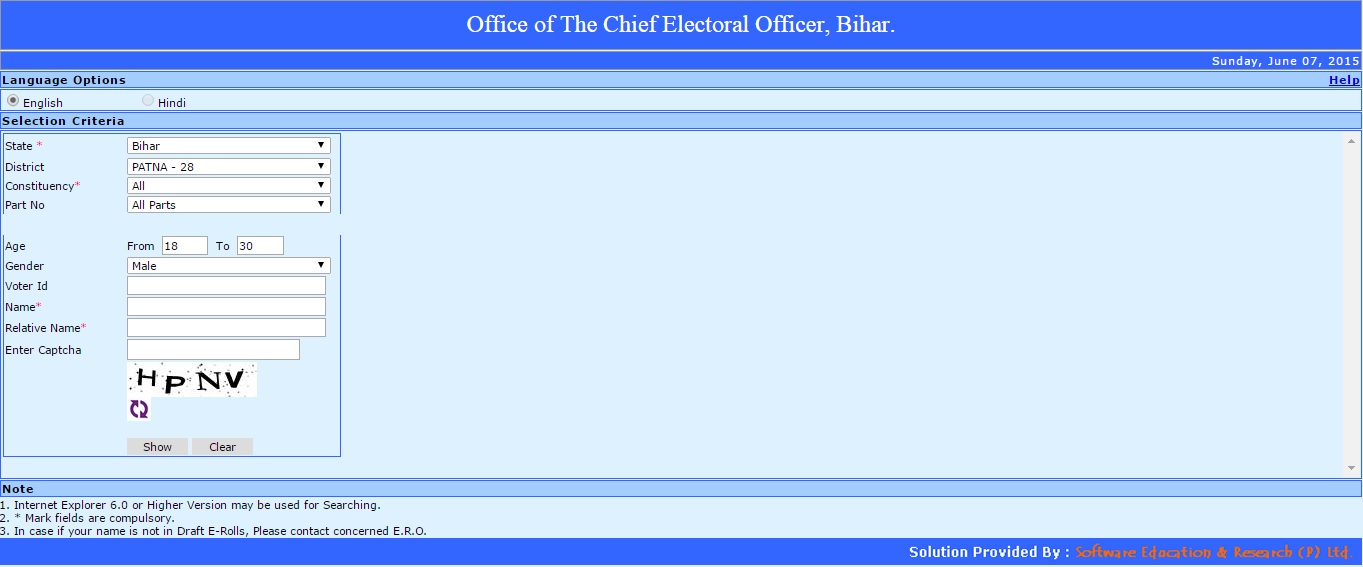 You can also get your EPIC details via SMS: Type ELE <space> 10 digit <Voter Id No.> & send it to 56677
CEO Bihar Website
The direct link for CEO Bihar Website is given below:
This is the only place from where you will get all the information regarding whatsoever discussed above. You will find all the details of past general or assembly elections, Election Results, General Information, Link to DEO's Portal, Link to RTI, Aadhar-EPIC Seeding, Voter help Centres, Assembly Maps, etc. on this website
You can also found Links to Important Bihar Govt. Website and Telephone Directories of some important officials.
Voter ID Card Bihar Form
The most searched or looked out forms in CEO Bihar Website are mentioned below:
FORM 4: For New Registration of electoral at the time of Enumeration when enumerator finds the house repeatedly locked
FORM 6: Application for new entry of name in Electoral Roll
FORM 6A: Application for new entry of name in Electoral Roll by overseas electors
FORM 7: Objection for inclusion or seeking deletion of name from electoral list
FORM 8: Correction of entries
FORM 8A: Application Form for Transposition of Entry in E-Roll.
If you looking for Forms other than those mentioned above, then please click this link of CEO Bihar Website to find out.