Nitish Kumar, the Chief Minister of Bihar kicked off the Janata Dal United (JD-U)'s campaign and went knocking on doors in Patna, Bihar for the upcoming Bihar election to be held in October or November 2015 (To know when the Bihar election is, click on this link). The ambitious programme called the 'Har Ghar Dastak' is to ask for feedback from the citizens about the state government's work in the previous term.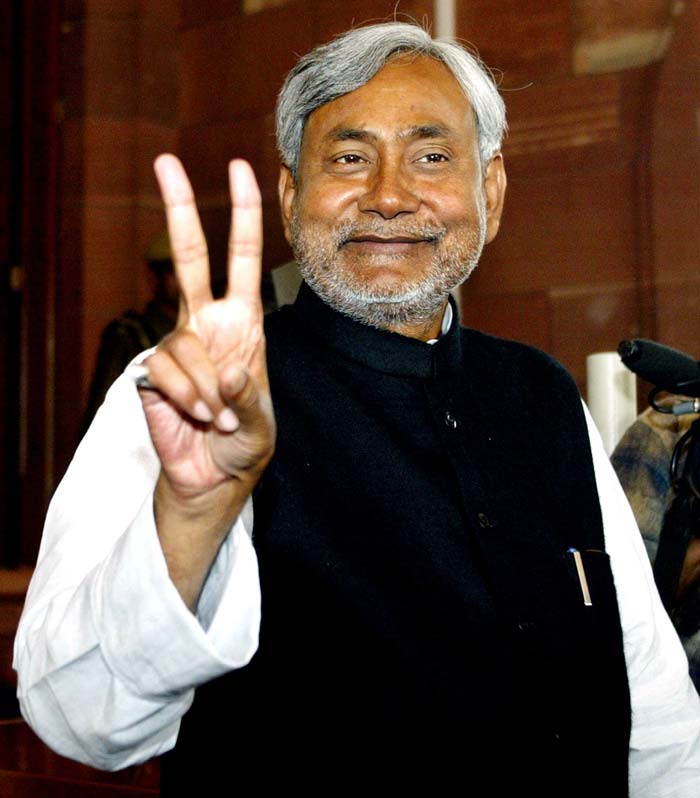 Mr. Kumar said that all the members of JD-U were trying to reach all homes in Bihar and that their agenda is to reach a crore homes before Bihar election.
About 10 lakh workers of the JD-U will knock on 10 doors each and speak to people. After a household has been met by a worker, the home will then be marked with a sticker of Nitish Kumar.
---
To know more about the Bihar election, click on this link.
---
New campaign in Bihar election by JD-U
This new outreach has been designed by the strategist Prashant Kishor, who was a member of the team that built strategies for Narendra Modi's Campaign which was hugely successful.
The programme was launched formally by JDU state president Basistha Narayan Singh at the party headquarters in Patna,Bihar. MPs Pavan Varma, RCP Singh and Harbansh were also present.
Chief Minister Nitish Kumar's efforts
Starting 'Har Ghar Dastak' after offering prayer at the Badi Patandevi temple, the CM, Mr.Nitish Kumar knocked on doors of 10 households in Pachim Darwaza, a region represented by BJP leader Nand Kishore Yadav. Mr.Kumar then went to the house of one Krishna Sahu near Paschim Darwaza.
Mr.Kumar asked the family if they were satisfied with the government work in the 10 years he had been Chief Minister and asked about what the government should be doing in the future. A party colleague then pasted a Nitish Kumar sticker with a telephone number on the house main door.
The Chief Minister next went into the house of Asharafi Poddar in the same locality. He spent a few minutes here too. Mr. Kumar visited 21 families in the Patna Sahib Assembly constituency.
Nitish covered some 100 households in all and was out on the streets for an hour. While house owners received him at the gates, many stood on roof-tops to get a glimpse. As security cramped the narrow bylanes, some JD-U workers still managed to click selfies with Mr.Kumar.
Mr.Kumar said that as a disciplined soldier of JD-U, he had started the 'Har Ghar Dastak' programme after its launch.
Efforts by other JD-U leaders
Minister for Food, Shyam Rajak said he had started the programme in the constituency Phulwarisharif, and knocked on doors of 10 homes each in Raniganj and Haroon colonies. He claimed that people appeared satisfied with government functioning.
Rural Development minister Shrawan Kumar knocked at the doors of 10 homes at Bhoi village in Nalanda district. He reported that people said that hospitals, roads and schools had been set up in their village after Nitish Kumar came to power.
JD(U) spokesman, MLC Neeraj Kumar knocked on the doors of 10 homes at Harnaut in Nalanda district and interacted about the state government performance. He said during direct conversation with the people that he did not get any negative response.
Phases of  'Har Ghar Dastak' campaign
MLC Sanjay Singh said that the Har Ghar Dastak programme would run in 2 phases from July 2 to July 11 and again from July 21 to July 31, finishing before the Bihar election.
Bihar Mein Bahar Ho, Nitishe Kumar Ho
The campaign is also aimed at energising JD(U) workers for Bihar election. It has a new slogan and a lyrical song, also as a mobile phone ring tone for the party supporters. Bihar Mein Bahar Ho, Nitishe Kumar Ho [there should be spring in Bihar, once again Nitish Kumar] was composed by Sneha Khandilkar, a famous Bollywood music director.
The Janata Dal United (JD-U) says it will first test for 10 days with the newly started campaign and then collect feedback, to be analysed before launch of next round, all before the Bihar election.
Click here to know how to apply for voter ID card for Bihar election. If you have already applied, click here to check voter ID status. Be prepared for the Bihar election in 2015!