Voter list Bihar has officially been updated by the CEO of Bihar state for the year 2015, latest online. All voters can now check their name in the online pdf format document links. These have been uploaded by the State election Commission Bihar. These pdf electoral rolls of Bihar state are easily available and can be accessed from anywhere. In the latest voters list 2015, the SMS facility has also been updated. This has made searching name in electoral roll, extremely convenient for the voters. The list can be downloaded and also, you may search the name via the E-rolls, which have been updated with latest information. The upload is available on the official website of the Election Commission of India. The Bihar Assembly Elections voter list can be searched by the pdf electoral list. Name wise as well as a district wise search is available. Also, eligible voters who have not applied for voter ID cards yet can apply for Electoral Cards online by following very simple steps.
Check name in Voter list Bihar online
In the official electoral rolls available online, the data is available for the years of 1965, 1966, 1970, 1971. As per the official notice, the following districts have been updated –
Patna
Purba Champaran
Muzaffarpur
Gaya
Madhubani
Saran
Samastipur
Pashchim (W) Champaran
Vaishali
Darbhanga
Siwan
Sitamarhi
Katihar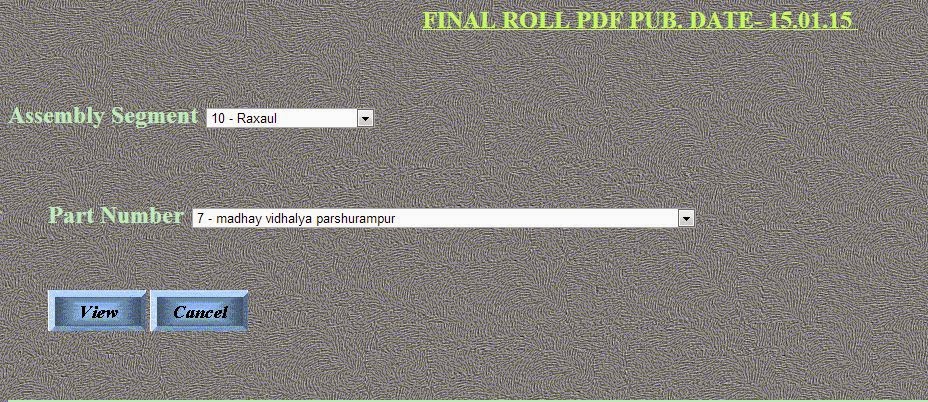 Purnia
Rohtas
Bhagalpur
Nalanda
Begusarai
Bhojpur
Araria
Gopalganj
Aurangabad
Nawada
Banka
Supaul
Madhepura
Jamui
Saharsa
Kishanganj
Kaimur
Buxar
Khagaria
Munger
Jehanabad
Arwal
Sheikhpura
Lakhisarai
Sheohar
Voters can check the official list of voters online. This can either be done by download of the particular segment wise as per the assembly constituency. To search name in voter list Bihar, you simply need to input the assembly constituency from which you are to cast your vote. Then, the part number has to be submitted, from which the registration details were succumbed, either online or by offline mode. The application status will be displayed in another window in the browser.
Search name in Voter List Bihar – E-Rolls 2015
Another option, besides downloading pdf is to search name in the e-rolls. This requires the submission of the voter details into a separate page and then, the status of application will be displayed. The medium of communication can be chosen either as English or Hindi, as per convenience.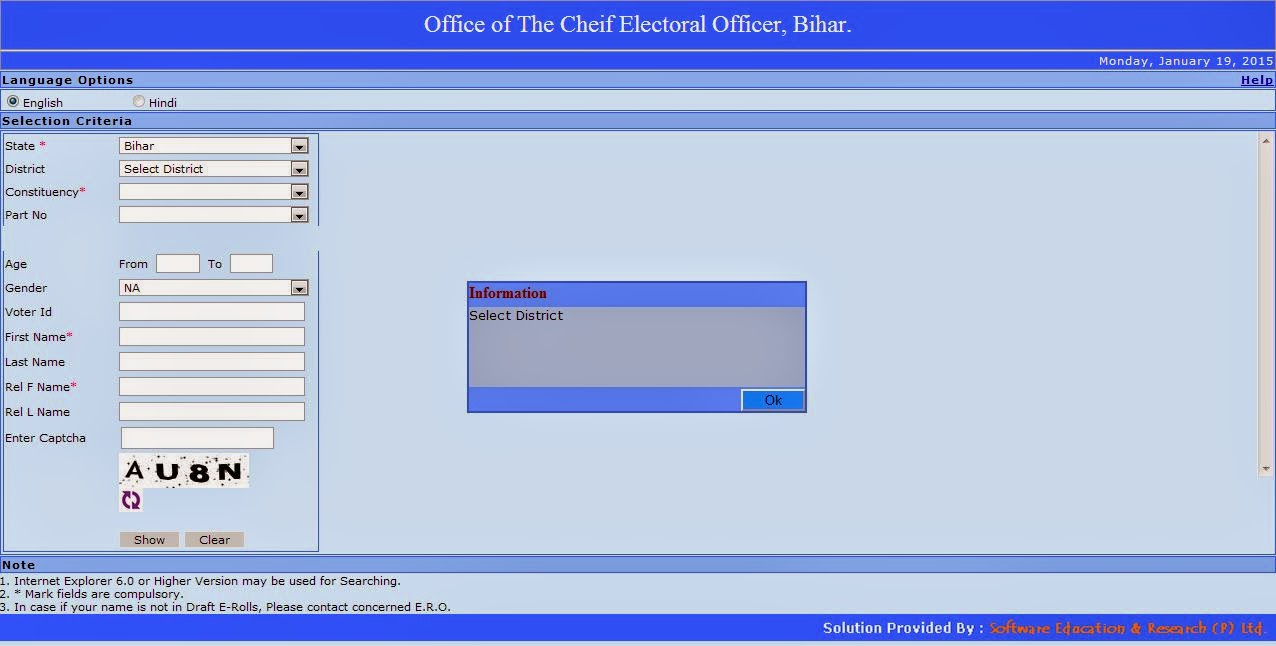 Check Voter List Bihar by SMS facility
In case any person finds difficulty or does not get the desired result by using the online e-roll or download facility, there is another option available. Voters can track status of Voter ID Card inclusion directly. This facility is by mode of SMS. Last year, SMS facility was introduced It was an initiative to make online checking of status of voter ID card, an easy process. To get status immediately,
Message ELE [10 digit voter ID Card number], to 56677.
For more updates, stay connected to Voter ID Card.