Voter ID Card or Electors Photo Identity Card or as it is popularly known as the EPIC Card is issued by the Election Commission of India. The main purpose of the Voter ID Card is to serve as an identity proof of an individual for casting votes on the polling day. The same Voter ID Card can be used as general identity and address proof at other times as well, in our day to day lives for example, for purchasing a SIM Card and for many other general purposes. It often happens that one may apply for the Voter ID Card using the various offline and online services available but it takes a long time to receive the Voter ID card, in this article we will be discussing in detail what one needs to do if they did not receive Voter ID Card Bangalore.
To Know How To Download Voter List in 5 minutes- CLICK HERE!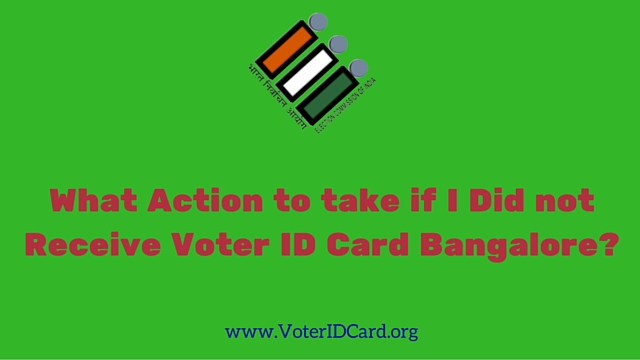 What Action to take if I Did not Receive Voter ID Card Bangalore?
If it takes longer than normal for your Voter ID Card Bangalore to reach any further processes like verification, there is something definitely wrong and the first step to get to know more about it will be to check the status of your Voter ID Card Bangalore online by using these simple steps
STEP 1 – Visit State CEO's website:
The first step of status check of voter ID Card online is to log on to the specific state CEO's website since Bangalore is in the State of Karnataka, it falls under the jurisdiction of Chief Election Officer Karnataka or CEO Karnataka and to check the status of your Voter ID Card Bangalore you will have to login to CEO Karnataka's official website, to which link is given below.
To visit CEO Karnataka's Website – CLICK HERE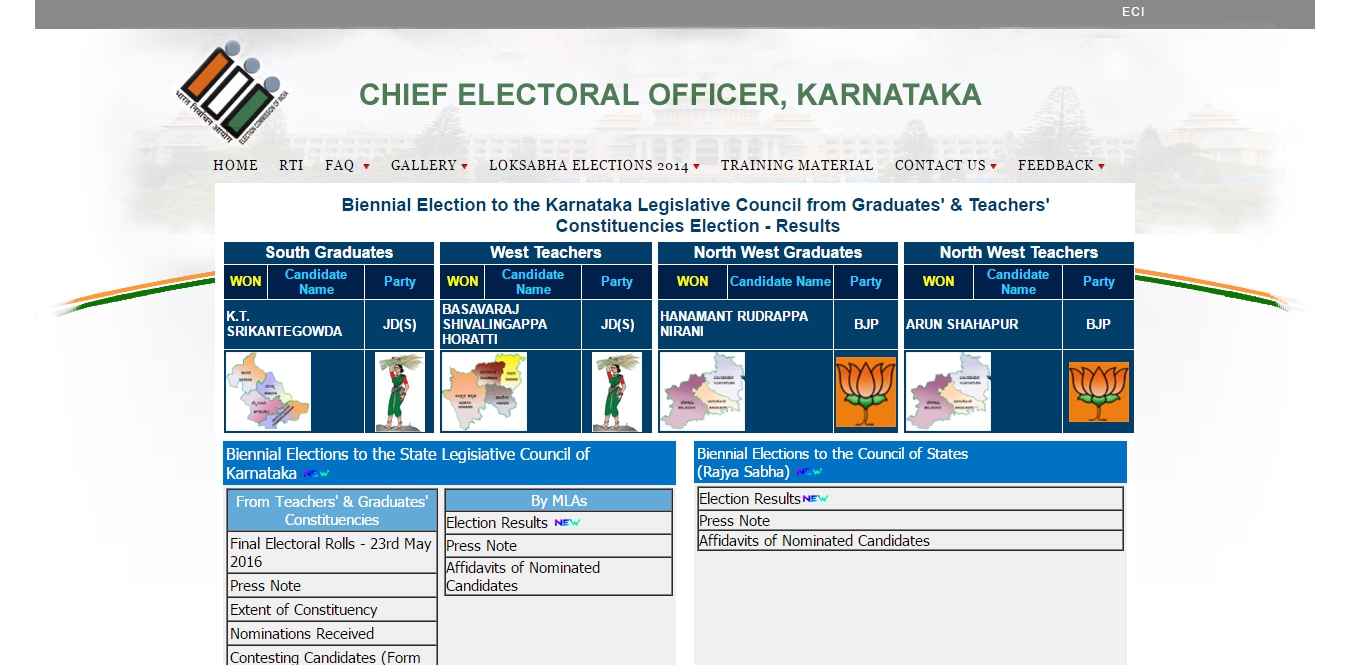 STEP 2 – Find the Correct Option to Know Status of your Application:
Once you are on the CEO Karnataka's website all you have to do is look for an option to check your status. On CEO Karnataka's website, you will have to scroll down to the bottom of the page where you will find three very distinct columns saying 'I WANT'  'I NEED INFO' and 'ELECTION STATISTICS'.  Under the 'I WANT' column there will be an option that says 'Get the Status of My Application' just like in the image shown below, you need to select that option.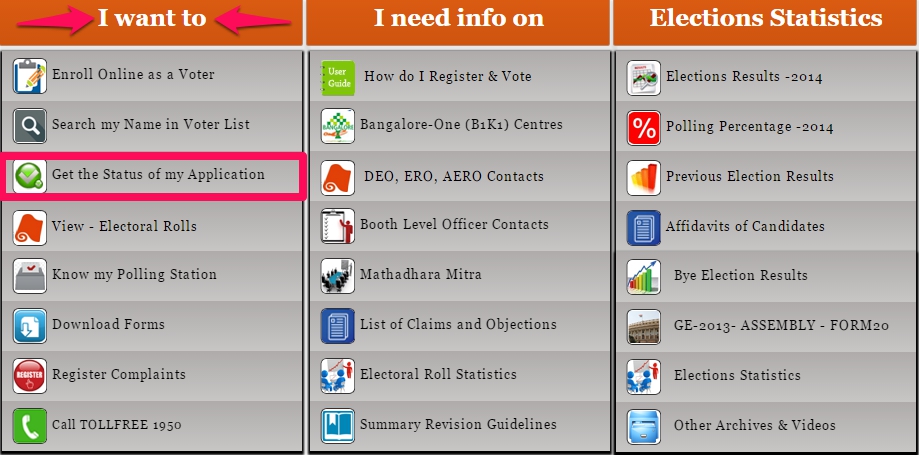 STEP 3 – Enter the details:
After you have successfully completed the previous step and clicked on the option, it will open in a new dialog box as show in the image below. This page will ask you for details which you will have to fill in, it will ask you for your district which you will have do select from the drop-down list provided to you and the second information you need to enter is your cell phone number/mobile number. The last and final step is to click 'Search'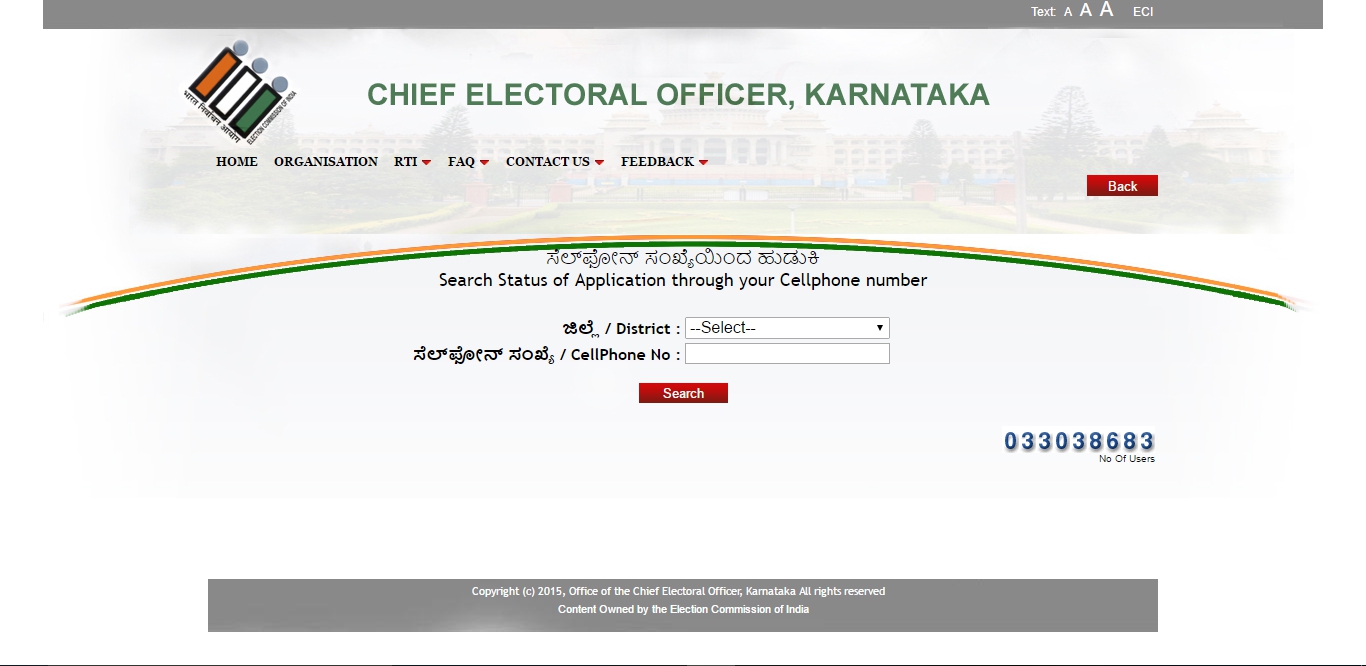 What do Various kind of Status of your application Mean?
Verification In progress –  If the application status says this, then it is advised to wait for a few more days until verification arrives, if the same status remains for a long time than one needs to meet the local Election Registration Officer or ERO.
Negative – Even after long wait for months, this status doesn't change then one must visit the ERO. One can also file an RTI or Right to information to find where the hitch lies.
Hope this article was helpful; to stay informed about Voter ID Card Bangalore or all other Voter ID Card news, Watch this space for more.