India is a democratic nation. It is a republic, where people elect their leader to form and lead the government for a period of 5 years. The whole process of electing a representative is called Election. Only Indian citizens are allowed to cast their vote and become a part of selecting a leader for their State or Country.
To become a part of this process of voting, one need to be registered as a Voter and have a Voter ID Card with them, which is issued to every Indian Citizen of over 18 years once they apply for the same. Voter ID card is not just an ordinary card, but a proof of your identity, your genuineness and a mean to cast your vote in Indian Election.
So, if you are above 18 years and haven't applied for your Voter ID card, then what are you waiting for? Read this article on How to apply for Voter ID card in India, get your name registered on your state Electoral Roll and have your own Voter ID card.
Voter ID Status: Here's how to check it using your Name
Now, I hope you are all done with the registration process and have successfully submitted your application either Online or Offline. Ideally you will get your Voter ID Card after 2-3 months from now, after the BLO visit and verification of your original documents.
Now you may ask, what's next? The next process is checking your voter ID Status. This is not a mandatory step but a recommended one. Few voters like me are very curious and relentless to get their work done as soon as possible. For them, checking Voter ID status is a good way to keep their relentlessness in check and keep a track of their application too. But one can only check the status of their application few days after the submission of the application.
Now to check your Voter ID Status, you don't need to visit your nearest Election Office rather you can check it easily online. Here is the step by step process to check your Application Status using your Name:
Visit your respective State Official CEO Website
Explore the Website for phrases like:
Check your Enrollment Status
Check the status of your application
Check voter id card status
Check Election ID Online Status, etc.
Now click on any of the above phrases you seen and think is the right one you are searching for.
After you click on that link, you will be re-directed to another page. Now, if you have selected the right option in step 3, you will probably be on the right page where you can check your Voter ID Status. Here you will see the option to check your status by providing either your Application Number or your Name.
Check or Tick the bubble next to Applicant Name and provide all the details asked for.
Fill the captcha (if any) and Click on Search (or similar) button to produce the result.

Basically Status are checked to keep the track of your Application, whether it is processing, approved, rejected, transit, etc. so that you can act accordingly.
For those who don't have Internet access can also check their Voter ID status Offline. They can do it through a short SMS or through a Call. You can get the detailed information about this process here.
Additionally…
With Bihar Assembly Elections just around the corner, we'll provide all the voters of Bihar the way to check their Voter ID Status Online. Here are the step by Step Process (Please NOTE – This process is the same for any other state as well):
Visit Official Bihar CEO Website.
Scroll Down and you will find "Bihar Electoral Roll" written.
Click on that and you will be re-directed to another page.
Now fill in your District, Constituency, Name and Relative Name as mandatory part.
Enter the Captcha and click on Show.
You will be showed your Voter ID details if processed.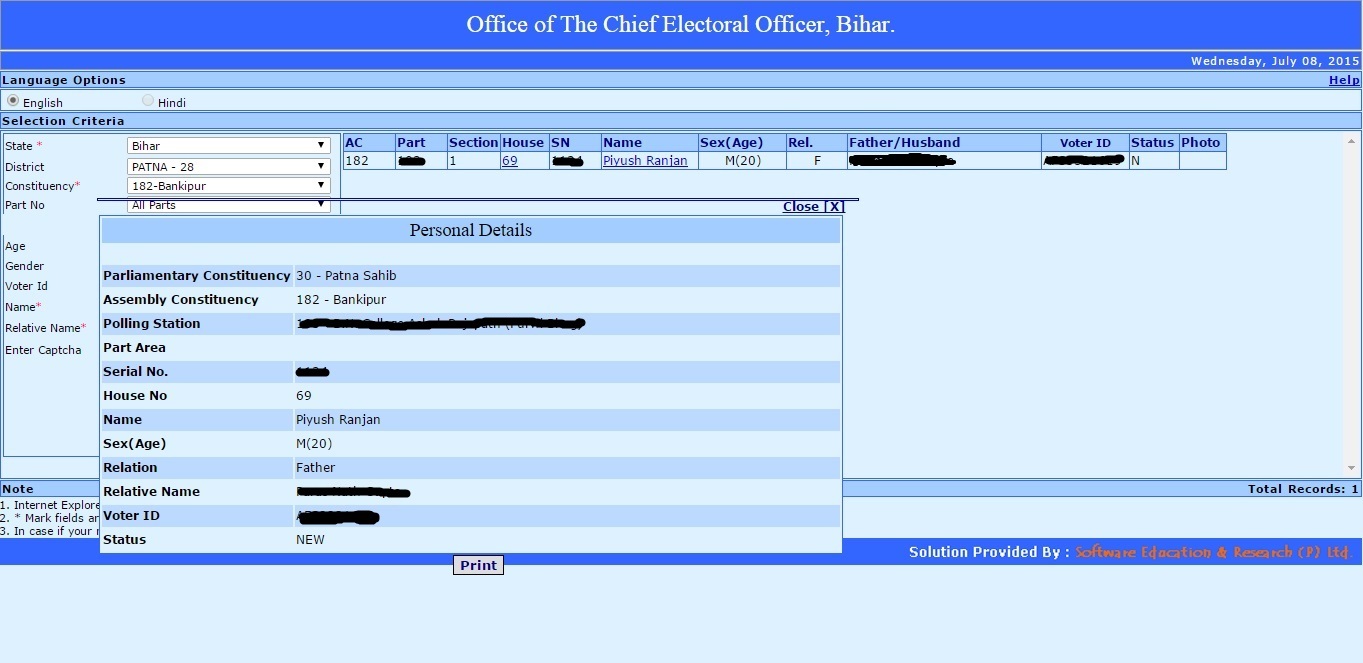 We hope you find this Post helpful and is able to check your Voter ID Status successfully. Stay tuned for more posts and updates.