Before we talk about CEO Kerala, here are somethings you need to know about Kerala.
Historically Kerala is a known as Keralam which is situated in South India on the Malabar coast. It is the thirteenth largest state by population and is divided into 14 districts with the capital being Thiruvananthapuram. The most widely spoken and the official language of the state is Malayalam.
Kerala hosts two major political alliances named the United Democratic Front (UDF) which is led by the Indian National Congress and the Left Democratic Front (LDF which is led by the Communist Party of India.
Get access to all the important details, functions and queries on CEO Kerala by choosing the relevant options below:
CEO Kerala Contact Information
Get CEO Kerala Voter Card Forms – Complete List of Forms in PDF
Apply for Voter ID Card Kerala
Check your Voter ID Card Application Status
Search your name in CEO Kerala Electoral Roll (Voter List)
Download or Get Complete Voter List Kerala
Get Duplicate Voter ID Card in Kerala
Change of Address Procedure for Election Card
Correction in Voter ID Card Kerala
CEO Kerala Helpdesk – Introduction:
CEO Kerala is stands for Chief Electoral Officer Kerala which is appointed by Election Commission of India. The Chief Electoral Officer is assisted by Additional Chief Electoral Officer, Joint Chief Electoral Officers, Assistant Chief Electoral Officer and other officers drawn from State Secretariat service.
Under Kerala election commission there are total 14 Constituencies.
As of Feb 2016, E.K Majhi is the Kerala CEO and the former Chief Electoral Officer Kerala is Nalini Netto.
CEO Kerala – Contact Information:
Below we have provided the contact information of the highest officials of the Office of the Kerala CEO

Kerala CEO Office Contact Details are:
Address: Election Department, Kerala Legislative Complex, Vikas Bhavan P.O Thiruvananthapuram 695 033
Toll Free Number : 1950
Phone number :04712300121, 0471 2307168
Email: [email protected]
Name: E.K Majhi, Chief Electoral Officer Kerala
Phone numbers: 0471 2305116
Fax : 0471 2309334
Dy. Secretary & Dy.CEO (Public Information Officer)
Name: Unnikrishnan R
Phone: 0471 2301083
Jt.Secretary & Jt.CEO (Public Information Officer)
Name: Joseph Mathew
Phone: 0471 2307172
Additional. Secretary & Additional. CEO (SVEEP)
Name: Sabu Paul Sebastian
Phone: 0471 2300070
Additional. Secretary & Additional. CEO
Name: Harrison Xavier
Phone: 0471 2307167
Section Officer, ACCOUNTS
Name: Stephen.V.A
Phone: 0471 2300121
Section Officer, EQUIPMENT
Name: Sukumaran Nair
Phone: 0471 2300121
Section Officer, GENERAL
Name: U.Gopakumar
Phone: 0471 2300121
Back to Top
CEO Kerala – Important and Useful Forms:
Kerala Election Commission provides related forms which can be useful for Voters of Kerala. We have provided all the forms below, read how it can be useful along with the links from where they could be downloaded.
Form 6: This is an application form for inclusion ofname in electoral roll and change of address.
Form 6A: This Application form is used for inclusion of name in electoral roll by an overseas elector.
Form 7: This form is useful to file an objection. It is an Application for objecting inclusion or seeking deletion of name in electoral roll.
ECI – EPIC – 001: This form is used for Replacement (Duplicate) Elector Photo Identity Card.
Form 8: For objection to particulars entered in electoral roll this application form is used.
Form 8A: This is an Application form for transposition of entry in electoral roll
Back to Top
Locate BLO for CEO Kerala:
All the applicants who want to locate Booth Level officers in Kerala needs to visit Chief Electoral Officer Kerala Official Website i.e. ceo.kerala.gov.in.
Now click on the BLO tab from left side of the page.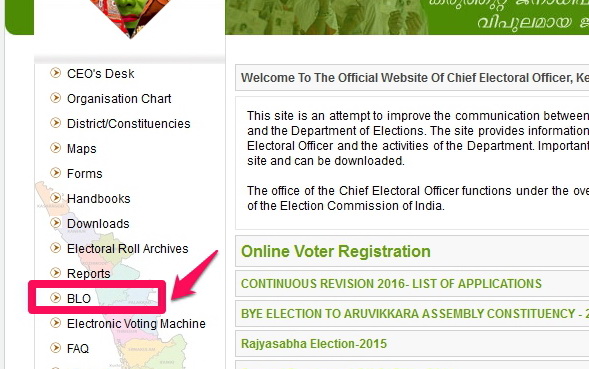 Now you need to Select the district of Kerala for which you are seeking BLO, Then select Legislative Assembly Constituency and Booth No or Booth Name from the list. After selection click on the get BLO List.


Back to Top
CEO Kerala Voter ID Application:
For Voter ID registration Kerala can be done by both online and off-line mode. The procedure of voter id registration Kerala is pretty easy , applicant just require to follow some steps and they are:
To fill the Voter ID application Online:
To apply for Kerala Voter ID you first needs to log on to www.ceo.kerala.gov.in online registration.
After visiting the site click on the E registration tab from the top of the page. You will redirected to a new page where you need to select the mode of the registration.

Applicant require to enter the residence address, name, date of birth etc while registering. Follow each step you have asked for and enter the correct details.
After successfully submitting the details, an application number will be provided to you and then your BLO will come to your residence and will verify your details when processing for application will be done.
---
You can also read more about Voter ID Card Kerala – Click Here
To see a step-by-step Guide to Apply for a Voter ID Card Online – Click Here
---
To fill the Voter ID application Offline:
Visit the nearest VREC and fill Form No. 6 and Form No. 001 – You can download both these Forms from the link above.
Enclose attested copies of Id proof and residence proof and Id number of a voter in your family along with 3 passport size photo.
After applying for a new Voter Id card, The Booth Level Officer will verify all the information and documents. When satisfied, will provide you the date when you need to visit the centre and your electoral card.
CEO Kerala Voter ID Status:
You can check the CEO Kerala Voter ID Status in a few minutes through various methods like, SMS, Online etc.
---
Click Here to Check your Status in 2 minutes, using any of the methods you like.
---
CEO Kerala Electoral Name Search:
After successful submission of Voter ID card registration Kerala online or offline you can search your name in the Voter List or Electoral Roll of Kerala, to ensure you are a registered voter.
You can do this by following the steps mentioned below:

After clicking the link, you can track the application form you submitted in two ways.

You can search by entering Electoral Photo Id Card Number
OR
By entering all your details like district , Legislative Assembly Constituency, Name, house no etc.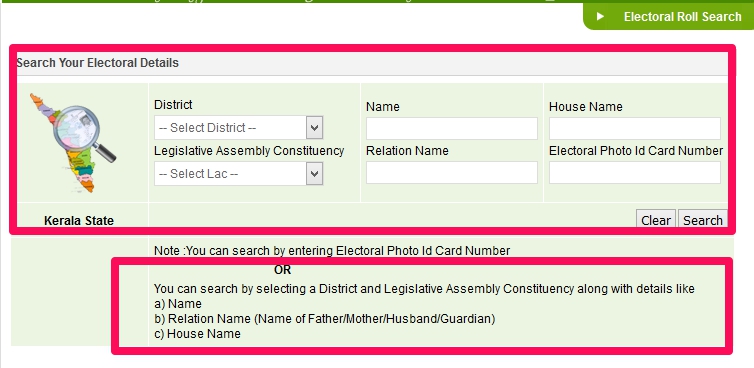 Back to Top
CEO Kerala Voter List:
If you want to get the entire Voter List of Kerala or CEO Kerala Electoral Roll in PDF or check it online to see the names of the eligible voters.
To do this, follow the steps given below:
Click on the tab Electoral roll

After clicking the link – Select the district , Legislative Assembly Constituency and you will get booth list and see your name in it.
OR
You can directly visit the nearest VREC and check your name in the list available to them.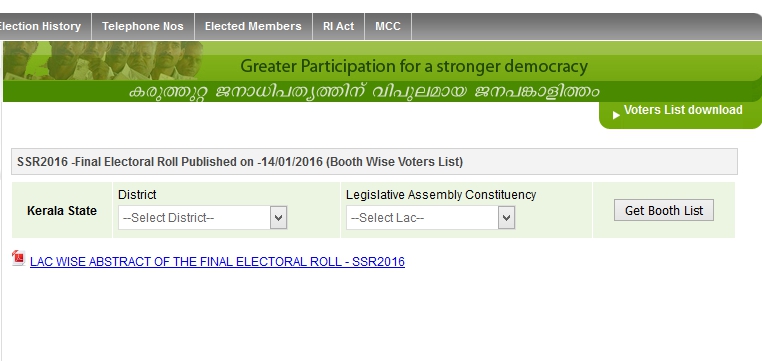 Back to Top
CEO Kerala Duplicate Voter ID:
Voter ID is extremely important not only in voting but it is also an important identification proof. Therefore Kerala Election Commission helps you get a Duplicate Voter ID in case it gets lost or stolen.
To get a duplicate voter ID card first you need to file an FIR with the local police authorities and keep its copy safe. Then visit the nearest VREC or download EPIC- 001 (link given above). Fill in the appropriate details and attach self attested copies of ID and residence proofs along with passport size photo. Also you need to attach a copy of FIR with your application.
Submit the documents to Electoral Registration Officer through Speed Post or by submitting it personally. The authorities will give you the receipt and later you can collect your duplicate card from VREC.
---
Step-by-step guide for Duplicate Voter ID Card Kerala – Click Here
---
CEO Kerala Address Change in Voter Card:
In case the new address is in the same constituency then you need to fill Form 8A or if you have moved to a new constituency, then fill the Form 6 and submit to the ERO (SDM) or the AERO of the area of your new residence.
---
Here is a simple guide which shows your how to Apply for Address change – Click Here
---
CEO Kerala Voter Card Correction
Candidate can apply for correction in voter ID card through Form 004. You will have to submit this at the office of your Electoral Registration Officer(ERO) when the process of Voter ID card preparation is going on.
---
You can refer to this step-by-step Guide to Voter Card Corrections over here
---
Back to Top
For more help you can also refer to CEO Kerala FAQs, Click here
Hope we have been able to help you. Incase you have some queries or regarding this article or Voter ID Card related doubt then feel free to leave a comment below.