Bihar is India's third-most populous state after Uttar Pradesh and Maharashtra. Bihar's history points to its importance as a centre of power, learning and culture in the ancient India. The state is land-locked between humid West Bengal in the east and sub-humid Uttar Pradesh (UP) in the west, bounded by Nepal in the north and Jharkhand in the south. Himalayas in the north significantly influence Bihar's landforms, climate, hydrology and culture. Bihar has a vast stretch of fertile plain, divided into two parts by the river Ganges, which flows from west to east. The Gangetic plains occupy a major portion of the total geographical area of Bihar.
CEO Bihar – Voter List 2015: 
Bihar has a total of 38 districts with 40 Loksabha seats, 16 RajyaSabha seats and the number of assembly constituency being at 243. The total population of Bihar state is 103,804,637. The people of Bihar who are of 18 years of age on or before 1st of August 2015 are eligible to vote. If you are new voter and your name is not on the Voter List Bihar, then you should enroll with your name, photo and age to add your name in the revised voter list 2015 for the Bhar Assembly Elections to be held before November 2015 (the tenure of the existing Government in Bihar is to set to expire on November 29, 2015).
The Voter list Bihar district has been published officially online (details are given below).
If you wish to check your name in the voter list of Bihar, then you must be a resident of Bihar state.
People should check their names in the voter list of Bihar state to be eligible to vote during the upcoming Assembly Elections. If the name of any person is not in the voter list, then he will not be  able to cast vote. So, you are advised to check name in the voter list 2015 before the elections.
If you want to check the voter list of Bihar then you can easily check it online from the official website of Bihar CEO. The official website to check the Bihar voter list 2015 is ceobihar.nic.in. You can download the PDF of voter list 2015 of your area / constituency as well.
CEO Bihar Website
As mentioned earlier, the website of CEO Bihar is http://ceobihar.nic.in/
The CEO Bihar website has primarily been made to provide adequate and relevant information about the office of the Chief Electoral Officer and the various activities conducted by the designated department. Various important Forms are also available on the site for download purposes.
The office of the Chief Electoral Officer Bihar functions under the overall supervision and control of the Election Commission of India.
It has various sections such as to download various forms, election related data, procedure, overseas electors, Lok Sabha general election and assembly elections-2015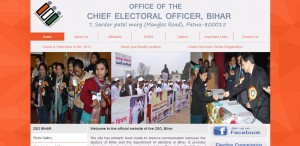 Detailed Information about Voter ID Card Bihar
Getting a Voter ID Card Bihar
A voter id card is not only a proof of your Indian citizenship but also helps you cast vote. In order to vote you must be above 18 years of age. Voting is the democratic right of every Indian citizen. If you haven't not got your Voter ID Card, do refer this detailed article on Voter ID Card Bihar over here. To start with, you can download Form 2A in PDF format from Bihar CEO website. After downloading the pdf format you should fill it and submit to the ERO (Electoral Roll Officer) of your constituency.
Obtain a certified document of proof for your entry in Electoral Roll Bihar
After the publication of Electoral Rolls for the assembly elections, you can obtain a copy of the certified entry by approaching the ERO concerned for your constituency. You will be required to deposit some money and thereafter the ERO will issue the required certificate.
Please note: You cannot have names at two places (Assembly Constituency or in the State) so please get your name deleted from one constituency before adding it at a new address / for a new constituency.
How to DELETE a name from the Electoral Roll
In case you want to delete any name from the electoral roll you need to fill this form. People usually delete names when your name has been entered in two different electoral rolls or if somebody has expired and their name has to be removed.
How to make modifications/ changes in Electoral Roll
In case you want to make any modifications/ changes, you may fill this form. You may visit this page for more information – http://ceobihar.nic.in/searchinroll.html
Voters List Bihar
Your name is a must in the Electoral Roll of the constituency in order to allow you to vote. You can search your name in the electoral roll of Bihar by following the given steps:
1)   Search In E-Roll via SMS
To check if your name is included in the electoral list vis SMS you can follow the given steps:
Type ELE <space> 10 digit <Voter Id No.> & sent to 56677
2)   To Search In PDF Format
You can visit this link in order to check the electoral roll of bihar in pdf format – http://ceobihar.nic.in/search_in_pdf.html . Click on "VIEW FINAL ROLL (MOTHER & SUPPLEMENTRY) IN PDF FORMAT PUBLICATION"
Enter your assembly segment, part number and click on 'View'.
3)  To Check In E-Roll
To check your name in the voter's list bihar in E-roll visit the following link – http://ceobihar.nic.in/Search/Name_Search.html
Choose your district name, enter your details in the next page and click on 'Show'
You may visit this page for more information – http://ceobihar.nic.in/searchinroll.html
Bihar Assembly Elections 2015 – Trends basis Loksabha Elections 2014
Voters turned up in large numbers in the eighth phase of polling on 8th May, 2014 to keep up a trend that has seen a high 66.27% turnout for 502 Lok Sabha seats so far in the general election—beating the 57.94% turnout notched up in 2009 for the same seats.
Seven states—Andhra Pradesh, Bihar, Himachal Pradesh, Jammu and Kashmir, Uttar Pradesh, Uttarakhand and West Bengal—went to polls on 8th May 2014. All seven registered a higher turnout than in the 2009 Lok Sabha elections.
In Bihar of the seven constituencies going to the poll, the two most important are Hajipur(SC) and Saran, both situated in the Gangetic plains of Bihar, from where Ramvilas Paswan and Rabri Devi are contesting. A total 118 candidates are contesting the seven seats. After the end of this round of election, polling will be completed in 34 of the 40 Lok Sabha seats in Bihar.
Five of the seven Lok Sabha seats going to the poll had been won by JD(U) in 2009 while Saran and Maharajganj had gone to RJD.