As the Bihar Elections 2015 have been announced by the Election Commission Bihar. Major parties have geared up for the 5 phase poll battle to be held between October 12, 2015 and November 5, 2015. The results of the Bihar polls 2015 will be out on November 8, 2015, according to the planned schedule. Essentially, the election battleground will have a bi-polar contest. It will be testing what has had a stronger impact on the people – the political equations developed over years and caste or Modi's developmental wave.
The Janata Parivar is attempting to make a strong comeback in national politics and is eyeing the Bihar polls 2015 as their first targeted win. It includes the six parties Mulayam's Samajwadi Party, Lalu's Rashtriya Janata Dal, late Chandrashekhar's Samajwadi Janata Party, Deve Gowda's Janata Dal (Seccular), Nitish Kumar's Janata Dal (United) and Chautala's Indian national Lok Dal. The Janata Parivar (RJD+JDU) has joined hands with congress. They will block the NDA alliance led by BJP in the polls.
---
Voters can get a Detailed Guide on Voter ID Card Bihar – Check this link – Click here
---
Bihar Elections 2015 – Caste politics v/s development?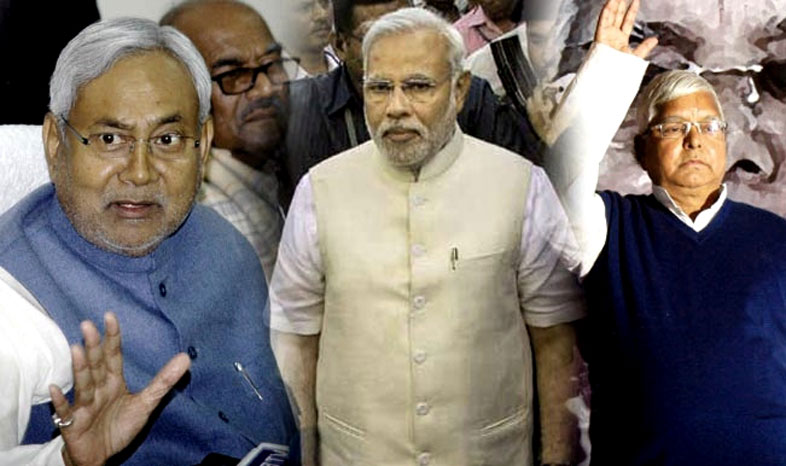 NDA – BJP (Bhartiya Janata Party), Jitan Manjhi, Kushwaha, Paswan
Major political players – Ram Vilas Paswan, Sushil Kumar Modi, Jitan Ram Manjhi, Upendra Kushwaha
Constituting – BJP, HAM, LJP, RLSP
Strengths – Modi's mega development objective and his appeal to voters. It is a strong organization and the alliance seems to be beyond upper-castes, attempting to reach the dalits. Besides, Modi seems to have a firm youth support and the alliance has a particularly united front.
Weaknesses – The caste vote banks like Yadavs and Muslims are assumed to back Lalu in Bihar elections 2015. They cannot project a nominee for CM as they need to control factional equations. The seat sharing numbers can prove to be a messy issue.
Opportunities – There is a lack of trust between the backward castes and Yadavs. BJP can smartly play on this fact. It can also bring into limelight, the fear of 'Jungle raj'. The ten year long anti-incumbency factor in Bihar elections 2015 also provides a great opportunity for this alliance.
Threats – The alliance is relying heavily on Prime Minister Modi's campaign. Caste equations cannot be easily subdued and also, it can blunt the growth plea of NDA.
Grand Alliance
Major political players – Lalu Prasad Yadav, Nitish Kumar, Sharad Yadav
Constituting – Congress, RJD, JD (U)
Strengths – The risk of scattering of the non-NDA votes is a bare minimum. The voter base of Yadavs and Muslims is largely favouring Lalu and hence, unlike the previous Lok Sabha Polls, this time in Bihar polls 2015, there is no confusion among Muslims and they are being predicted to pitch in favour of the alliance. Nitish has a solid Kurmi – Koeri bloc. Involvement of Congress has ensured the 'secular' appeal of this alliance.
Weaknesses – Lalu has an anti-governance or 'Jungle Raj' image set up. Also, there have been contradictions against Nitish's tie – up with an age old rival. Congress is damagingly weakened.
Opportunities – The alliance can successfully project 'Good Governance' work of Nitish Kumar's first term in Bihar Elections 2015. NDA can be painted as an upper-caste favouring alliance and the secular card too can be played.
Threats – The major threat is Modi's development politics. The youth seem to be magnetically attracted to it. Additionally, there is a lack of solid trust among the supporters of Lalu Prasad Yadav and Nitish Kumar.
This was the SWOT analysis for Bihar Elections 2015. Stay tuned for more.
For more Bihar Election Details, News and Updates – Click Here