Change your Voter ID Address – Fastest way to Make Voter ID Address Change Online if you have shifted from address to another or changed your city

Get your Voter ID Address Change here. Click to Change and make corrections to your Voter ID in 3 simple steps.
Residential address is an important data in the Voter ID Card and electoral roll (also know as Voter List). To have election card it is necessary to seek changes in the card in case there is some discrepancies in the address printed on the card and the actual place that you are currently living at.
Since the Election Commission of India (ECI) is responsible for the registration, verification, and distribution of the election card, it has also put in place various forms to ensure people looking to get some changes done in their voter card or voters list can do the needful online. Below given is the verified and accurate information on how can you get done Voter ID address change online.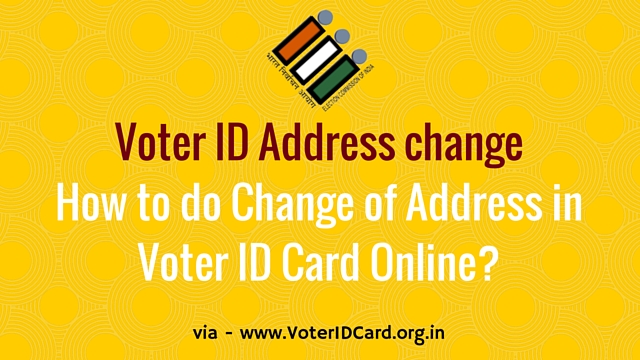 Voter ID Address change: Change of Address in Voter ID Card Online – Here's How?
Each state has its own Chief Electoral Officer (CEO) who works under the orders of ECI. The CEO website has links to various forms where voters can apply for changes in the card – this includes changes like:
rectification in the name of the voter or rectification in the name of his / her father
change of address within the same assembly constituency or to a different constituency (this includes changes in Voter ID made if the voter moves to a newer city or a state)
transposition / removal of voter's name from the voter list of his / her constituency (this is also referred to as transposition of Voter ID).
Let's explain it further with some scenarios.
[Also you can visit the following official Election Commission of India website page to find link to all the State CEO website: ]

Scenario 1:
Consider a situation where a voter residing in a particular city was allotted a polling booth that was quite far away from house. Although the polling booth was in the same assembly constituency, the voter had to trudge a long way during the elections to cast the vote.
Scenario 2:
In another situation, a voter may have changed the residence within the same assembly constituency and requires updating the voter ID so that he can use the Voter ID Card in the future as a valid ID proof as well as proof of residence.
In the above two situations, voters must register online for a change in the address or polling booth by filling in Form 8A. In other words, this is known as transposition of the voter card. We have mentioned below a step-by-step guide to fill Form 8A for Voter ID address change.
In case you are changing your assembly constituency, you need to apply online as a new voter –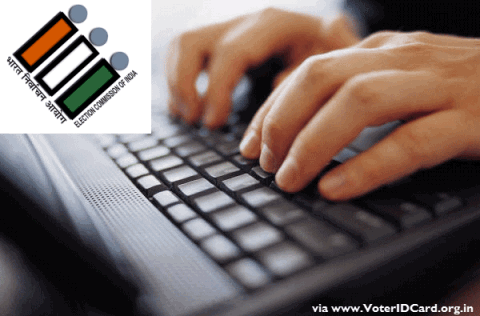 Voter ID Address Change – via Form 8A
Form 8 is used to change the address, you should use this form only when you want to change errors in the electoral roll, such as typos, spelling errors in address, and similar wrong data. But, to change the Part Number (which refers to the polling booth) or for Voter ID address change entirely, you need to fill form 8A – From over here. Ensure you follow all the formalities prior to the download.
In form 8A, you should:
Fill Part I, by specifying:

Part Number and Serial Number of the voter list where you are already registered.
Electors Photo Identity Card Number (EPIC)
Relation's Name
Fill Part II, by specifying:

Address of the new place of residence
Fill Part IV, by specifying:

Part Number of the new area or polling booth where you want to exercise your franchise
You need to submit the form along with proof of address, such as a rent bill, electric bill, or telephone bill of the new place and a copy of the voter ID card.
You can either submit the credentials online by uploading a PDF file of the same or submit the hard copies to the Election Registration Officer (ERO). A Booth Level Officer (BLO) may visit your house to verify the form and ultimately, change the address and the polling booth (if necessary).
If you encounter any difficulties or problems in getting done your Voter ID address change, feel free to let us know in the comments below. We will be more than happy to help.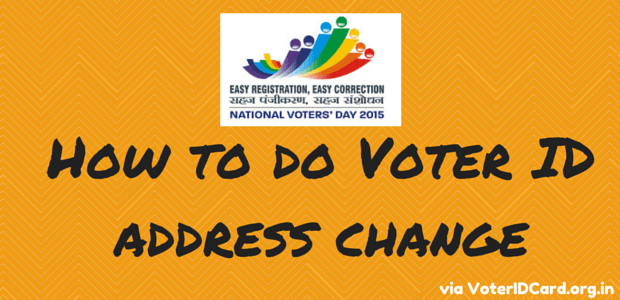 Need to Transpose a Card – Change of Address in Voter ID Card Online
India is divided into various assembly constituencies and each constituency has its own Voters List (as we have mentioned it a couple of times earlier – you can definitely cast your vote even if you don't have your Voter ID Card but your name is there in the Voter List of your constituency. You just need to carry along a valid ID proof while visiting the polling booth). Each of the assembly constituencies is divided into polling booths that are identified by their Part Number. It is here that voters need to come over on the day of the election to exercise their franchise. Before we proceed with on how to apply for Voter ID address change, let first look at how can you get your name removed from the Voter List of a constituency (do note that it is not legal in the eyes of law to keep your name in voter lists of 2 constituencies).
---
Get all the Form for Voter ID Card needs: New Application, Duplicate Voter Card, Correction in Voter Card etc – Click Here to get all Form Online and Offline
---
[
ADDITIONAL READ
: If you have already submitted your application for a Voter ID Card or have applied for a duplicate Voter ID Card, you can check your Voter ID status over here.]